The average price-per-square-foot gave a mixed performance in 2017. This figure continued to rise in most communities, particularly Santa Ana and Oakland, but fell back in La Jolla. Expect home prices to increase only marginally in most communities this year as the housing market adjusts to higher mortgage rates, which will hinder homebuyer purchasing power and hold prices back from rising too quickly in 2018.
Check out the price-per-square-foot history of home sales in these eight California communities.
Posted updated March 25, 2018. Original copy posted January 2012.
San Francisco
Chart update 03/25/18
Chart update 03/25/18
Marin County
Chart update 03/25/18
Chart update 03/25/18
Riverside
Chart update 03/25/18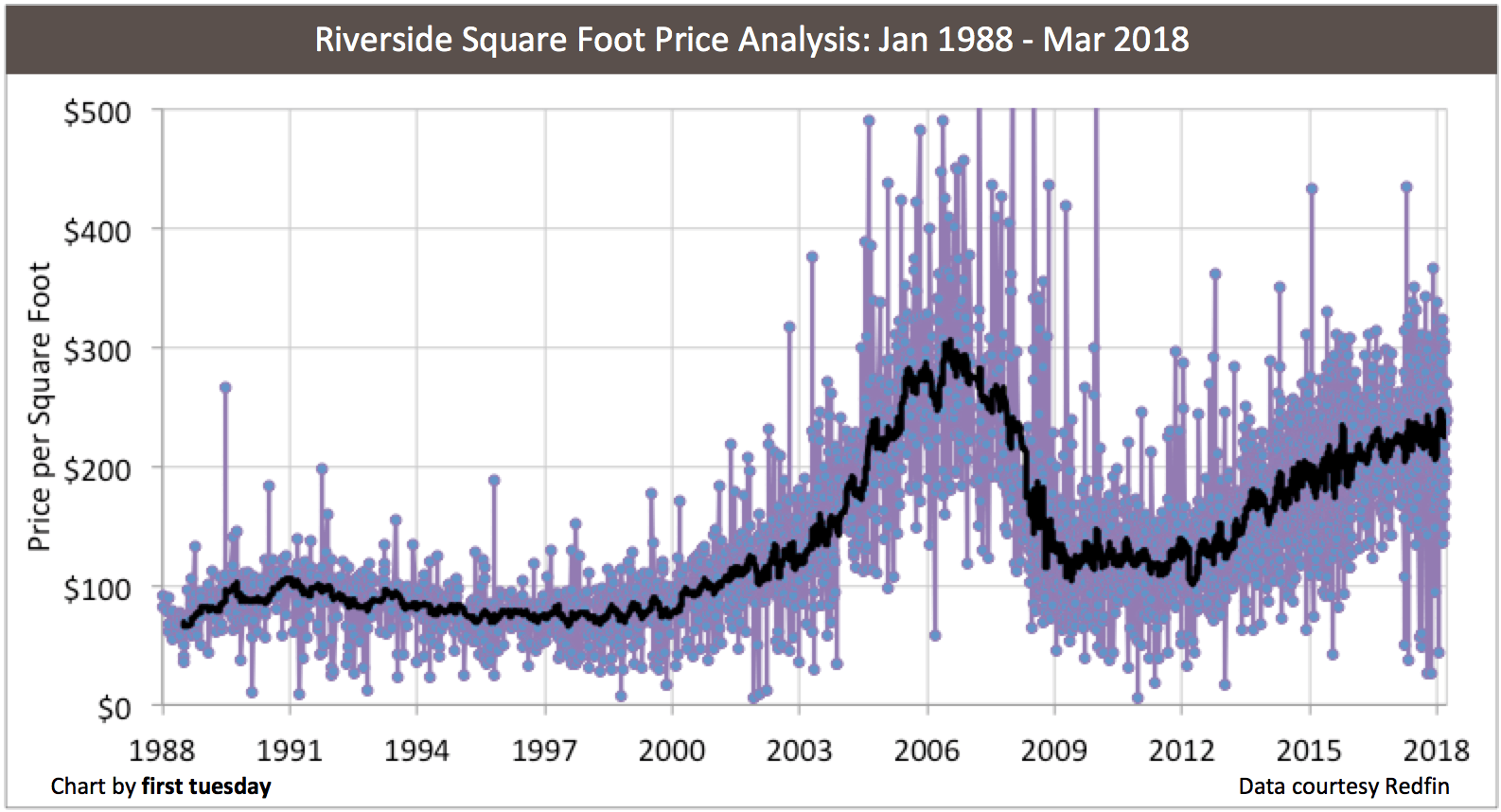 Chart update 03/25/18
Los Angeles
Chart update 03/25/18
Chart update 03/25/18
Oakland
Chart update 03/25/18
Chart update 03/25/18
Santa Ana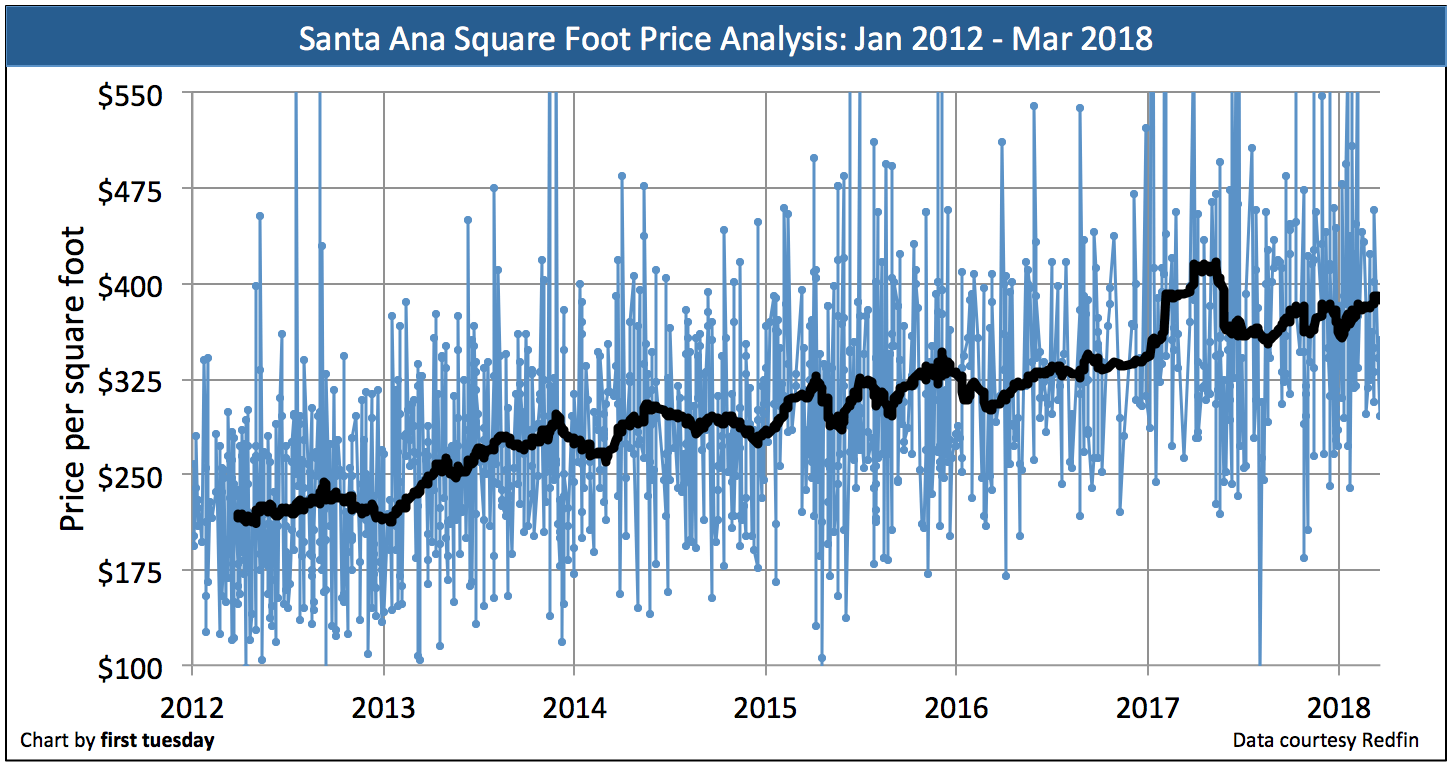 Chart update 03/25/18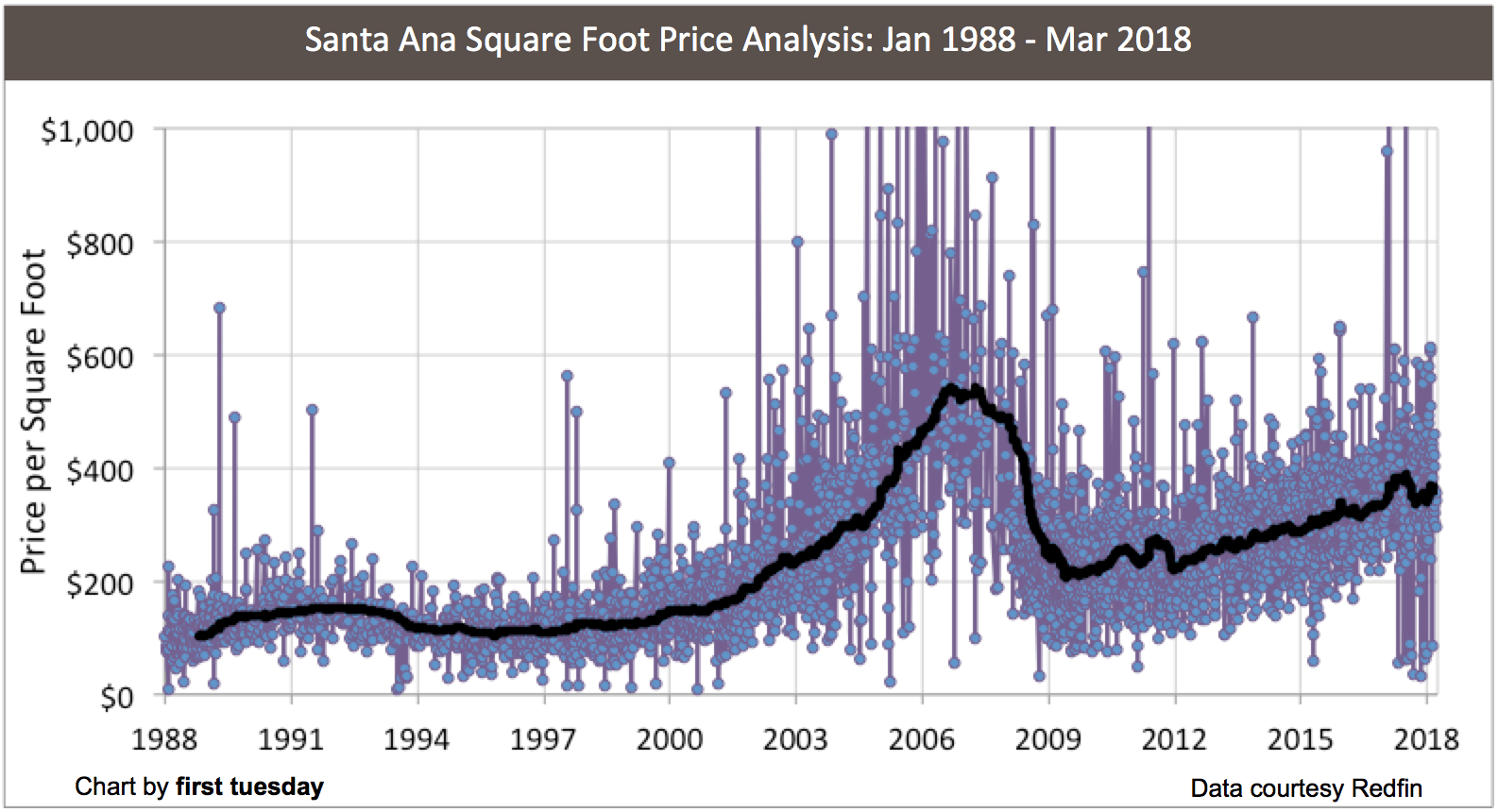 Chart update 03/25/18
La Jolla



Chart update 03/25/18
Chart update 04/06/17
Corona del Mar
Chart update 03/25/18
Chart update 03/25/18
Data courtesy of Redfin
These charts are updated annually
Local pricing trends: the long and short of it
Two profiles have been charted for each community:
a long-term profile from 1988-2018; and
a short-term profile from 2012-2018.
Long-term profiles indicate the market hit its bottom in 2012. Consider 1999 and 2000 as years when prices were at historical mean price levels. Adding roughly 2% of consumer price index (CPI) inflation per year, we can see the pricing in the present market was vastly inflated in 2013-2014.
Related article:
Short-term profiles show that home prices are experiencing downward pressure as we start 2016. This is partially due to a depressed home sales volume in California, which, while up slightly over the previous year, lags behind what is needed to sustain the prices increases experienced in the interim. Further, with the headwind of rising mortgage rates, expect prices to level out in late-2018, to bounce back in 2019 once home sales volume picks up with fuel from the recovering jobs market.
Price per square foot analysis
The average price per square foot in each of these areas during 2017 was:
$1,052 in Corona del Mar, up 3% from $1,024 in 2016;
$997 in San Francisco, up 1% from $987 in 2016;
$780 in Marin County, up 3% from $758 in 2016;
$633 in Oakland, up 9% from $581 in 2016;
$696 in La Jolla, down 7% from $747 in 2016;
$675 in Los Angeles, up 8% from $626 in 2016;
$382 in Santa Ana, up 14% from $334 in 2016; and
$224 in Riverside, up 4% from $215 in 2016.
The bottom price areas largely consist of home sales of low-tier properties (a favorite of speculators). More low-tier property sales have the effect of dragging down the average price per square foot.
Related article:
Of course, using average pricing has its drawbacks. Similar to using the median price, average prices give the appearance of an inaccurate collective increase as prices in a neighborhood become less volatile. In reality, neither the average price nor the median price gives an accurate representation of market direction.
Thus, when analyzing a particular property, these charts offer no advice beyond demonstrating localized trends. When pricing a home's value, agents and homeowners must consider:
the property's fair market value (FMV) based on nearby comparable property sales; and
local end user demand, based on:

the local job market; and
local demographics.
Related article: