Rent growth slowing its pace
While multi-family residential rents continued to trend upward throughout the country in May 2018, rent growth slowed slightly from the prior year, according to data from rental news source RENTCafé.
The average U.S. rent in May showed a year-over-year increase of only 2% — still below the roughly 6% year-over-year increases seen in 2016 — rising to $1,381.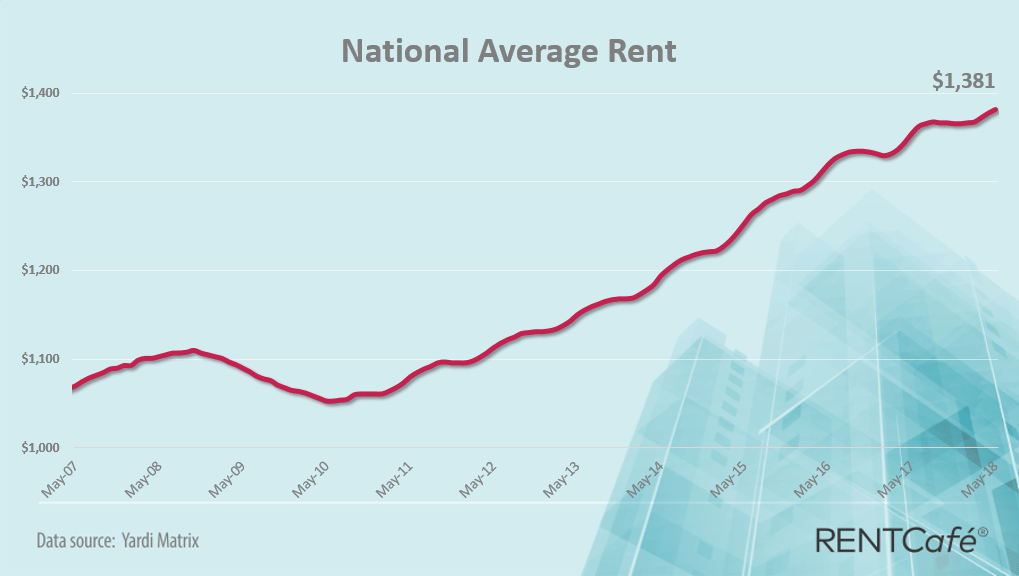 Here in California, rents in most cities outpaced the national average and increased by 2-7%.
Six California cities were among the top 25 U.S. cities with the highest year-over-year rental growth, which include:
Ontario, increasing by 7.8%;
Lancaster by 7.7%;
Rialto by 7.5%;
Modesto by 7.4%;
Clovis by 6.3%; and
Fontana by 6.2%.
Further, California cities predictably made up half of the top ten cities with the highest average rents nationwide, which include:
San Francisco with the average rent at $3,453;
San Mateo at $3,170;
Sunnyvale at $2,820;
Santa Clara at $2,797; and
San Jose at $2,692.
National rental trends reveal rents for two and three-bedroom units are increasing most significantly alongside demand as more families are renting. Much of the growth is also occurring in small cities and towns surrounding major urban centers.
California mirrors this trend with rent growth highest in suburban cities, while urban rental rates are slowing. Suburban rental growth is mainly attributed to high urban rental rates that push tenants outward to nearby neighborhoods, driving up rental demand and rents in these areas.
However, the rent slowdown in high-demand urban metros suggests rates in larger cities may be reaching their peaks. Further, just as demand is driving up suburban rents, it will also prompt multi-family developments.
California's rental markets will meet growing renter demand — suburban and urban — and stabilize when obstacles to development are addressed, mainly the elimination of zoning restrictions that severely limit residential development.