Use this first tuesday FARM Letter in your marketing. To request a FARM letter topic, or to see a list of all our FARM letter templates, visit our FARM Letter page.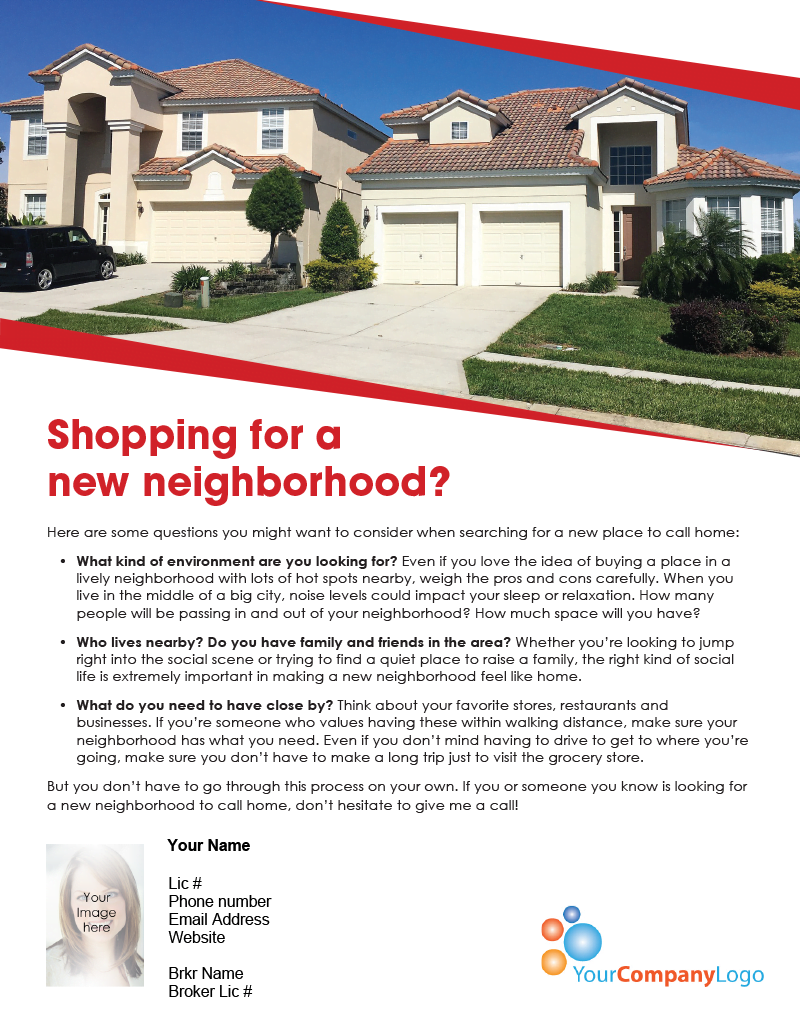 Download the Personalization Instructions
Download the PDF Template
Download the Microsoft Word Template
Text only
Here are some questions you might want to consider when searching for a new place to call home:
What kind of environment are you looking for? Even if you love the idea of buying a place in a lively neighborhood with lots of hot spots nearby, weigh the pros and cons carefully. When you live in the middle of a big city, noise levels could impact your sleep or relaxation. How many people will be passing in and out of your neighborhood? How much space will you have?
Who lives nearby? Do you have family and friends in the area? Whether you're looking to jump right into the social scene or trying to find a quiet place to raise a family, the right kind of social life is extremely important in making a new neighborhood feel like home.
What do you need to have close by? Think about your favorite stores, restaurants and businesses. If you're someone who values having these within walking distance, make sure your neighborhood has what you need. Even if you don't mind having to drive to get to where you're going, make sure you don't have to make a long trip just to visit the grocery store.
But you don't have to go through this process on your own. If you or someone you know is looking for a new neighborhood to call home, don't hesitate to give me a call!