Use this first tuesday FARM Letter in your marketing. For a list of all our FARM letter templates and copy, visit our FARM Letter page. Have a topic you'd like us to write about?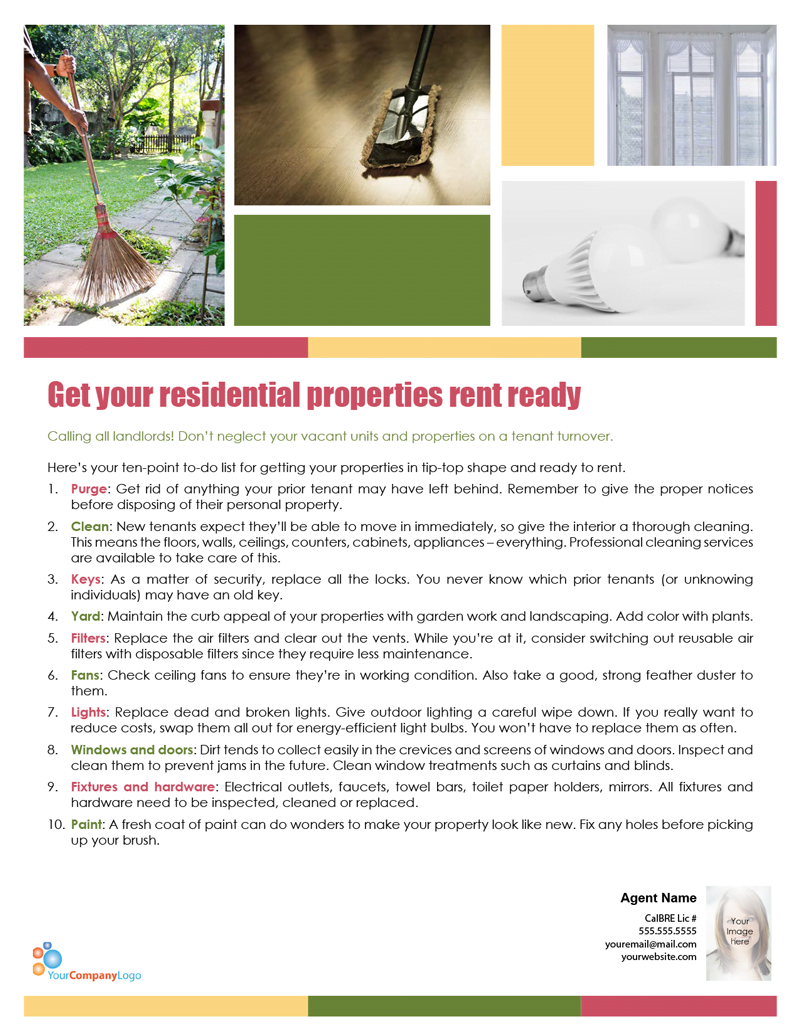 Download the Personalization Instructions
Download the PDF Template
Download the Microsoft Word Template
Text only
Calling all landlords! Don't neglect your vacant units and properties on a tenant turnover.
Here's your ten-point to-do list for getting your properties in tip-top shape and ready to rent.
Purge: Get rid of anything your prior tenant may have left behind. Remember to give the proper notices before disposing of their personal property.
Clean: New tenants expect they'll be able to move in immediately, so give the interior a thorough cleaning. This means the floors, walls, ceilings, counters, cabinets, appliances – everything. Professional cleaning services are available to take care of this.
Keys: As a matter of security, replace all the locks. You never know which prior tenants (or unknowing individuals) may have an old key.
Yard: Maintain the curb appeal of your properties with garden work and landscaping. Add color with plants.
Filters: Replace the air filters and clear out the vents. While you're at it, consider switching out reusable air filters with disposable filters since they require less maintenance.
Fans: Check ceiling fans to ensure they're in working condition. Also take a good, strong feather duster to them.
Lights: Replace dead and broken lights. Give outdoor lighting a careful wipe down. If you really want to reduce costs, swap them all out for energy-efficient light bulbs. You won't have to replace them as often.
Windows and doors: Dirt tends to collect easily in the crevices and screens of windows and doors. Inspect and clean them to prevent jams in the future. Clean window treatments such as curtains and blinds.
Fixtures and hardware: Electrical outlets, faucets, towel bars, toilet paper holders, mirrors. All fixtures and hardware need to be inspected, cleaned or replaced.
Paint: A fresh coat of paint can do wonders to make your property look like new. Fix any holes before picking up your brush.