How many homes currently on the market are delinquent on mortgage or property tax payments?
10% or less (34%, 62 Votes)
Between 10% and 20% (33%, 61 Votes)
30% or more (17%, 31 Votes)
Between 20% and 30% (16%, 30 Votes)
Total Voters: 184
Reduced incomes for agents and brokers
California home sales volume continued its downward plunge in July 2022, marking the fourth month in a row of decreasing sales, atypical for the annual sales cycle.
Sales volume usually rises from an annual low point in January to a peak mid-year. Therefore, yet another month of lower sales volume is sounding alarm bells for sellers — and future pricing — an alarm sounded time and again in previous firsttuesday forecasts (call it past perfect).
32,000 new and resale home transactions closed escrow in California during July 2022. The number of homes sold in July was 20% below the prior month and 18% below a year earlier, amounting to 16,400 fewer sales. For historical perspective, this was the lowest July sales volume experienced since 1995.
Year-to-date (YTD) home sales volume is a strong predictor of annual sales volume. As of July 2022, YTD sales volume is 16% below a year earlier.
The rapid pace of sales experienced in California since 2020 began to taper off in the second half of 2021, continuing in 2022. And yet, due to the uncharacteristically steep annual sales volume rise that occurred early in 2021 — fed by buyer fear of missing out (FOMO) on low inventory and homebuyers taking advantage of historically low interest rates and stimulus boosts — the typical year-over-year comparisons are not as useful today.
Instead, consider comparing today's sales volume to the last "normal" year we experienced: 2019.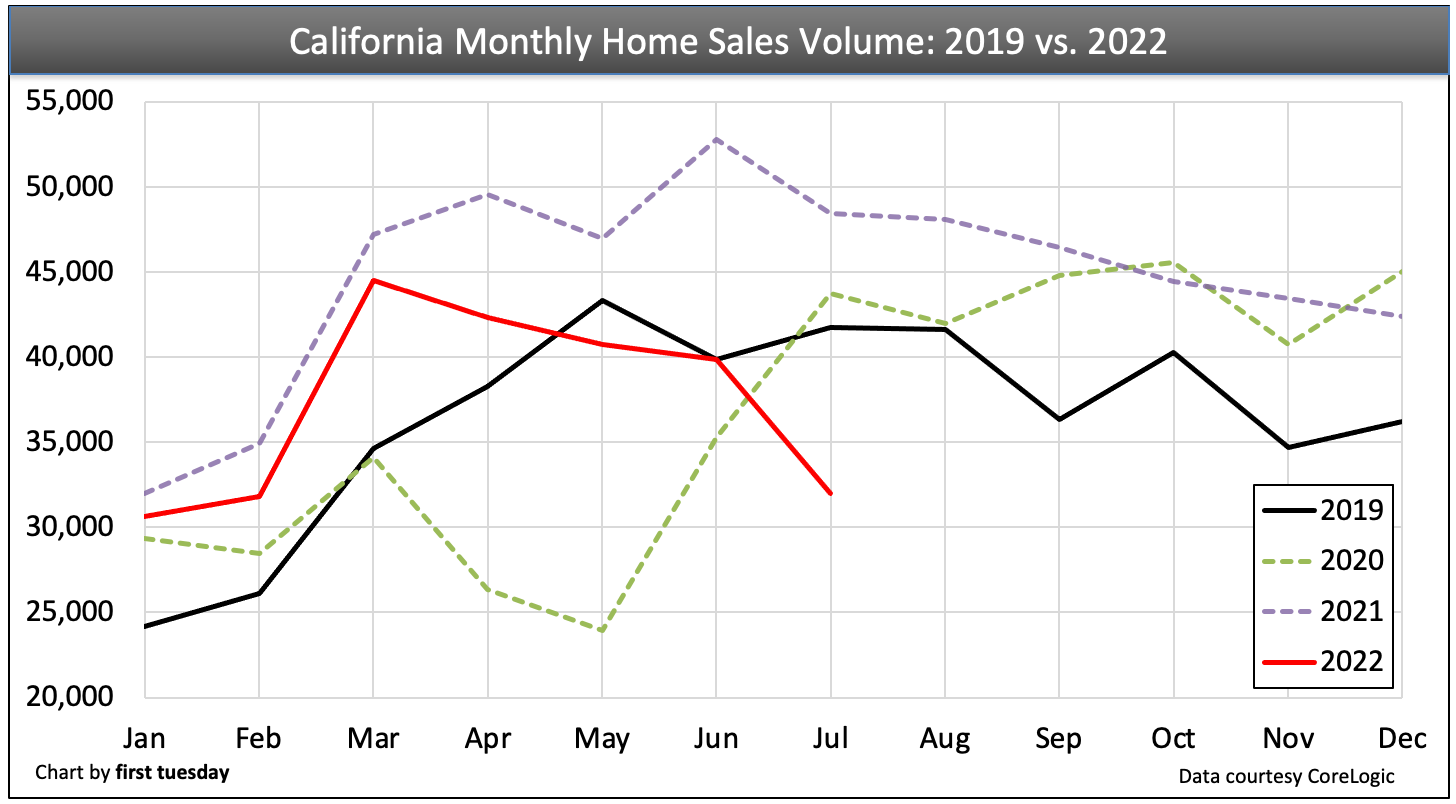 Here, we see the path of home sales volume in 2019 (the black line) alongside sales volume thus far in 2022 (the red line). The dashed lines display the abnormal years of 2020-2021, which were distorted by Pandemic Economics.
While sales volume started off 2022 at a faster pace than 2019, after peaking in March, it has quickly tapered off to below 2019 levels. Thus, after two years of irregular home sales volume, expect sales volume in 2022 to end the year slightly below 2019, tempered by rising interest rates, a still-recovering jobs market — and more sober homebuyers.
The government's pandemic-era efforts to bridge the gap are over
At an annual rate, 2021 ended with 536,600 annual home sales in California. This was a significant 97,400 more home sales than took place in 2020, amounting to a 22% annual increase.
However, this heightened performance follows several years of flat-to-down sales volume (the bumpy plateau recovery following the 2009 foreclosure crisis and financial crash).
Editor's note — Despite recent gains, 2021's strong year for home sales volume was still 29% below the peak year for sales volume in 2005.
Why were 2021's home sales volume and home price increases so strong compared to recent years?
The federal government introduced a number of measures to create a bridge for consumers, to get them from the moment of the 2020 recession through to the end of the pandemic response. The result was a buoyed housing market, with low interest rates and extra cash providing a launching pad for renters, homebuyers and investors to take the real estate plunge.
The government's steps included:
keeping interest rates artificially low in 2020-2021, held down by the Fed's purchase of mortgage-backed bonds (MBBs) and zero-level rate on its benchmark interest rate;
an eviction and foreclosure moratorium, which allowed renters and homeowners unable to make housing payments to remain in their homes (and kept these homes off the market, keeping inventory in check);
individual stimulus checks, which fueled consumer spending not just for those who lost their jobs during the 2020 recession, but for consumers across the income spectrum;
an ongoing pause on student loan payments, which also enabled more consumer spending, propping up the economy; and
instituting and expanding the Paycheck Protection Program (PPP) and Economic Injury Disaster Loan grant program to help small businesses stay afloat at the pandemic's outset.
All this federal action helped drive up enthusiasm (and prices) not just for real estate, but for assets of all types.
However, while the government created a bridge to carry consumers across the pandemic-era recession, the bridge also delayed the inevitable. While the government's stimulus measures were coming to an end, the economy was on the return path towards recession.
Related article:
Press Release: Buyer Purchasing Power Index (BPPI) falls to new low in Q2 2022
California home sales in 2022 and beyond
Home sales will continue to fall back in 2022, due to:
significantly higher mortgage interest rates, which have damaged buyer purchasing power, down 26% from a year earlier as of July 2022;
2021's expiration of the foreclosure moratorium, which has caused a backlog of forced sales to hit the market, creating a further drag on home prices and discouraging homebuyers;
lower homeowner turnover as buyer FOMO turns to restraint in the face of rising rates and rising inventory; and
the ongoing recovery of job losses of 2020, over 165,000 of which are still absent from the jobs market as of June 2022.
As the Fed continues its steps to cool inflation, the second act to the 2020 recession has technically (still unofficially) arrived following two consecutive quarters of negative gross domestic product (GDP) in 2022. As evidenced by yet another month of historic sales volume losses, this undeclared recession is already wreaking havoc on the housing market.
Watch for declining sales volume to continue in 2022-2024. In turn, prices will fall back to the mean price trendline by 2025.  When prices decline, recent homebuyers will soon find themselves underwater, weighed down by negative equity. Unable to complete a traditional sale, some of these homes will head toward foreclosure and become real estate owned (REO) properties.
Then, expect a return of real estate speculators to provide a boost during the coming slump, with a sustainable recovery taking off alongside the return of end user homebuyers, around 2026-2027.
Related article:
To read more about home sale trends and firsttuesday's analysis, view California's home sales volume charts.