How many of your sellers in the past year left California?
25% or less. (61%, 22 Votes)
Around 50%. (25%, 9 Votes)
75% or more. (14%, 5 Votes)
Total Voters: 36
California is consistently near the bottom of the barrel when it comes to attracting new residents from out-of-state. This is bad news for real estate professionals, who rely on a consistent supply of new homebuyers.
California experienced the greatest net loss of domestic movers in 2020, according to a United Van Lines study. This report examined the demographics and reasons for those moving in and out of the state in 2020: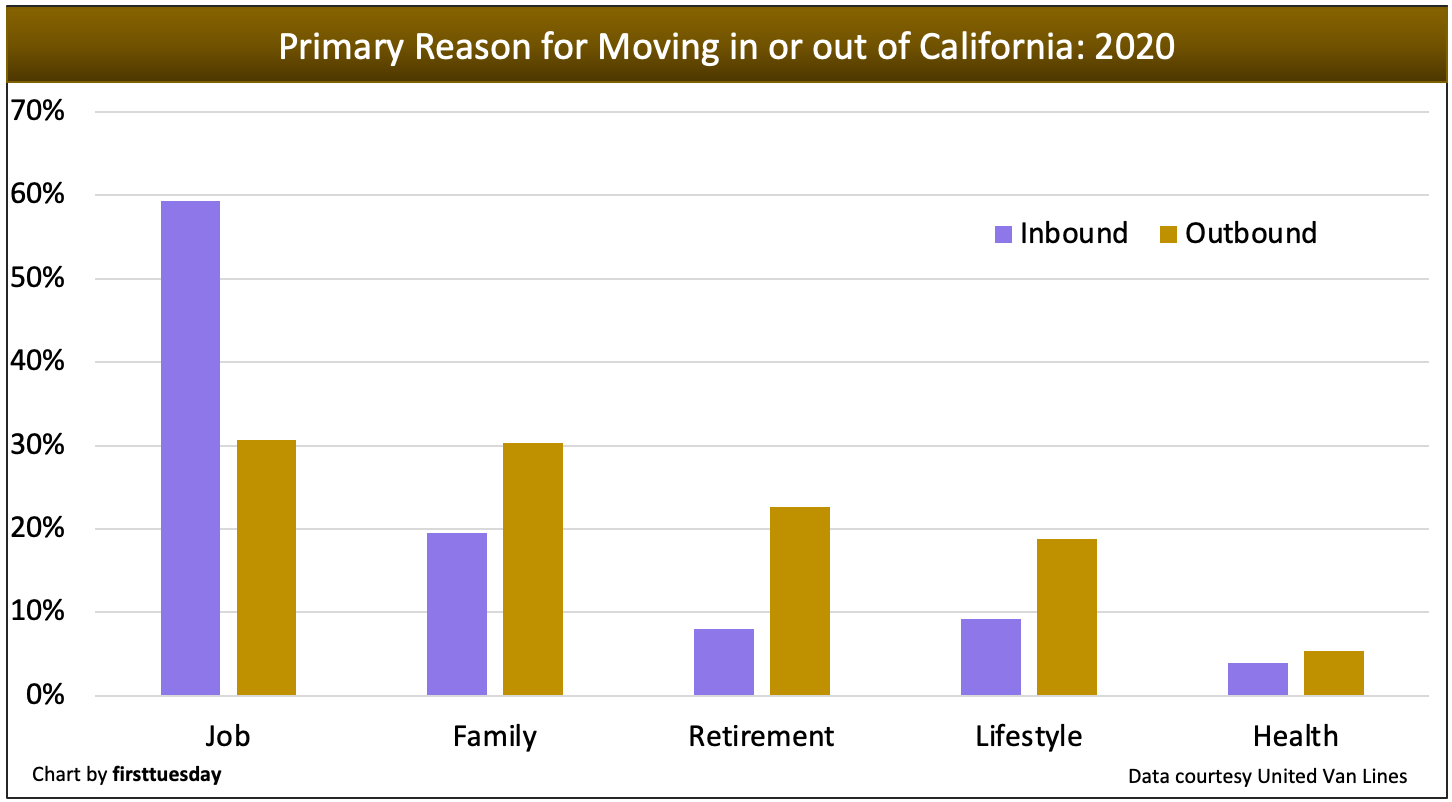 The greatest share of inbound residents continues to be from the younger generations, tapering off in older households, which are more likely to be moving out of the state than in. In fact, 30% of the 65+ age group who moved in California during 2020 were leaving for another state, while just 19% were moving into California from another state. The remainder moved within the state.
This continues a long trend in negative net domestic migration, with California losing more residents to other states than it gains each year since the 1990s.
At the other end of the spectrum, younger adults are more likely to move into California than out. Related, nearly twice as many inbound than outbound movers cited a job as their primary reason for moving. For real estate professionals, this is good news. While the state's high cost of living sees many retirees leaving for less expensive, more retirement-friendly states like Nevada or Arizona, our high quality of living also attracts young job seekers, many of whom are the prime age to buy their first home.
Inland areas attract migrants
While California as a whole continues to experience net losses to other states, one city stands out for net positive domestic migration — Sacramento, which is ranked 11th for U.S. cities attracting the most inbound movers, according to the 2020 U-Haul report.
Sacramento's attraction for non-residents was confirmed separately by a 2020 Redfin report, which found that just over 50% of Redfin home searches performed in Sacramento originated outside the metro area.
One reason why Sacramento has fared better for migration is the consistent addition to the for-sale inventory, in the form of residential construction. This has kept home prices within reach of more homebuyers, especially compared to its pricey coastal neighbors. In nearby San Francisco and San Jose, new construction has been held back significantly by outdated zoning laws and not-in-my-backyard (NIMBY) advocates. Not so in Sacramento, where construction is welcome, allowing sales volume to keep pace with demand.
If the rest of the state wants to attract more out-of-state residents, it will follow Sacramento's lead. As California's housing shortage has pushed home prices and rents beyond the pace of incomes, state-led legislative efforts to add to the housing stock have become more focused in recent years. Expect these plans to start making a noticeable difference on the inventory shortage starting around 2023-2024.
Related article: