The buyer purchasing power index (BPI) decreased slightly to 7.7 in December 2012. This represents a 7.7% increase in mortgage funds available to today's buyers over one year earlier. December's BPI was down from 8.66 in December 2011. All figures remain positive for short-term upward price movement.
first tuesday forecasts the BPI will drop to zero by mid-2013 and remain there throughout 2014. The BPI will go negative in 2015 when long-term rates rise due to an improving economy. Sellers will then experience downward pressure on prices as buyers are able to borrow less with the same income.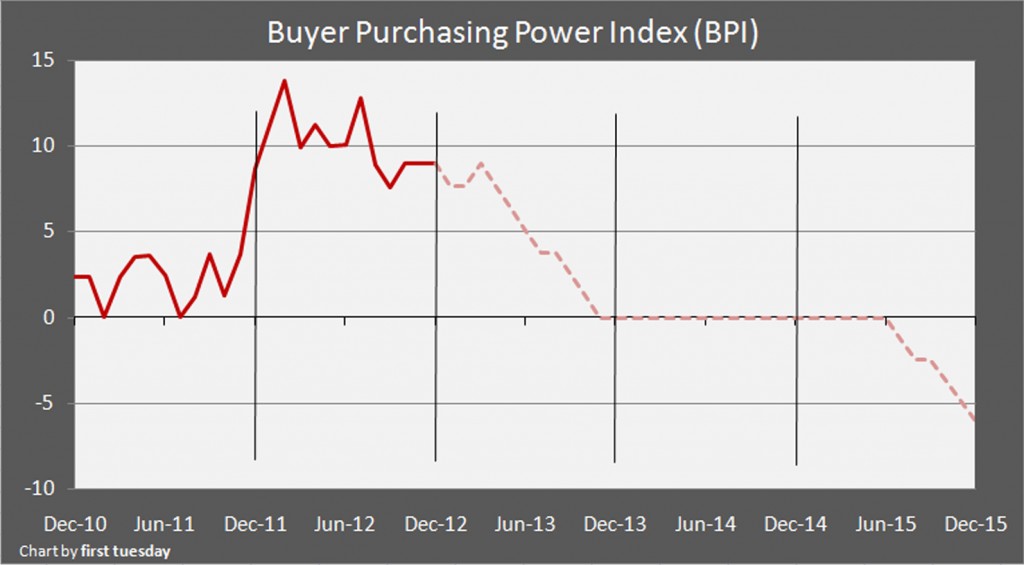 Chart updated 1/2/2013
| | | | |
| --- | --- | --- | --- |
| | December 2012 | November 2012 | December 2011 |
| Buyer purchasing power index  (BPI) | 7.7 | 8.99 | 8.66 |
The BPI is calculated using the average 30-year fixed rate mortgage (FRM) rate from Freddie Mac (Western region) and the median income in California.
A positive index number means buyers can borrow more money this year than one year earlier.
A negative index figure translates to a reduced amount of mortgage funds available.
An index of zero means there was no year-over-year change in the amount a buyer can borrow. At a BPI of zero, prices cannot rise unless buyers resort to ARM financing techniques.
As BPI rises, a buyer can borrow more money and purchase a more expensive home, but still make the same monthly payment they would have made one year earlier when mortgage money was more expensive.
—
first tuesday journal online is a real estate news source. It provides analyses and forecasts for the California real estate market, and has done so since 1978.