Downtown Los Angeles and North San Jose made the list of top U.S. neighborhoods with the largest increases in apartment construction from 2010 to 2016, according to a report by rental news source and data aggregator RENTCafé.
The data analyzes rental constructions of 50 units or more in the 30 largest cities across the U.S. Downtown L.A. ranked second place with 7,551 new rental units and North San Jose came in third with 6,814 new units, both behind Long Island City in Queens, New York.
Other California neighborhoods that ranked among the top 50 were:
Downtown San Jose;
Hollywood, Los Angeles;
Playa Vista, Los Angeles;
South Beach, San Francisco;
South of Market, San Francisco;
Koreatown, Los Angeles; and
Serra Mesa, San Diego.
Meeting renter demand
The report's findings are consistent with our own construction data, which shows a significant uptick in multifamily construction throughout California from 2010 to 2016.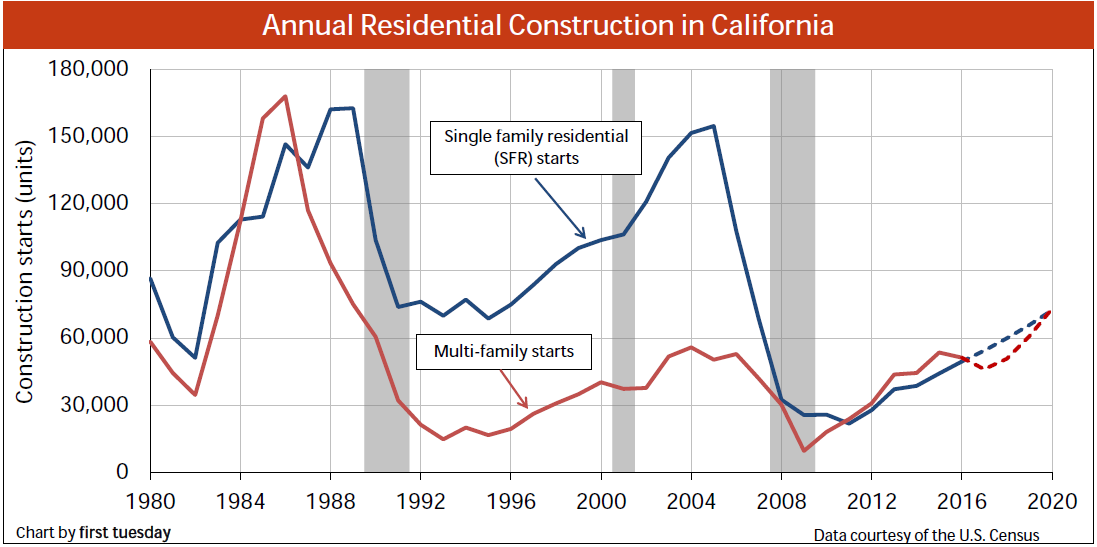 What's driving this boom in rental developments? Growing demand from renters and a highly competitive housing market.
With home prices still trending up, many prospective homeowners are extending their participation in the rental market — a trend that has contributed to a low, post-recession homeownership rate.
In fact, from 2011 to 2015, renter household formations increased 6.5%. Meanwhile, owner households only rose by 1%.
The surge in renter demand has hit city neighborhoods particularly hard, inflating urban rental prices and spurring urban development. Though multifamily developers have directed their focus to high-demand urban centers, renter demand continues to surpass available inventory — even suburban rental markets are experiencing a rental squeeze.
California's rental markets won't fully meet growing renter demand until obstacles to development are addressed. Topping their list of challenges are zoning restrictions, which severely limit where developers can build and how many units each development may contain. Loosened zoning regulations will promote housing development, providing the supply needed to match renter demand.