Half of the nation's most competitive housing markets are in California, according to Redfin's Compete Score.
Redfin's recently launched Compete Score is calculated using the:
number of competing offers received on Redfin listings;
number of waived contingencies received on Redfin listings;
final sale-to-list-price on homes listed in the multiple listing service (MLS); and
number of days on market for all homes in the MLS.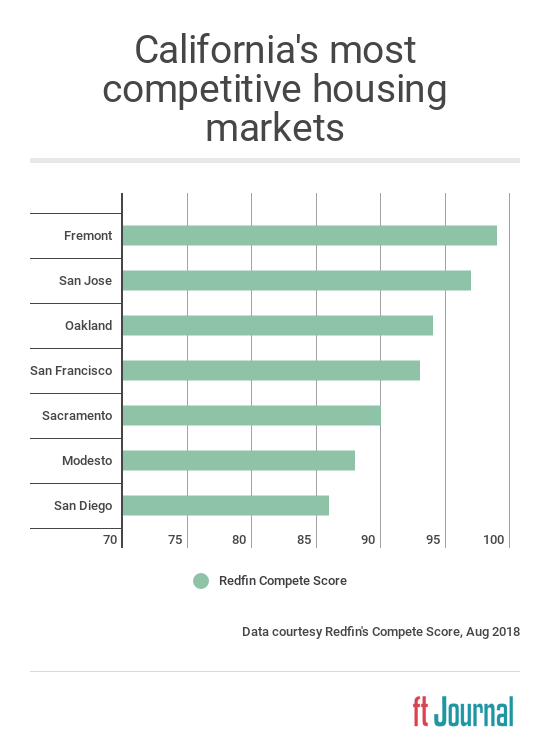 The Compete Score is meant to be used by homebuyers and sellers to help them know what to expect. For example, homebuyers in markets with high compete scores can expect to face bidding wars from other buyers and need to be prepared to act quickly. Likewise, sellers in these areas can expect a swift sale, but need to weigh this with the competitive market for homebuyers they will face when they find it time to re-purchase.
It's also useful for real estate professionals seeking to understand how homebuyers and sellers are competing in their neighborhood.
To see your local compete score, type your city into Redfin.com. Click on the new Home Values option that appears above your search results to see the compete score, which is ranked from 1 (the least competitive) to 100 (the most competitive).
Competition is waning
Competition is highest in areas where inventory is insufficient to keep up with homebuyer demand. This is played out most in Bay Area communities, where the pace of new construction is far below population growth.
But looking at the rest of the state, a sea shift is occurring in 2018.
Buyer fatigue is causing more would-be homebuyers to wait out today's rising prices. After six years of steadily rising home prices, housing market participants and casual observers alike are beginning to wonder when the next downturn will arrive. Many expect home prices to turn down within the next year or two, and no one wants to be the homeowner who bought at the top of the market.
As a result, California for-sale inventory is increasing, up 9% from a year earlier as of June 2018.
Still, real estate professionals don't need to panic. While the housing market is swinging away from the red-hot pace it's experienced in recent years, it's not coming anywhere close to recessionary levels yet.
In fact, as competition lessens and the market cools, more homebuyers who were pushed out due to the inability to compete with all-cash and zero-contingency offers will gradually make their way back into the homebuying scene.
Real estate agents: are you seeing buyer fatigue emerge in your local housing market? Share your insights with other agents in the comments below!