Download the Form
This form is used by an employing broker when entering into an agreement hiring an unlicensed administrative assistant for the broker or a licensee employed the broker, to set forth the assistant's activities and compensation and establish the supervisory role of the broker and the licensee.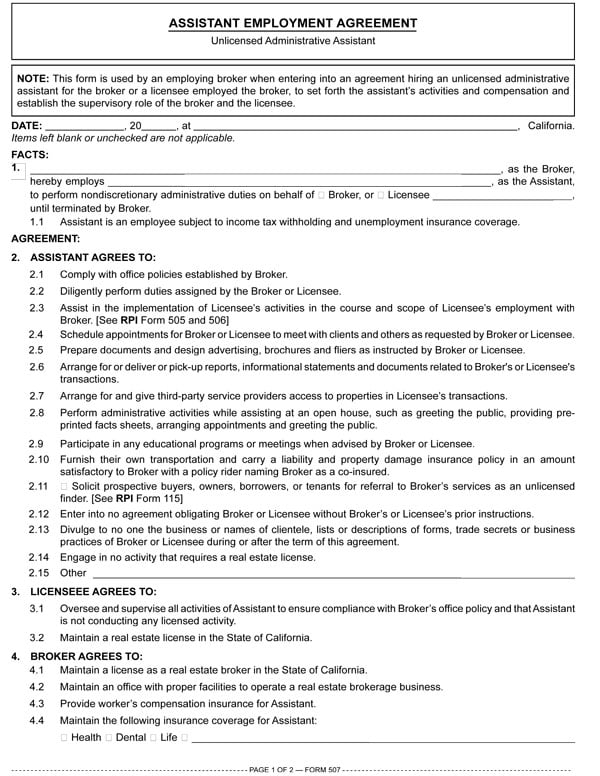 Your use of RPI Form 507
Administrative and nondiscretionary duties
Brokers licensed by the California Bureau of Real Estate (CalBRE) may hire unlicensed assistants to perform administrative activities on their behalf and on behalf of their agents.
Further, a broker who manages transient housing or apartment complexes may hire unlicensed assistants to perform administrative and nondiscretionary duties. All of these unlicensed assistants act only under the broker's supervision and control. [Calif. Business and Professions Code §10131.01(a)]
When assisting a broker who engages in the origination of consumer mortgages, an unlicensed assistant may perform administrative duties, such as information gathering and loan processing — activities which do not require a real estate license or mortgage loan originator (MLO) license endorsement. [Bus & P C §10137]
Thus, brokers may assign tasks to their unlicensed employees, such as:
handling documents;
performing tenant-related negotiations;
canvassing for prospective clients;
opening a property to third-party service providers; and
communicating with parties to a transaction.
However, all unlicensed personnel performing on the broker's behalf need to do so with the broker's permission and their activities continuously supervised. [California Bureau of Real Estate Real Estate Bulletin, Winter 1993]
Handling documents
A common activity for an unlicensed employee is to act as a transaction coordinator (TC). Here, the assistant handles a sales file opened by an agent, reviews transaction documents from the client and confirms their completeness. Documents and forms reviewed by a TC include:
purchase and lease agreements, or other contracts;
disclosure forms and reports;
inspection reports; and
escrow and title reports and forms.
Here, the TC is tasked with confirming the completeness of the documents. Any form or document not complete or fully executed by all required participants is brought to the attention of the agent. Only on the agent's instruction may the document be forwarded to the client or participant for signing or acknowledgement of receipt.
TCs and assistants may prepare documents as instructed by the agent. Once complete, all documents prepared by the assistant are then reviewed by the agent prior to delivery to any participant in the transaction.
On instructions from the agent, an assistant may deliver or obtain documents relating to the transaction directly to and from the client. They may also obtain signatures on documents from any participant in the transaction. However, an unlicensed assistant may not discuss the content or significance of the document with any participant to the transaction — an activity requiring a CalBRE license. [CalBRE Bulletin, Winter 1993]
Property management
An employee hired to assist the broker in the rental and leasing of residential complexes, other than single family units, can be either:
Unlicensed employees may perform tenant-related negotiations, such as:
showing rental units and facilities to prospective tenants;
providing prospective tenants with information about rent rates and rental and lease agreement provisions;
providing prospective tenants with rental application forms and answering questions regarding their completion;
accepting tenant screening fees;
accepting signed lease and rental agreements from tenants; and
accepting rents and security deposits. [Bus & P C §10131.01(a)(1)]
Canvassing for prospective clients
Any unlicensed person may solicit prospective buyers, sellers, borrowers, tenants or landlords for referral to brokers, agents or principals as an unlicensed finder employed by the broker working in exchange for the promise of a fee.
A finder providing referral services in California for a fee may:
find and introduce parties;
solicit parties for referral to others [Tyrone Kelley (1973) 9 C3d 1]; and
be employed by either principals or brokers.
A finder may not:
take part in any negotiations [Business and Professions Code §10131(a)];
discuss the price or terms;
discuss the property conditions; or
discuss the conditions of the transaction. [Spielberg Granz (1960) 185 CA2d 283]
A finder who crosses into any aspect of negotiation which leads to the creation of a real estate transaction needs a real estate license as they are both soliciting and negotiating. Unless licensed, an individual who enters into negotiations (supplying property or sales information) cannot collect a fee for services rendered — even if they call it a finder's fee. Also, the finder is subject to a penalty of up to $20,000 and/or a six-month jail term for engaging in brokerage activities without a license. [Bus & P C §§10137, 10139]
In addition, a broker who permits a finder or anyone else in their employ, due to arrangements made on the broker's behalf with others, to perform any type of "licensed" work beyond solicitation for a referral may have their license suspended or revoked. [Bus & P C §§10131, 10137]
All employees of a broker must be hired under written contracts of employment. This includes licensed agents, administrative staff and finders. Written contracts are entered into to delineate the responsibilities each has undertaken. Provisions limit their conduct to what regulations allow for their licensed or unlicensed status. [See RPI Form 115, 505, 506 and 510].
Generally, a finder's fee is a lump sum amount or a percentage of the fee received by the broker on a transaction which is closed due to the finder's referral. Only sound economics control the amount of the fee a broker, agent or principal should pay a finder for a lead. Also, no limit is placed on the volume of referral business conducted by a finder.
For instance, a broker can compensate their finder with:
a salary;
a percentage fee; or
a lump sum basis per closing. [Zalk General Exploration Co. (1980) 105 CA3d 78; see firsttuesday Form 115 §5]
Further, while brokers may collect advance fees from principals under agreements approved by the CalBRE, finders may not. Advance-fee operators, masking themselves as finders for principals, sometimes collect fees "up front," a prohibited activity for an unlicensed individual. [Bus & P C §10131.2]
Allowing access to property
With the property owner's permission, an unlicensed assistant may open the property to third-party service providers to perform inspections or repairs related to the transaction.
However, an unlicensed assistant may not provide information to the inspector or repairman regarding the property unless they provide it as transmitted from a data sheet the agent has prepared. The assistant is also required to disclose the source of the data to the person receiving the information. [CalBRE Bulletin, Winter 1993]
Open house and marketing
With the property owner's consent, an assistant may perform nondiscretionary activities while helping an agent at an open house for the sale of a property, such as:
providing pre-printed facts sheets which the agent has prepared;
arranging appointments; and
greeting the public.
Under the agent's supervision, assistants may also prepare and design advertising, brochures and flyers in connection with the sales transaction.
However, when assisting an agent at an open house, assistants may not:
show the property;
discuss pricing, terms and conditions of the sale; or
discuss amenity features of the property (e.g. neighborhood, schools, etc.).
Further, any solicitation beyond providing information approved by the agent, such as a flyer, may only be conducted by the agent.
Communicating with transaction participants
Unlicensed assistants may arrange and schedule appointments for agents to meet with principals or members of the public relating to an existing or potential real estate transaction. They may also arrange appointments for services to be provided by third parties, such as pest control companies or appraisers, relating to a transaction. However, when making appointments, the may not discuss details related to the transaction or conditions of the property.
Further, assistants may communicate directly with principals regarding:
the timing of the delivery of reports or other information needed; and
any information relating to the performance and completion of third-party services.
When communicating with the public, assistants may also provide facts to others from writings which the agent has prepared — again advising on the source of the data.
Hiring unlicensed assistants provides time-saving and organizational benefits and is essential to effectively managing the business activities of brokers and agents. Understanding the limitations imposed by the CalBRE and state law allows agents to delegate activities to their assistants without crossing the line into licensed activities.
Delegated administrative activities save the agents and brokers many hours, shifting their valuable time from administrative activities to income-producing, lead-generating activities. In turn, the assistant's activities increase an agent's bottom line, justifying their employment.
Revision history
Form created 09-2015.
Form navigation page published 09-2015.