Use this first tuesday FARM Letter in your marketing. To request a FARM letter topic, or to see a list of all our FARM letter templates, visit our FARM Letter page.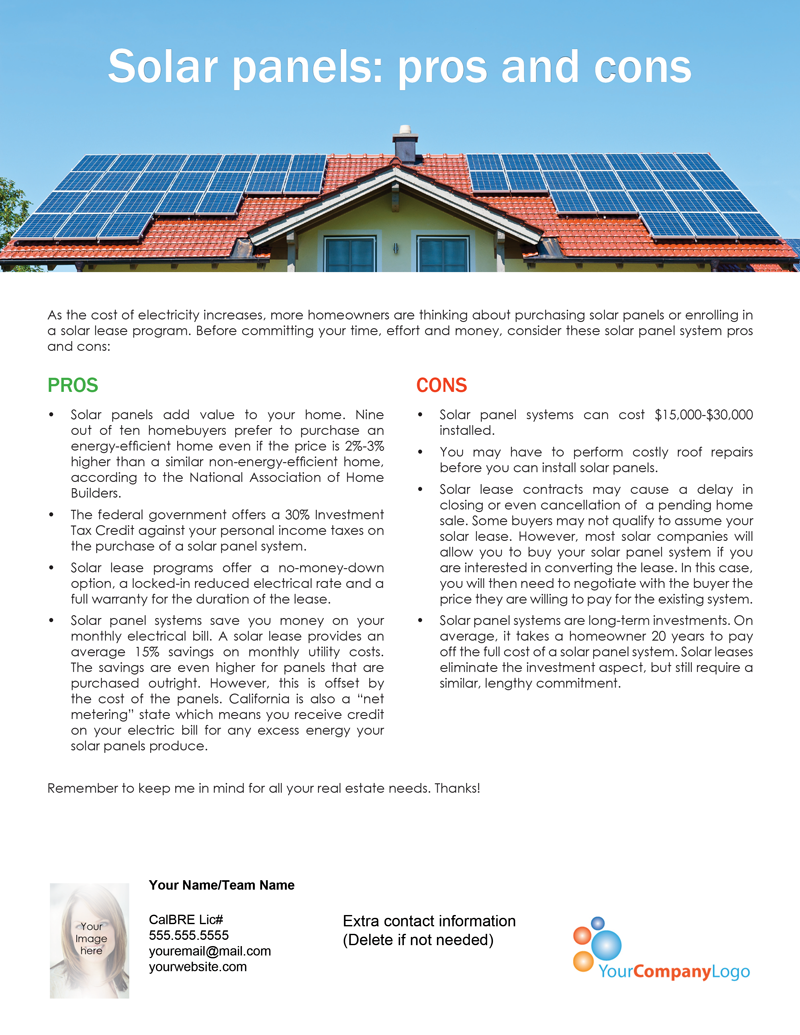 Download the Personalization Instructions
Download the PDF Template
Download the Microsoft Word Template
Text only
As the cost of electricity increases, more homeowners are thinking about purchasing solar panels or enrolling in a solar lease program. Before committing your time, effort and money, consider these solar panel system pros and cons:
PROS
Solar panels add value to your home. Nine out of ten homebuyers prefer to purchase an energy-efficient home even if the price is 2%-3% higher than a similar non-energy-efficient home, according to the National Association of Home Builders.
The federal government offers a 30% Investment Tax Credit against your personal income taxes on the purchase of a solar panel system.
Solar lease programs offer a no-money-down option, a locked-in reduced electrical rate and a full warranty for the duration of the lease.
Solar panel systems save you money on your monthly electrical bill. A solar lease provides an average 15% savings on monthly utility costs. The savings are even higher for panels that are purchased outright. However, this is offset by the cost of the panels. California is also a "net metering" state which means you receive credit on your electric bill for any excess energy your solar panels produce.
CONS
Solar panel systems can cost $15,000-$30,000 installed.
You may have to perform costly roof repairs before you can install solar panels.
Solar lease contracts may cause a delay in closing or even cancellation of a pending home sale. Some buyers may not qualify to assume your solar lease. However, most solar companies will allow you to buy your solar panel system if you are interested in converting the lease. In this case, you will then need to negotiate with the buyer the price they are willing to pay for the existing system.
Solar panel systems are long-term investments. On average, it takes a homeowner 20 years to pay off the full cost of a solar panel system. Solar leases eliminate the investment aspect, but still require a similar, lengthy commitment.
Remember to keep me in mind for all your real estate needs. Thanks!