Use this first tuesday FARM Letter in your marketing. To request a FARM letter topic, or to see a list of all our FARM letter templates, visit our FARM Letter page.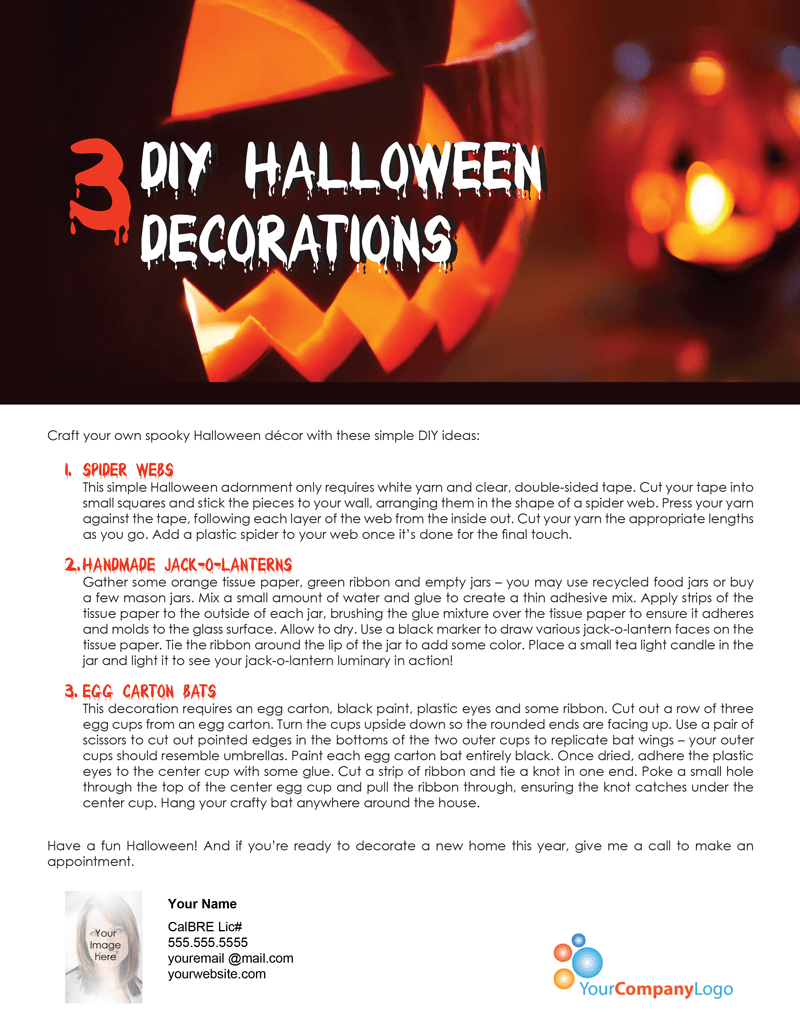 Download the Personalization Instructions
Download the PDF Template
Download the Microsoft Word Template
Text only
Craft your own spooky Halloween décor with these simple DIY ideas:
Spider webs
This simple Halloween adornment only requires white yarn and clear, double-sided tape. Cut your tape into small squares and stick the pieces to your wall, arranging them in the shape of a spider web. Press your yarn against the tape, following each layer of the web from the inside out. Cut your yarn the appropriate lengths as you go. Add a plastic spider to your web once it's done for the final touch.
Handmade jack-o-lanterns
Gather some orange tissue paper, green ribbon and empty jars – you may use recycled food jars or buy a few mason jars. Mix a small amount of water and glue to create a thin adhesive mix. Apply strips of the tissue paper to the outside of each jar, brushing the glue mixture over the tissue paper to ensure it adheres and molds to the glass surface. Allow to dry. Use a black marker to draw various jack-o-lantern faces on the tissue paper. Tie the ribbon around the lip of the jar to add some color. Place a small tea light candle in the jar and light it to see your jack-o-lantern luminary in action!
Egg carton bats
This decoration requires an egg carton, black paint, plastic eyes and some ribbon. Cut out a row of three egg cups from an egg carton. Turn the cups upside down so the rounded ends are facing up. Use a pair of scissors to cut out pointed edges in the bottoms of the two outer cups to replicate bat wings – your outer cups should resemble umbrellas. Paint each egg carton bat entirely black. Once dried, adhere the plastic eyes to the center cup with some glue. Cut a strip of ribbon and tie a knot in one end. Poke a small hole through the top of the center egg cup and pull the ribbon through, ensuring the knot catches under the center cup. Hang your crafty bat anywhere around the house.
Have a fun Halloween! And if you're ready to decorate a new home this year, give me a call to make an appointment.