Find out who excelled and who missed the list in this year's compilation of the largest 60 brokerages in California.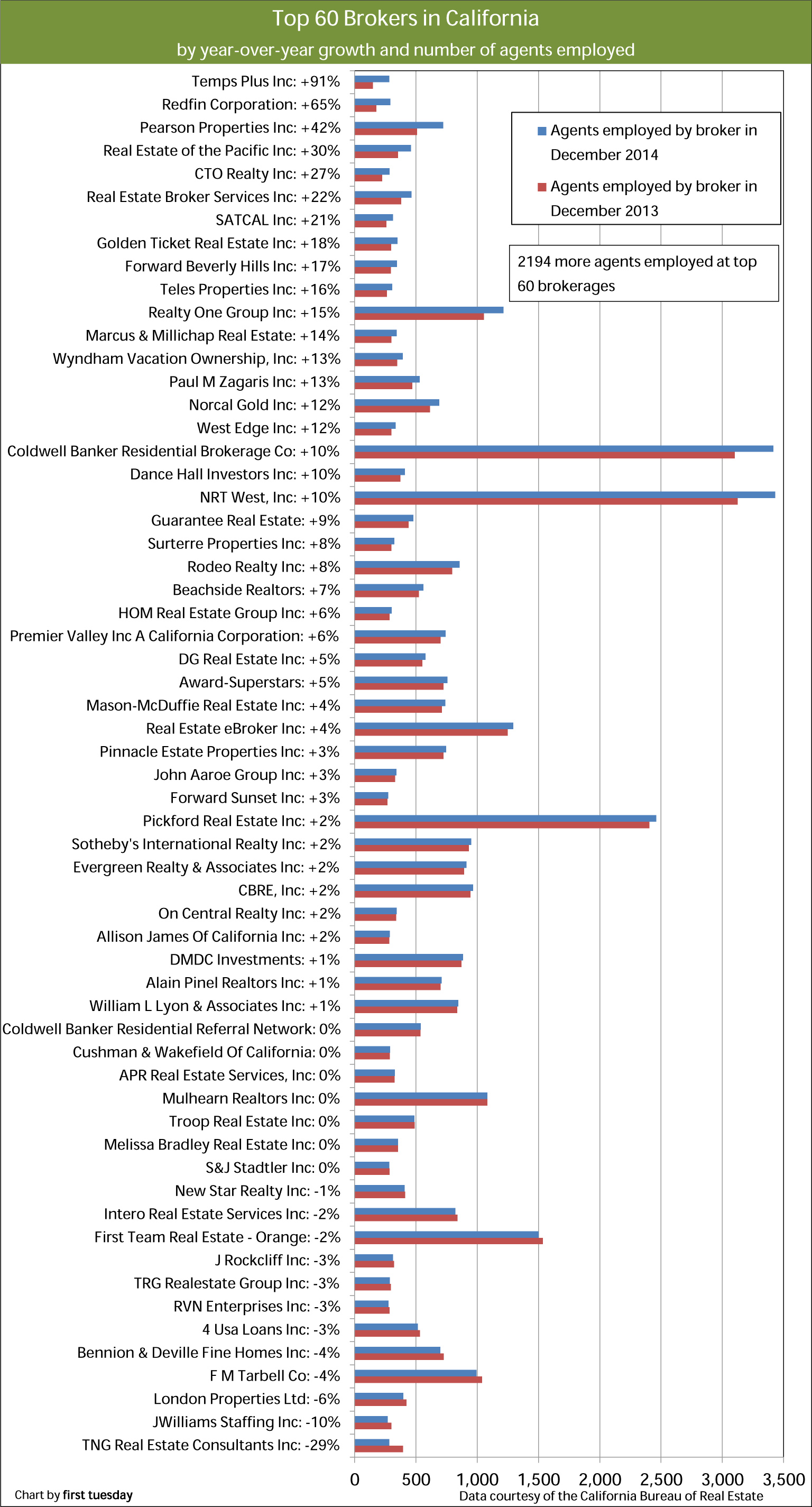 *Chart does not include the number of brokers employed, only sales agents employed by each broker.
This Market Chart is an annual feature, compiled and presented by first tuesday.
This chart shows the percentage change in the number of licensed agents employed by California's 60 largest brokerages from December 2013 to December 2014. Take a moment to see how these large brokers are faring in this economic recovery. What costs might brokers be cutting or eliminating? Who among these brokers will go on to continued success?
Most of the state's major brokers experienced only marginal changes in employment over the past year. Some, like Realty One Group, continued to add significant numbers. Others, like Temps Plus Inc, are new to this list. Other brokerages have fallen off. For instance, missing from this year's list are Pacific Union International Inc, Shorewood Realtors Inc and ZipRealty Inc.
Employment finally caught up to pre-recession numbers in California at the end of 2014, a process which took seven years. However, the jobs recovery continues in 2015, as the intervening population gain of 1.1 million working-aged individuals means we won't likely see a real jobs recovery until 2019.
Few industries suffered in the recession as much as those related to real estate. Licensees who remain full-time real estate service providers today are the ones who have successfully adjusted with a bit of talent and perseverance. Going forward, the main concern for sales agents and brokers in 2015 will be the continued low home sales volume in 2015 due to suppressed demand from buyer-occupants.
The top 10 – how do they do it?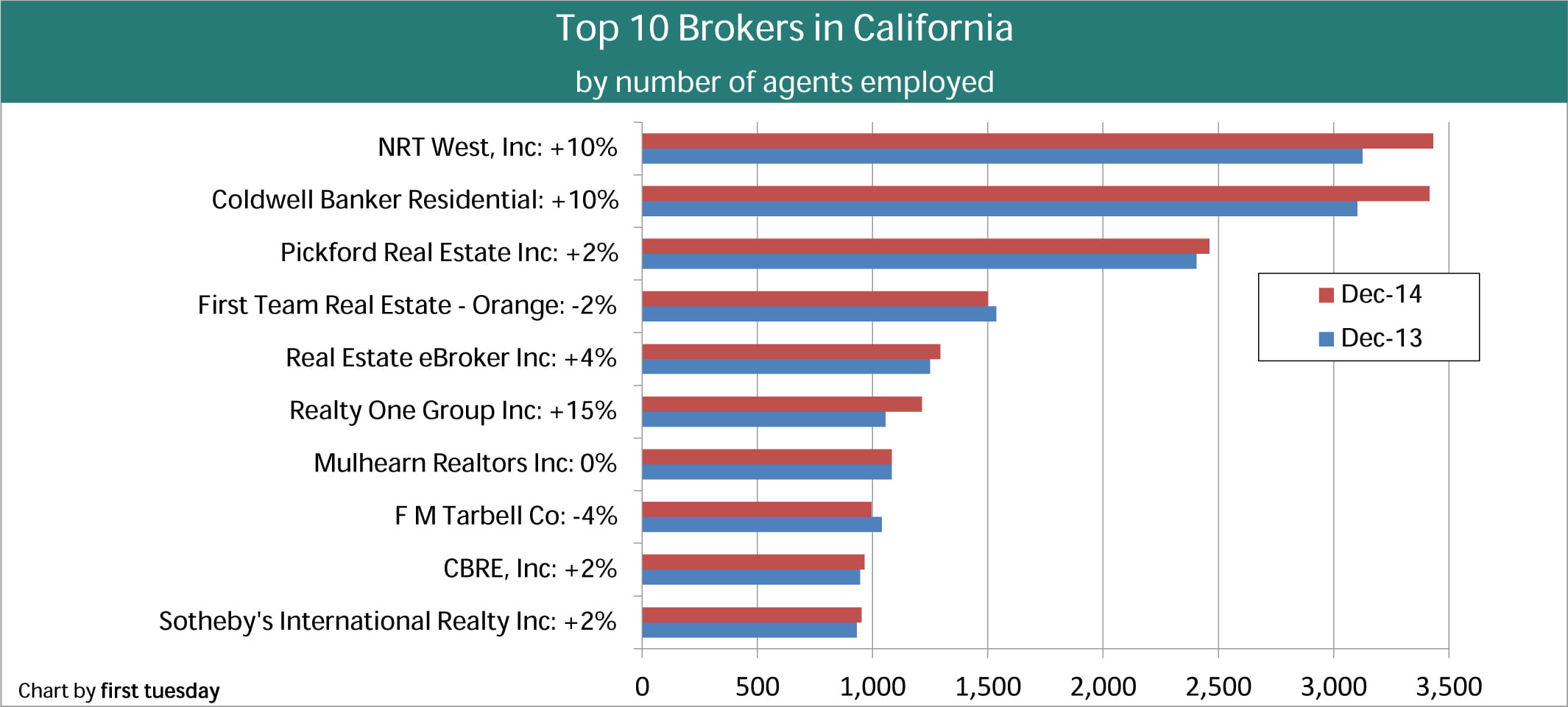 This second chart depicts the very largest of the large: the ten brokers employing the most agents in California as of December 2014 by size. It was a mixed year for these exceptionally large brokers, with a majority increasing their number of agents employed. The top ten brokers collectively added 857 agents, while 2,194 were added to the top 60. The California Bureau of Real Estate (CalBRE) reports real estate agent licensing is down significantly from the boom years preceding 2008, meaning there are now simply fewer agents to go around.
Brokers who once profited by flooding the market with agents to capture sales and mortgage transactions are taking advantage of the extended housing recovery to streamline their operations. Focused and better qualified agents are needed for today's more targeted and refined client service operations.
The majority of the top ten brokers focus their business in single family residential (SFR) sales. CBRE, Inc is the only top-ten brokerage to focus on commercial real estate. Notably, all top ten brokers are located in or near urban areas — namely Los Angeles, San Francisco and San Diego. Brokerages located in cities are poised for growth in 2015 and the future, as more households make their living in these areas each year.
Other things the top ten are doing right:
1. Diversified brokerage services. While large brokerages undoubtedly have the advantage when it comes to real estate services, smaller brokerages can also benefit from branching out. This provides a buffer when one niche in the market is on a downswing. For example, F M Tarbell (tarbell.com) also provides relocation services and property and casualty insurance services.
2. Client contact. Many of these brokerages have built-in systems to reinforce client contact. For instance, First Team Real Estate (firstteam.com) offers numerous tools accessible by clients, including market trends and articles on real estate. Staying informed about the housing market shows potential clients that you are an industry expert.
3. Tech savvy. Coming in at number five, Real Estate eBroker Inc (REeBroker.com) is the sole online-based brokerage to make the list. This non-traditional format is working for RE eBroker, as it remains one of the few large brokerages continuing to grow each year during this housing recovery. Their business model is centered around the belief that the real estate industry is moving away from face-to-face contact and toward technology-based transactions. They offer services such as free agent websites, transaction coordinator services and an online library of commonly used forms and other agent documents.
4. Extended training and staff support. Successful brokers support their sales agents by offering training for both new and experienced agents. Training agents in a range of transactions (such as non-SFR sales and investor transactions) is not only helpful for new agents, but allows more experienced agents to broaden their client base. Sotheby's International Realty (sothebysrealty.com) advertises for specialty markets their agents are trained to handle, including ranches, waterfront properties and vineyards.
Who is behind the mask?
Is the list missing a top broker you think should be recognized? Keep in mind that certain big names, such as Century 21 and Prudential are not operations of a single broker but real estate franchise arrangements used by several different employing brokers to exploit brand name recognition.
Franchisors contract with numerous individual brokers who operate separately from the franchisor and employ agents (and other brokers). While the franchise may appear to cover several hundred or thousand agents, no one broker as a franchisee makes the list. On this chart, franchisees are distinguished from independently branded brokerage offices who employ agents under one corporate broker's license.
Maybe, on the other hand, you are having trouble recognizing some of the names on the charts above. In fact, they may be more familiar than you think, but operating under separate "doing business as" names (DBAs). Unlike a franchise, however, each of these DBAs is tied to one broker license. For the DBAs of each of these top 60 brokers, see the chart below.

Finally, the fourth chart shows the total number, as opposed to percentage growth, of licensed agents employed by each of the top 60 brokers. This chart is indexed by the total number of agents employed over the one-year period.