Use this first tuesday FARM Letter in your marketing. To request a FARM letter topic, or to see a list of all our FARM letter templates, visit our FARM Letter page.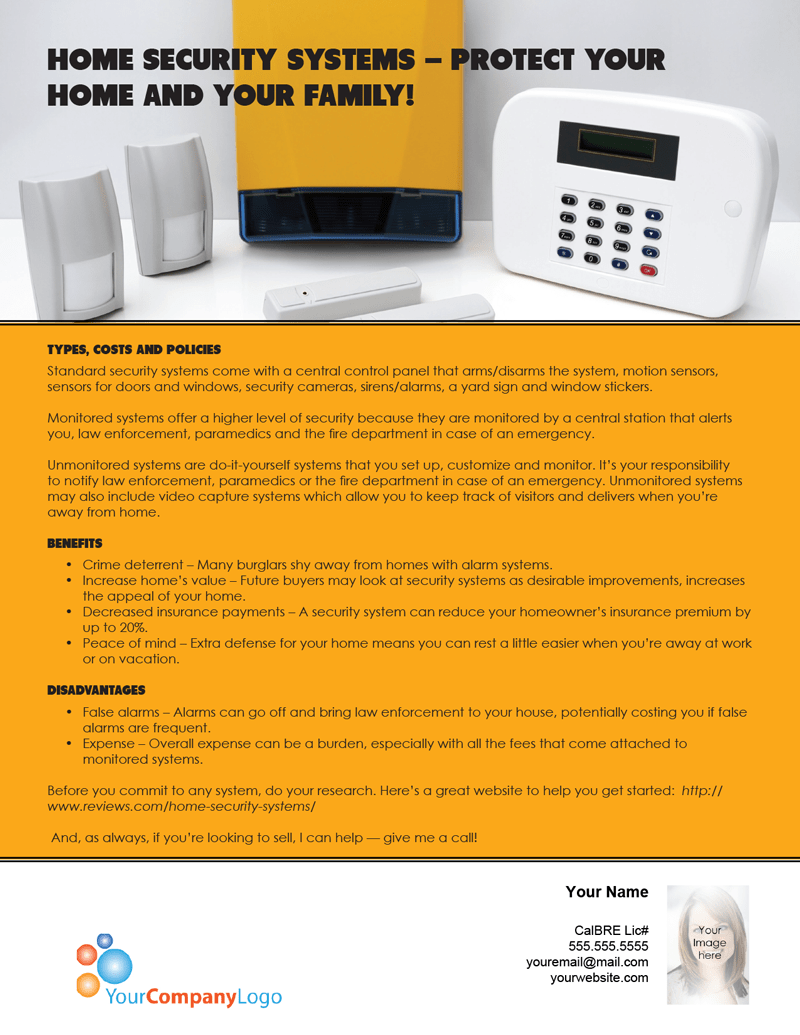 Download the Personalization Instructions
Download the PDF Template
Download the Microsoft Word Template
Text only
Types, Costs and Policies
Standard security systems come with a central control panel that arms/disarms the system, motion sensors, sensors for doors and windows, security cameras, sirens/alarms, a yard sign and window stickers.
Monitored systems offer a higher level of security because they are monitored by a central station that alerts you, law enforcement, paramedics and the fire department in case of an emergency.
Unmonitored systems are do-it-yourself systems that you set up, customize and monitor. It's your responsibility to notify law enforcement, paramedics or the fire department in case of an emergency. Unmonitored systems may also include video capture systems which allow you to keep track of visitors and delivers when you're away from home.
Benefits
Crime deterrent – Many burglars shy away from homes with alarm systems.
Increase home's value – Future buyers may look at security systems as desirable improvements, increases the appeal of your home.
Decreased insurance payments – A security system can reduce your homeowner's insurance premium by up to 20%.
Peace of mind – Extra defense for your home means you can rest a little easier when you're away at work or on vacation.
Disadvantages
False alarms – Alarms can go off and bring law enforcement to your house, potentially costing you if false alarms are frequent.
Expense – Overall expense can be a burden, especially with all the fees that come attached to monitored systems.
Before you commit to any system, do your research. Here's a great website to help you get started: http://www.reviews.com/home-security-systems/
And, as always, if you're looking to sell, I can help — give me a call!