The number of licensed appraisers in California is the lowest since the Bureau of Real Estate Appraisers (BREA) began recording the appraiser population in 1993.
At the end of 2019, just under 10,000 appraisers were licensed in California, half the number of those licensed in 2007, according to the BREA Winter 2019 Newsletter. It's estimated that only about 8,000 of these licensees are active.
Much like the real estate agent population, California's appraiser population is cyclical in nature. When home sales and prices fall, appraisers retreat in search of more lucrative work. When home sales are hot, new appraisers pour in.
Thus, some of the decline of the past decade is due to significantly fewer home sales during the 2010s relative to the buying and selling frenzy of the Millennium Boom. For reference, home sales volume in the state has been stuck at roughly 60% of the Millennium Boom peak since 2010.
But our flat home sales volume only explains part of the appraiser decline. A more worrying influence is related closely to demographics, as fewer new appraisers are entering the labor force than are retiring.
Appraisers who are approaching retirement age are an outsized share of the total population: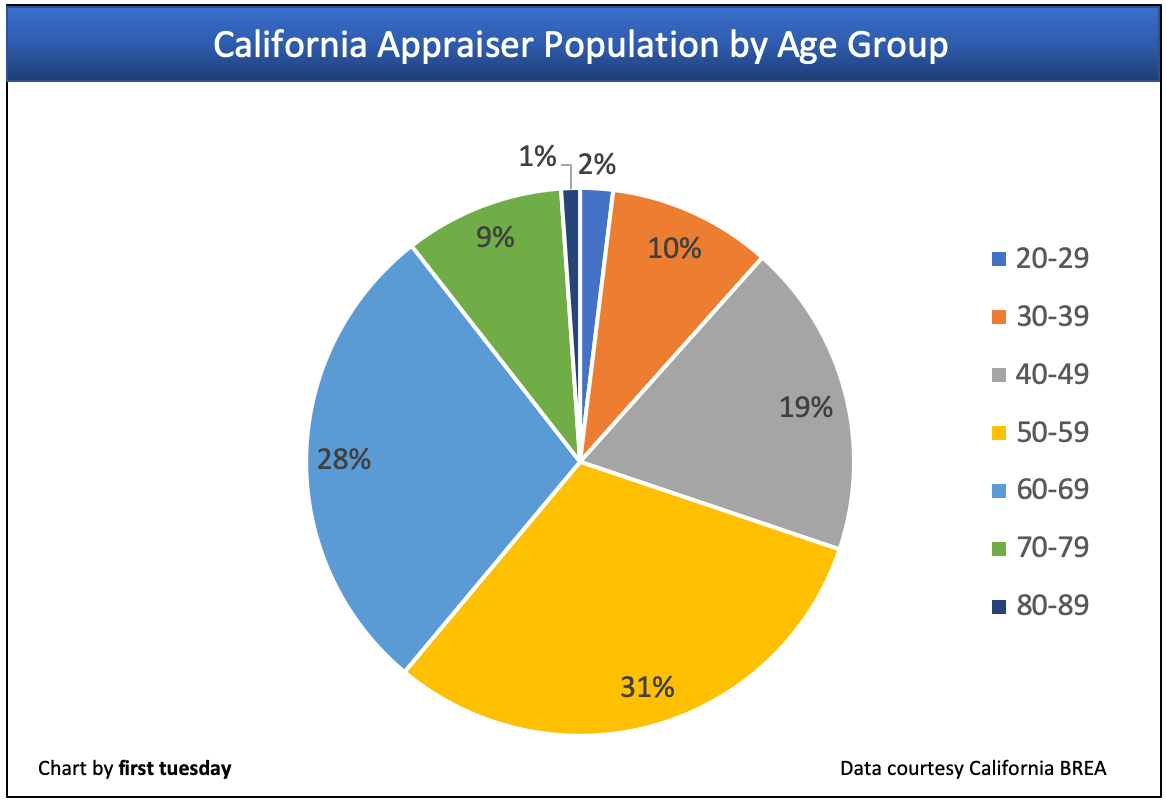 The largest share of the population — 31% — is 50-59 years old. The second-largest share is even closer to retirement, in their 60s. In contrast, early career appraisers in their 20s and 30s make up only 11.5% of the total population, equal to just 1,500 appraisers in the entire state. Further, when excluding appraisers who are still trainees from the total, there are more licensed appraisers in their 80s than there are in their 20s.
Where have all the appraisers gone?
From another perspective, for every active appraiser, 55 home sale transactions closed in California during the last year. Of course, not all of these transactions required an appraiser, and according to BREA Chief, that's part of the reason for the declining population. Specifically, appraisers are in less demand since technological advances and shifting lending requirements lessen the need for official appraisals. In many cases, a simple broker price opinion — which is usually cheaper and quicker — will suffice.
However, this lessened demand is not echoed in the nonresidential sector. Appraisers seeking steady fees continue to rely on commercial and multi-family transactions, which require thorough and complex appraisal reports.
Will California's current low appraiser population continue? Or has it reached a bottom?
As about 38% of the appraiser population (aged 60-79) is set to exit the labor force in the coming decade, it's unlikely we've seen the bottom yet. But once home sales volume picks up during the rebound from the next recession, new appraisers will be enticed to enter, somewhat closing the gap, but probably not entirely.
It's an exciting time for the appraisal industry. With growing technologies and the promise of appraiser turnover on the horizon, more changes are certain to come.
Related article: