Find out who excelled and who missed the list in this year's compilation of the 50 largest brokerages in California.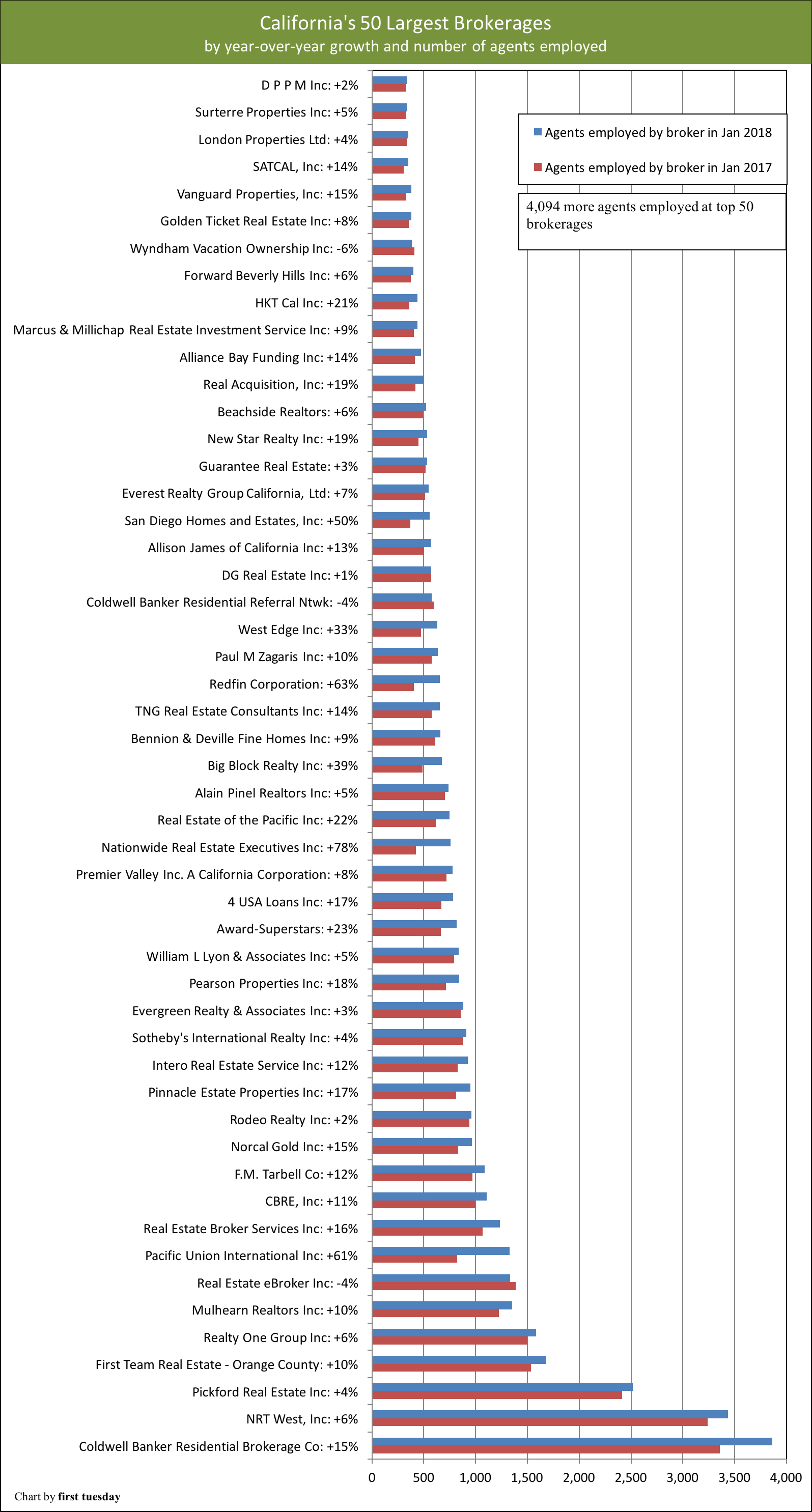 *Chart displays only the number of licensed salespersons employed by each broker and does not include employed broker-associates.
This Market Chart is an annual feature, compiled and presented by first tuesday.
This chart shows the percentage change in the number of licensed salespersons employed by California's 50 largest brokerages from January 2017 to January 2018. Take a moment to see how these large brokers are faring in today's economic expansion. What costs might brokers be cutting and what aspects of their practice are they investing in? Who among these brokers will go on to continued success?
Employment finally caught up to pre-recession numbers in California at the end of 2014, a process which took seven years. However, the jobs recovery continues in 2018, as the intervening population gain of 1.2 million working-aged individuals means we won't likely see a real jobs recovery until 2019.
Few industries suffered in the recession as much as those related to real estate. Licensees who remain full-time real estate service providers today are the ones who have successfully adjusted with a bit of talent and perseverance. Going forward, the main concern for agents and brokers in 2018 will be the continued low home sales volume due to rising mortgage rates coupled with below-average inventory.
The largest 10 – how do they do it?
This second chart depicts the very largest of the large: the ten brokerages employing the most salespersons in California as of January 2018.
It was a mixed year for these exceptionally large brokerages, with a majority increasing their number of salespersons employed. These ten brokerages collectively added 2,011 agents, making up nearly half of the total agents added by the top 50 brokerages. In total, the top 50 brokerages saw an increase of 12.5% from January 2017 to January 2018. In comparison, the number of active salespersons statewide increased just 4.0% over the same period.
The California Bureau of Real Estate (CalBRE) reports real estate agent licensing remains down significantly from the boom years preceding 2008, meaning there are now simply fewer agents to go around.
Brokers who once profited by flooding the market with agents to capture sales and mortgage transactions are taking advantage of the extended housing recovery to streamline their operations. Focused and better-qualified agents are needed for today's more targeted and refined client service operations.
The majority of the ten largest brokerages focus their business in single family residential (SFR) sales. CBRE, Inc is the only top-ten brokerage to focus on commercial real estate. Notably, all top ten brokers are located in or near urban areas — namely Los Angeles, San Francisco and San Diego. Brokerages located in cities are poised for growth in 2018 and the future, as more households make their living in these areas each year.
Other things the top ten are doing right:
1. Diversified brokerage services. While large brokerages undoubtedly have the advantage when it comes to real estate services, smaller brokerages can also benefit from branching out. This provides a buffer when one niche in the market is on a downswing. For example, F.M. Tarbell (tarbell.com) also provides relocation services and property management services.
2. Client contact. Many of these brokerages have built-in systems to reinforce client contact. For instance, First Team Real Estate (firstteam.com) offers numerous tools accessible by clients, including market trends and articles on real estate. Staying informed about the housing market shows potential clients that you are an industry expert.
3. Tech savvy. Coming in at number six, Real Estate eBroker Inc (REeBroker.com) is the sole online-based brokerage to make the top ten list. This non-traditional format is working for RE eBroker, as it remains one of the few large brokerages continuing to grow each year during this housing recovery. Their business model is centered around the belief that the real estate industry is moving away from face-to-face contact and toward technology-based transactions. They offer services such as free agent websites, transaction coordinator services and an online library of commonly used forms and other agent documents.
4. Extended training and staff support. Successful brokers support their sales agents by offering training for both new and experienced agents. Training agents in a range of transactions (such as non-SFR sales and investor transactions) is not only helpful for new agents, but allows more experienced agents to broaden their client base. Sotheby's International Realty (sothebysrealty.com), owned by NRT West, advertises for specialty markets their agents are trained to handle, including ranches, waterfront properties and vineyards.
Who is behind the mask?
Is the list missing a large brokerage you think should be recognized? Keep in mind that certain big names, such as Century 21 and Re/Max are not operations of a single brokerage but real estate franchise arrangements used by several different employing brokers to exploit brand name recognition.
Franchisors contract with numerous individual brokers who operate separately from the franchisor and employ agents (and other brokers). On this chart, franchises are distinguished from their independently branded corporations who employ agents under one corporate broker's license. Several of the brokerages on the list operate as franchisees under separate "doing business as" names (DBAs), such as Century 21, Coldwell Banker and Re/Max.
Maybe, on the other hand, you are having trouble recognizing some of the names on the charts above. In fact, they may be more familiar than you think, but operating under separate DBAs.
For the DBAs of each of these 50 brokers, see the chart below.
Top 60 Brokerage DBAs
Broker
Doing Business As… (DBA)
4 Usa Loans Inc: +17%
PP&W Enterprises, Premier Realty Associates, Premier Team, Quality Transaction Coordinators, San Diego Income Property Management, Sea Ranch - Mendocino Properties, USA Loans, USA Realty, USA Realty and Loans
Alain Pinel Realtors Inc: +5%
Alain Pinel Realtors, Fresh Home Finders
Alliance Bay Funding Inc: +14%
Alliance Bay Realty, Elite Selling Team, One Percent Listing Service, Paragon Real Estate and Mortgage, StateWide Home Mortgage, State Wide Loans, Xsite Real Estate Services
Allison James of California Inc: +13%
Allison James Estates & Homes Elite, Allison James Team, Apple Tree Realty, Tahoe Agent Group, Town Square Realty Group
Award-Superstars: +23%
Century 21 Award, Century 21 Award Property Management, KT Solo Homes
Beachside Realtors: +6%
Century 21 Beachside Realtors, Coldwell Banker Beachside Realtors
Bennion & Deville Fine Homes, Inc: +9%
No DBAs
Big Block Realty Inc: +39%
2 Sparks Group, 619 Real Estate, 619 Realtors, Ace Real Estate Services, Alliance Group Real Estate, BBR Commercial, Beach Realty San Diego, Bella Vistas Realty, Big Block Mobile Homes, Big Block Commercial, Big Block Mobile Homes, Big Block Realty, Bluwater Homes, California Sunset Realestate, Dave Kearney Real Estate Group, DTLA Life, Exclusive Real Estate Service, Family First Real Estate, Gail Feldman Group, HexSDHomes, Hieshetter Realty, The Home Sniffer Team, Home Vision Realty, House to Home Realty, JOG Real Estate, L.C. Homes & Associates, The Luxury of Home,
Magic Home Sales, Mary L. Noble Realty Associates, Matulac Realty Group, McT Real Estate Group, Milestone Real Estate, Millennium Realty, Mister Aloha Real Estate, Mode Real Estate, MOOV, Omni Real Estate SD, Poway Realty, Premier Coastal Realty Group, Premium San Diego Real Estate, Ranch to Sea Realty, Real Estate Solutions, San Diego Homes and Condos, San Diego Home Sellers, San Diego Lifestyle Realty, San Diego Listings, San Diego Metro Living, San Diego Real Estate Guru, San Diego Short Sale Experts, San Diego Vintage Homes, Savvy Homes, SD Real Estate Hub, Shine Homes, The Short Sale Counselor, SoCal Lifestyle Realty, Sono Realty Group, SSA Real Estate, Team Brazil, Transaction Monster, Two Sparks Group, Urban Nest Realty, Win-Win Realty Group
CBRE, Inc: +11%
No DBAs
Coldwell Banker Residential Brokerage Co: +15%
Coast Newport Properties, Coldwell Banker, Coldwell Banker Coast Newport Properties, Coldwell Banker-Forest E Olson, Coldwell Banker Front Gate Estate Properties, Coldwell Banker Jon Douglas Company, Coldwell Banker McGarvey Clark Realty, Coldwell Banker New Homes, Coldwell Banker Podley Caughey & Doan Realtors, Coldwell Banker Residential Brokerage, Coldwell Banker Residential Real Estate Services, Coldwell Banker William Wilson Company, The Corporate Answer, Coldwell Banker Commercial NRT, Fred Sands, Fred Sands Brown Realtors, Fred Sands Estates, Fred Sands Ranches, Fred Sands Realtors, Fred Sands Realty, Front Gate Estate Properties, Park Lankershim, Sands Commercial, Sands Referral Network, Strada Properties, Strada Properties Laguna, Valley N' Shores Property Management Company, Westlake Information Center, William Wilson Company
Coldwell Banker Residential Referral Ntwk: -4%
Referral Network Inc
D P P M Inc: +2%
Ford Real Estate, Westwind Referral Network, Zephyr, Zephyr Commerical, Zephyr Real Estate
DG Real Estate Inc: +1%
Baldwin Real Estate Services, Baldwin Realty, Baldwin Realty Company, Dilbeck Christie's Great Estates, Dilbeck Christie's International Real Estate, Dilbeck Commercial, Dilbeck Commercial Real Estate, Dilbeck Ellis, Dilbeck Ellis GMAC, Dilbeck Ellis GMAC Real Estate, Dilbeck Ellis Real Living, Dilbeck-Ellis Real Living, Dilbeck Ellis Realtors, Dilbeck Ellis Realtors GMAC, Dilbeck Ellis Realtors GMAC Real Estate, Dilbeck Ellis Realtors Real Living, Dilbeck-Ellis Realtors Real Living, Dilbeck Estates, Dilbeck Estates Christie's Great Estates, Dilbeck Estates Christie's International Real Estate, Dilbeck Gibson, Dilbeck Gibson Christie's Great Estates, Dilbeck Gibson Christie's International Real Estate, Dilbeck Gibson GMAC, Dilbeck Gibson GMAC Real Estate, Dilbeck Gibson Real Living, Dilbeck Gibson Realtors, Dilbeck Gibson Realtors Christie's, Dilbeck Realtors, Dilbeck Gibson Realtors Christie's Great Estates, Dilbeck Gibson Realtors Christie's International Real Estate, Dilbeck Gibson Realtors GMAC Real Estate, Dilbeck Gibson Realtors Real Living, Dilbeck GMAC Real Estate, Dilbeck Real Estate, Dilbeck Real Estate Christie's Great Estates, Dilbeck Real Estate Christie's International Real Estate, Dilbeck Real Estate Commercial Investment Division, Dilbeck Real Estate Real Living, Dilbeck Real Living, Dilbeck Realtors, Dilbeck Realtors Christie's Great Estates, Dilbeck Realtors Christie's International Real Estate, Dilbeck Realtors Commercial Investment Division, Dilbeck Realtors GMAC, Dilbeck Realtors GMAC Real Estate, Dilbeck Realtors Real Living, Dilbeck Realtors Since 1950, Dilbeck Realtors Since 1950 Christie's, Great Estates, Dilbeck Realtors Since 1950 Christie's International Real Estate, Dilbeck Realtors Since 1950 GMAC Real Estate, Dilbeck Realtors Since 1950 Real Living, Dilbeck Realty, Dilbeck Referral Network, The Du Bois Team, Duryee Real Estate Team, Eller's Sellers Team, Estates Partners, Gibson & Associates, Gibson & Associates Realtors, Gibson Realtors, The Handy Group, Homes Benefits Plus, @next step, Real Living Dilbeck, Real Living Dilbeck Real Estate, Real Living Dilbeck Realtors, Schuster Borland Team, The Steve Purves Team, Suarez & Associates
Everest Realty Group California, Ltd (formerly Troop Real Estate Inc): +7%
Devocean Realty Group
Evergreen Realty & Associates Inc: +3%
Akason Realty Consulting Group, The ARC Group, The Collective Real Estate Group, Complete Real Estate Solutions, Evergreen Realty, Evergreen Realty & Associates, Evergreen Realty, HomeSmart, Everyday Luxury Group, The Everyday Luxury Group, Everyday Luxury Living, Everyday Luxury Real Estate, Everyday Luxury Real Estate Group, The Everyday Luxury Real Estate Group, Excel Real Estate Group, HomeSmart, HomeSmart Evergreen, HomeSmart, Evergreen Realty, JAS Real Estate Group, Ladera Realty, Orange County Real Estate Shoppe, Property Solutions, Short Sale Relief Group
F.M. Tarbell Co: +12%
Bird Realtors, Preferred Properties, Preferred Properties Tarbell Realtors, The REO Depot, SR Team, Tarbell Realtors
First Team Real Estate - Orange County: +10%
First Estates, First Estates Properties, First Team, First Team Commercial, First Team Estates, First Team Estates Becker & Becker Real Estate, First Team Estates Becker & Becker Realty, First Team Property Management, First Team R E, First Team Real Estate, First Team Real Estate Inc., First Team Realty
Forward Beverly Hills Inc: +6%
Canon Hills Closings, Keller Williams Realty - Beverly Hills, L.A. Luxe Group, Lane 4 Real Estate, Luxury Kraft Properties, Rare Properties
Golden Ticket Real Estate, Inc: +8%
Keller Williams Commercial, Keller Williams Realty, Keller Williams Realty Anaheim Hills/Yorba Linda, Keller Williams Realty Yorba Linda/Anaheim Hills, Preferred Property Management
Guarantee Real Estate: +3%
California Relocation Partners, Guarantee.com, Guarantee.com Real Estate Services, Guarantee Real Estate, The Real Realtors of Fresno County, Referral Services
HKT Cal Inc: +21%
The Adomitis Team, The Blu Summit Real Estate Group, Ca. Coast & Mountain Homes,
California Properties 101, The Caudill Team, The Corey Adomitis Team, Cornerstone Investment Group, Covarent, Group 46:10 Southern California, The Heller Real Estate Group, Heller Team, The Heller Team, J & J Realty, Keller Williams Realty, KW Commercial, KW CVSolutions, LuxRE Group, Pacific Crestar Realty, PORTFOLIO Real Estate, RPM Rentals, SDhomestoday.org, SDlookup.com, Your Pro TC
Intero Real Estate Services Inc: +12%
Intero, Intero805, Intero Business Brokers, Intero Mortgage, Intero RE, Intero Real Estate, interorealestate.com, Intero Real Estate and Mortgage Services, Intero Real Estate Services, IRES
London Properties Ltd: +4%
D. Zuber Real Estate Team, Land Offices Division Of London Properties Ltd, Lender Services, Lender Services Company, London Commercial, The London Company, London Executives, London Preferred, londonproperties.com, London Properties Investment Group, London Properties Limited, London Properties Ltd, London Properties Paula Conner Team, London Properties Zuber Team, London Property Management, Mobile LP, mobileLP.com, Oscar Ramos Real Estate Group, Preferred Homes, The Real Estate Store, The REO Group at London Properties, The Short Sale Group at London Properties, Short Sales Services, The Zuber Team
Marcus & Millichap Real Estate Inv Srv Inc: +9%
Institutional Property Advisors
Mulhearn Realtors Inc: +10%
Achiever's Real Estate School, Berkshire Hathaway HomeServices California Properties, Gallery Home Loans, Mother & Son Real Estate, Mulhearn Gallery Of Homes, Prudential California Realty
Nationwide Real Estate Executives Inc: +78%
Nationwide Commercial Executives, Nationwide Luxury Homes and Estates, Nationwide Real Estate Execs, Nationwide Real Estate Executives, Nationwide Realty Executives, Nationwide Referral Network, NRE Commercial
New Star Realty Inc: +19%
New Star Network Realty, New Star Realty & Investment
Norcal Gold Inc: +15%
1st Street Real Estate, The Albiani Real Estate Group, Black Ink Realty Team, Davis Team Real Estate, Edwards & Associates, First Street Real Estate, Gold, The GO Team, Greenway Properties, Hildebrand Selling Group, JaCi and Company, Just Marin Realty, Kim Pacini-Hauch and Company, The Lamb Team, Michelle Perez & Associates, North Bute Real Estate, Pennington & Co, Pete Schwieder Real Estate Group, Placerville Gold Home Team, Placerville Home Team, Platinum Partners Team, The Real Team, RE/MAX Altima, Re/Max Gold, RE/MAX Gold Advantage, RE/MAX Gold All City Realty Group, RE/MAX Gold American River Properties, RE/MAX Gold American River Real Estate, Re/Max Gold Elite, Re/Max Gold, The Good Home Group, RE/MAX Gold, The Kays Group, RE/MAX Gold Noel David, RE/MAX Gold, Team West, Rolfe Realty Group, Sutter Buttes Real Estate, Talamantes Real Estate Group, Team Hovde, Team Hybrid Real Estate Services, Team Plumas Lake, Team Progressive, Your Home Team Advantage
NRT West, Inc: +6%
Coldwell Banker Commercial NRT West, Coldwell Banker Del Monte, Coldwell Banker Previews International, Coldwell Banker Residential Brokerage, Coldwell Banker Residential Real Estate, Coldwell Banker Residential Real Estate NRT West, Del Monte Coldwell Banker Residential Real Estate, TRI Coldwell Banker Residential Real Estate
Pacific Union International Inc: +61%
Morgan Lane Real Estate, Pacific Union Real Estate
Paul M Zagaris Inc: +10%
The Del Real Group, The Dominion Realty Team, Embarcadero Investments Team, Katzakian Williams & Associates PMZ Real Estate, Liberty Association Management, Liberty Property Management, PMZ, PMZ Real Estate, Star Associates, TLC Real Estate, The Valley's Peak
Pearson Properties Inc: +18%
Berkshire Hathaway Home Services Drysdale Properties, Parker Real Estate Team, Park Place Property Management, Premier Transaction Services, Prudential California Realty, Prudential Nor Cal Properties, Referral Realty, The REO Team
Pickford Real Estate Inc: +4%
The Adelpour Group, Affiliated Property Group, A-List Team, v, Amstadter Team, Ana Smith Team, Anderson-Hurst Associates, Angel City Investments, Architectural Collection, Art Camoia & Associates, Bay To Beach Group, Berkshire Hathaway HomeServices California Properties, The Bill Hobbs Group, The Blue Brothers Real Estate Group, The Bradys, Breen Team, Brothers Gough & Associates, The Carole Downing Group, The Chadwick Group, The Clements Group, Clements Group Real Estate, Coast + Valley Real Estate Group, The Colbert Young Team, Darlene Simmons & Associates, Dauman Real Estate Brokers, The Dave Finburgh Team, De Vre International Real Estate Group, v, DiPilla Real Estate Group, Duncan Forgey and Associates, The Easter Team, Ebner & Associates, Ed Prehoden & Associates, Ellyn Dembowski Team, Eugenia Garcia, Jeff Carlson & Associates, Fairbanks Ranch Realty, Feingold Team, Fox Wilson Group, Gary Schoeffler Team, The Ghio Group, The Gold Medal Group, The Grant & Meddleton Team, The Gray Group, Gyldan Group, The Hamilton Co. & Associates, Harden Wright & Associates, Hardey Wankum Team, Hartanov Team, Holtz Real Estate Team, The Homekey Team, The Hypress Group, Indra Group, Jackie Brown & Associates, Jacobo Realty Group, James C Miller & Associates, JDR Top Producers, Joe Piscopo & Associates, John Bell's E-Action Team, John Lefferdink & Associates, The Kaplan Team, The King, Dubois & Pearson Group, The Koop Group, The Leighton Group, Linge & Associates, Links to Coast Realty Group, The Lotzof Group, Maurine Fishel & Associates, The Mills Team, The M&M Team, The Montecito Group, Montecito Partners Group, The M Team, The Murphy Team, Nessel Homes & Associates, Nichole Story Group, The Ora Group, Paul Mueller Properties Associates, Pickford Real Estate - Referral Division, Powerhouse Partners, The Private Realty Group, Ranch & Lifestyle Division, Rancho Carmel Properties Group, Rancho Santa Fe Properties, R. H. Homes Group, Robyn Raskind Properties Associates, Robyn Raskind Properties Group, The Romero Ruoss Group, The Rose Group - Sheila Rose, The Ross Team, Sanborn Team, Sandy Pearce Team, The Santa Barbara Group, Sarah Lynch Group, The Savory Group, The SD Team, The Selko Group, Short Sale Express Pros, The Silva Group, Sim & Company, Staci Treloggin Saunders & Associates, Stan Diego Real Estate Group, St. James & Canter Team, Susana Cohen Corrigan Group, The Tash Team, The Taylor-Leis Group, The Taylors & Associates, Team 15, Team Coleen Brennan, Team Kevin Hill, Team Lombrozo, Team Marks, Team Scarborough, Temecula-Murrieta Homes Group, Tenger Team, Thomas Real Estate Group, Ulnick Group, Wathen Realty Group, Weir Properties Group, Wong-Clark Estates
Pinnacle Estate Properties Inc: +17%
NFM Group, Pinnacle Referral Network, Ridgegate Mortgage
Premier Valley Inc A California Corporation: +8%
Century 21 - M & M & Associates, Century 21 M&M and Associates AG & Ranch Division, Century 21 M&M and Associates Commercial, Century 21 M&M and Associates Fine Home & Estates, Century 21 M&M and Associates Relocation, Cloverland Property Management
Real Acquisition, Inc: +19%
HomeSmart Realty, HomeSmart Realty San Diego, HomeSmart Realty West, The Kimberly Fell Team
Real Estate Broker Services Inc: +16%
Central California Properties, RE eBroker Group Oceanside, Score Commercial
Real Estate eBroker Inc: -4%
American Signature Homes, Bear Valley Realty, JMAK Properties, Lexco Home Services, Online Broker, Online California Brokerage, Online Real Estate Broker, Real Estate Online Broker, REBroker, Reebroker, RE eBroker Group, RE Online Broker, Score Commercial, TC4Agent, WestCoast Realtors
Real Estate of the Pacific Inc: +22%
Amber Anderson & Associates, Anderson, White & Associates, Buyer Representation Group, Chad Perkins Team, Dan Conway & Associates, The David Miller Group, David Schroedl and Associates, Elaine Gallagher & Associates, Eric Lantorno and Associates, Hernholm Group, Home Buying Center, K. Ann Brizolis & Associates, Kathy Pounds Team, Luxury and Coastal Properties Group, O'Byrne Team, Pacific Sotheby's International Realty, Pacific Sotheby's Realty, Pacific Sotheby's International Realty New Homes Division, Pastrana Group, Patricia Kramer and Associates, The Team Advantage, The Trifecta Group, Yarbrough Group
Realty One Group, Inc: +6%
Realty One Group
Redfin Corporation: +63%
Redfin
Rodeo Realty Inc: +2%
1914 Realty, Paramount Properties, Paramount Rodeo Realty, Rodeo Realty
San Diego Homes and Estates, Inc: +50%
Catherine Thoreson & Associates, The Cole Group, Daniel Beer Group, The DeChamplain Group, Drutman and Associates, Gretchen Pagnotta & Associates, Gretchen Pagnotta and Associates, Karen Pado and Associates, Kolker Real Estate Group, The Kranzle Olsen Team, Legacy Homes & Estates, Lisa Herndon & Associates, Michele Massion & Associates, San Diego County Homes, Windermere Homes & Estates, Windermere Homes and Estates
SATCAL, Inc: +14%
Elite Home Sales Team, Keller Williams Realty, SATCAL Referral Network
Sotheby's International Realty Inc: +4%
Sotheby's International Realty Referral Company
Surterre Properties Inc: +5%
Relegance Group, Surterre, Surterre Commercial Investments, Surterre Properties, Surterre Properties Referral Network, Surterre Property Management
TNG Real Estate Consultants Inc: +14%
No DBAs
Vanguard Properties, Inc: +15%
Vanguard Properties
West Edge Inc: +33%
Coldwell Banker West, Point West, SDH Processing
William L Lyon & Associates Inc: +5%
Griffin Team, The Iris Tran Team, Lyon, Lyon & Associates, Lyon & Associates Real Estate, Lyon & Associates Realtors, Lyon Real Estate, Lyon Real Estate Company, Lyon Realtors, Lyon Realty, Lyons, Lyons & Associates, Lyons & Associates Real Estate, Lyons & Associates Realtors, Lyons Real Estate, Lyons Real Estate Company, Lyons Realtors, Lyons Realty, Tom & Kathy Phillips Team, WM L Lyon & Associates Inc, Wm L Lyons & Associates Inc
Wyndham Vacation Ownership, Inc: -6%
No DBAs