Absentee homebuyers, including long-term investors and short-term speculators, purchased 25% of homes sold in Southern California during January 2015. This is down from the post-recession peak of 32% experienced two years earlier.
Likewise, homebuyers using all cash acquired 25% of homes sold during January 2015, well below their 37% share two years earlier when cash homebuyers were at their peak. This is the lowest January for cash buyers in six years. Although most of these cash buyers are absentee homebuyers, some are buyer-occupants who have emptied cash from other investments to purchase a home.
Rapidly rising home prices combined with slipping homes sales volume led to an exodus of speculators beginning in 2013, continuing today. In response, the absentee homebuyer share has decreased more quickly than the share of cash homebuyers, though they are both the same today.
By the end of 2015, the number of owner-occupant homebuyers will rise since lower mortgage rates permit buyers to borrow more and thus pay more than today's speculators are willing to pay. The recent relaxation of down payments and mortgage insurance premiums (MIPs) will also encourage buyer-occupant acquisitions.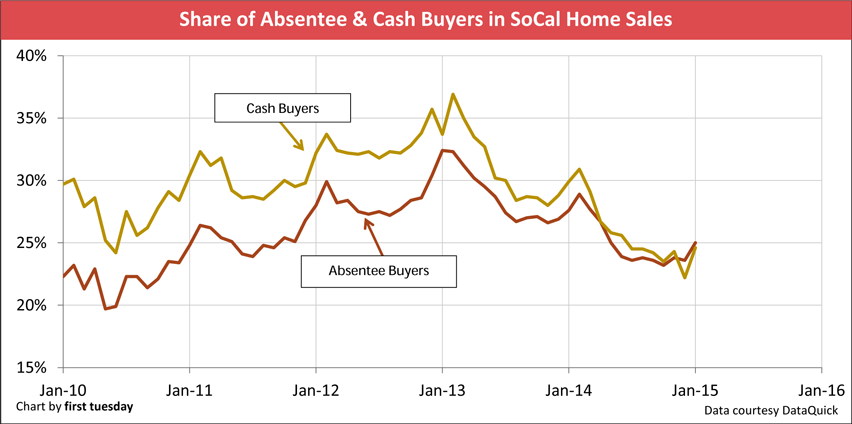 Chart update 02/24/15

| | | | |
| --- | --- | --- | --- |
| | Jan 2015 | Dec 2014 | Jan 2014 |
| Absentee buyers | 25% | 23.6% | 27.6% |
| Cash buyers | 24.6% | 22.2% | 29.9% |
| | | | |
| --- | --- | --- | --- |
| | Jan 2014 | Dec 2014 | Jan 2014 |
| Owner-occupant buyers | 75% | 76.4% | 72.4% |
| Cash buyers | 24.6% | 22.2% | 29.9% |
Speculators chase home price movement
The percentage of speculators and cash homebuyers present in the housing market runs in tandem. Sellers often prefer cash offers to financed offers, as cash deals close more swiftly. Unlike owner-occupant homebuyers, speculators more often have access to the cash needed to fully fund their transactions. End users are normally relegated to traditional financing — 30-year fixed-rate mortgages (FRMs) and, if they chose to overreach, less friendly adjustable rate mortgages (ARMs).
Each year, the percentage of absentee and cash homebuyers makes a U-shape, finding its trough mid-year and rising to peak at the beginning of the following year. However, this was not the case in 2013. 2013 — purportedly the year of the speculator — actually saw the percentage of speculators decrease throughout the year, continuing in 2014. Further, the number of home sales closing escrow slipped throughout 2013-2014. Thus, both the number and percentage of speculators have fallen, bottoming in December 2014 at under 24%.
The reason for the current speculator exodus? Home prices rose too quickly, pushed upward by speculator over-activity in 2012 and the first part of 2013. Prices continued to rise even as speculators diminished at the end of 2013. This is due to the sticky price phenomenon, in which sellers continue to list their homes at elevated prices despite waning fundamentals of sales volume with fewer homebuyers (happy to overpay for property).
It typically takes around nine to twelve months for home prices to reverse direction to follow falling sales volume. Thus, home prices peaked in Q3 2014.
Speculators drop the ball
Don't expect speculators to return to the levels seen in 2012 or 2013 anytime soon. In the next couple of years, end user owner-occupant homebuyers will make up more of the homebuying market.
This doesn't mean end users are ready to take over the reins. Jobs just returned to pre-recession levels at the end of 2014 – a process which took seven years. However, incomes have yet to catch up. Reduced incomes, along with rising mortgage rates expected by the end of 2015, will cause downward pressure on home sales volume and prices through mid-2016.