Residential rental rates across the country are finally beginning to decelerate, according to data from RENTCafé. The average rent in the U.S. rose to $1,314 in April 2017, a mere $2 increase from the prior month and only 2% higher than the prior year.
Comparatively, U.S. rents in April 2016 increased 6% over the prior year. The recent marginal increase marks the biggest slowdown in rent growth in three years.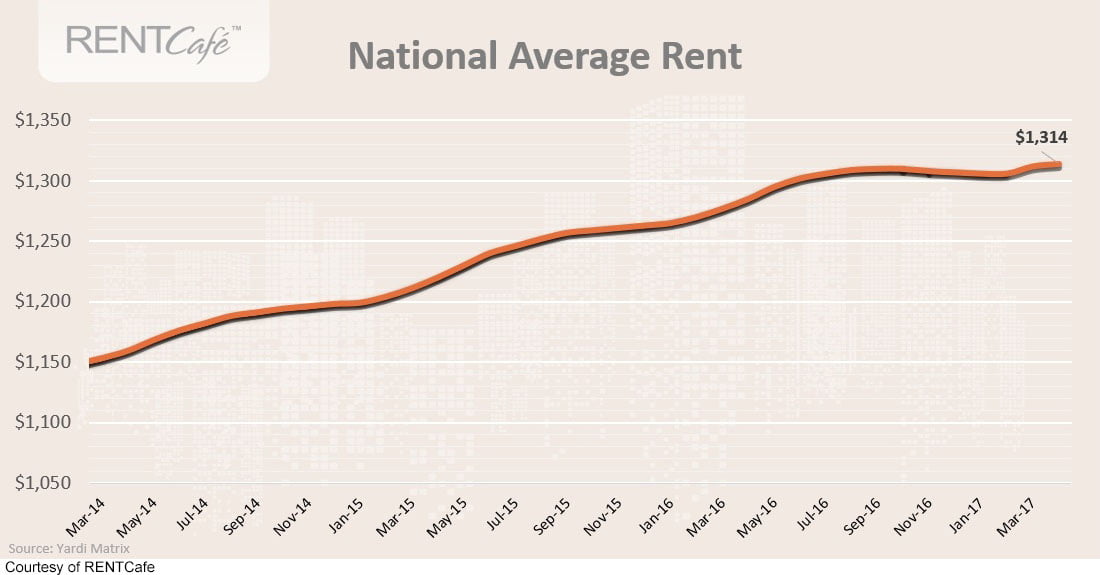 However, California's rental market presents a much different picture. Here in the Golden State, rents are growing faster than any other state: 11 of the 20 U.S. cities with the largest rent increases are located in California.
California's rent trends
The cities with the highest annual increases in average rents are:
Stockton, increasing 11.2% to $1,029;
Lancaster, increasing 10.9% to $1,101;
Santa Rosa, increasing 9.4% to $1,775;
Modesto, increasing 9.4% to $1,083;
Sacramento, increasing 9.2% to $1,212;
Fairfield, increasing 8.4% to $1,601;
El Cajon, increasing 7.8% to $1,387;
Victorville, increasing 7.6% to $968;
Fontana, increasing 7.5% to $1,163;
Moreno Valley, increasing 7% to $1,343; and
Pomona, increasing 7% to $1,441.
Notably, most of the areas experiencing the fastest growth in rents are not located in urban cores. Rather, they are positioned in peripheral cities. As jobs and populations continue to grow in metro centers, demand is quickly outpacing available rental units and overflowing into nearby rental markets.
Those areas on the outskirts of large cities are now seeing a parallel increase in renter demand, quickly driving up rents at rates faster than their neighboring metros.
A perfect example of this trend is the San Diego area. While the average rent in San Diego increased a mere 1.9% over the prior year, rents in nearby Chula Vista (4.4%), Escondido (5.7%) and El Cajon (7.8%) rose at much higher rates.
Meanwhile, severely inflated rental markets like San Francisco and its surrounding suburbs are seeing the largest decline in rental rates — yet still remain far more expensive than the rest of the state.
The silver lining? Though California's rental markets are brimming with unmet demand and inflated rents, the rent slowdowns in high-demand areas suggest rates may be reaching their peaks.
Just as demand is driving up rents, it will also spur multi-family developments. As inventory grows to meet the mounting renter demand, rental markets will gradually stabilize with lower rents, a trend already emerging in the U.S. and still catching on in the Golden State.