The California Bureau of Real Estate (CalBRE) issues licenses in different statuses as a result of negative or disciplinary action. Here's what you need to know about CalBRE disciplinary actions — and how to remove them from your real estate license.
Real estate violations
Licensed sales agents and brokers are occasionally the subject of disciplinary action against their real estate licenses when the California Bureau of Real Estate (CalBRE) detects a violation of real estate law through an audit or complaint. Applicants for real estate licenses may also be subject to restrictions on their licenses at the time of issuance for reasons of their past history.
Limited licenses for applicants
An applicant for a real estate license may have their application denied for several reasons, including:
conviction of a crime substantially related to real estate practice;
failure to disclose criminal convictions or disciplinary actions taken by another state or federal agency; and
failure to pay taxes over $100,000 in obligations due the Franchise Tax Board (FTB) or State Board of Equalization (SBOE). [See RE 229; Calif. Business and Professions Code §494.5]
Prior to a final denial, the CalBRE notifies an applicant of their right to a hearing where they may defend their request for a license.
The applicant needs to submit a written request for a hearing within 60 days of the denial of their license, or their right to a hearing is waived. [Bus & P C §485]
Editor's note – It is imperative for an applicant or licensee to obtain legal counsel if they choose to attend a disciplinary hearing regarding their license. Investigations by the CalBRE may sometimes result in unnecessary disciplinary action against a licensee or applicant who is innocent of the charges in question.
For example, a broker unknowingly misrepresents the square footage of a property and is accused by the buyer of breaching their fiduciary duty owed to the buyer. The CalBRE responds to the buyer's complaint by suspending the broker's license. The broker contests the suspension and reinstates their license since the CalBRE may not act against a license without clear and convincing evidence the broker's misconduct was intentional. [The Grubb Company v. Department of Real Estate (2011) 194 CA4th 1494]
If the hearing still results in a denial of the license, the applicant may take further steps to clear themselves for reapplication. Applicants denied on grounds of a conviction may provide proof of various forms of rehabilitation – such as restitution or early discharge from parole – for the CalBRE's evaluation. If the CalBRE finds the applicant's rehabilitation satisfactory, the applicant may reapply for a license. [Bus & P C §482(a)]
Disciplinary action against licensees
Sales agents and brokers already licensed by the CalBRE are held responsible for any violation of real estate law they engage in while holding a license. Consumer complaints or CalBRE audits may reveal a licensee's violations which then expose them to a review by CalBRE and possible disciplinary action.
In October 2015, 84 licensees were subjected to disciplinary action in California. Most disciplinary actions cite several violations per licensee. Common reasons for disciplinary action against a license include:
misrepresentation and nondisclosure of material facts;
failure to report violations of real estate law (a breach of duty owed the state by an employing broker);
nondisclosure of criminal convictions;
performing licensed activities without a supervising broker or officer; and
trust fund mishandling.
The CalBRE is required to publish disciplinary actions, including restrictions, for every licensee affected. The CalBRE public license lookup displays every California licensee's status and disciplinary history. [Bus & P C §10083.2]
Once a violation is found, CalBRE notifies the licensee by mail or serves notice of the CalBRE's investigation and intention to initiate a disciplinary action against their license. The notice also informs the licensee of their right to request a disciplinary hearing. When the licensee does not request a disciplinary hearing with 15 days of receiving notice, their right to a hearing is waived. [Calif. Government Code §11506]
At the disciplinary hearing, the facts of the alleged violation are presented to an Administrative Law Judge (ALJ). The licensee has the opportunity to argue in defense of their license at the hearing. [Gov C §11505]
The ALJ then provides within 30 days of the hearing a recommendation for disciplinary action to the Real Estate Commissioner. [Gov C §11517(c)(1)]
The final decision for disciplinary action is made by the Commissioner within 100 days following the ALJ's recommendation. [Gov C §11517(c)(2); California Bureau of Real Estate Bulletin, Winter 2012]
The Real Estate Commissioner may, as a consequence of a disciplinary hearing:
restrict a license;
suspend a license; or
revoke a license.
The licensee is notified by mail or personal delivery of the Commissioner's decision and any conditions or tasks they need to fulfill in compliance with the decision. [Gov C §11518]
Restricted licenses
A restricted license is a probationary license which grants the holder the right to limited practice. A restricted license may be issued to:
a license applicant who has not met all licensing requirements; or
an existing sales agent or broker whose license has been placed on restriction for a violation of real estate law. [Bus & P C §10156.5; see RE 292]
Restricted licenses may be limited by:
term of license duration;
employment to a particular broker (for sales agents); or
conditions limiting the licensee's scope of practice, including:

a requirement to obtain a surety bond. [Bus & P C §§10156.6, 10156.8]
Restrictions are determined by the Real Estate Commissioner following a disciplinary hearing. [See RE 222]
Restricted licensees are unable to automatically renew their licenses until their license has been reinstated or the restrictions have been removed by the Commissioner. [Bus & P C §10156.7]
If a sales agent is issued a restricted license on the condition they work under a particular broker, the employing broker needs to certify their supervision of the licensee in compliance with the Commissioner's restrictions. Brokers who employ a restricted licensee also need to adjust their practices to ensure they are performing close supervision of the licensee. [CalBRE Real Estate Bulletin, Winter 2010; see RE 552]
When an individual holding a restricted license does not comply with the conditions and petitions for an unrestricted license, they may end up with their license suspended. If their license is suspended, they may not perform any licensed activities until the suspension is lifted upon proof of the licensee's fulfillment of the conditions. [Bus & P C §§10156.7, 10177(k)]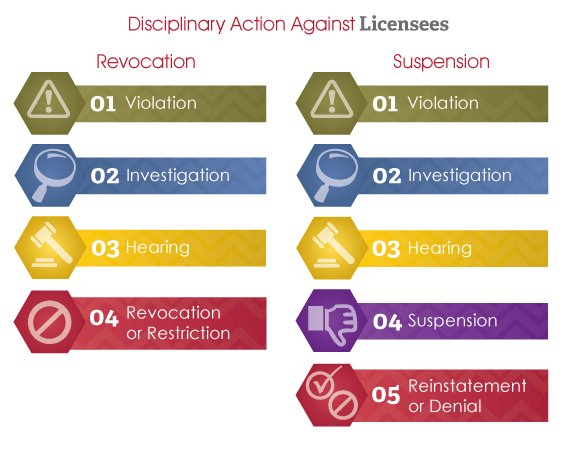 Suspended licenses
A suspended license prohibits a licensee from performing any licensed acts until they fulfill conditions or requirements determined by the CalBRE. [See RE 292]
An existing licensee may also be subject to suspension for:
failing to pay child support obligations [Bus & P C §490.5; Calif. Family Code §17520];
failing to pay over $100,000 in tax obligations due the FTB or SBOE [Bus & P C §494.5];
failing to disclose criminal history or disciplinary action by another state or federal agency [Bus & P C 10186.3]; or
violating the conditions of a restricted license. [Bus & P C 10177(k)]
A license may only be suspended by the CalBRE without the right to a hearing if the licensee is incarcerated for committing a felony. In this case, the CalBRE notifies the licensee of the suspension and informs them of their right to request a disciplinary hearing. [Bus & P C §10186.1]
Suspended licenses may be held for either 90 days or 150 days, depending on the cause of suspension. If the licensee does not fulfill the conditions required to lift the suspension at the end of the designated time period, the license expires and may later be withheld or denied. [See RE 292]
Otherwise, the license is reinstated upon the licensee's completion of the conditions or tasks issued by the Commissioner when the license was originally suspended.
Revoked licenses
For the same reasons a license may be denied or suspended, a license may be revoked. Licensees whose licenses have been revoked may not perform any licensed activities – as if they never had a license.
The CalBRE may decide to revoke a license at their discretion. CalBRE makes disciplinary decisions on a case-by-case basis. They may determine a licensee's specific circumstances surrounding a violation deem them unfit to practice real estate brokerage. Thus, the CalBRE revokes the license instead of suspending it.
The disciplined licensee may petition the CalBRE for reinstatement of their license no sooner than one year after revocation of their license if they wish to return to work as a broker or agent in real estate transactions. [Gov C §11522]
Reinstating a disciplined license
Disciplined licensees whose licenses have been revoked or restricted are required to petition for reinstatement to an unrestricted license status. The petition requires a nonrefundable $800 fee. [BRE Regs §2930; See RE 506]
However, restricted licensees may not petition for the removal of restrictions or an unrestricted license until at least one year has passed since the date the restricted license was issued. The CalBRE may require a longer period of time before the licensee is able to petition. [Gov C §11522]
First, petitioners need to complete and submit a petition application to the CalBRE. The petition is then assigned to a Deputy Real Estate Commissioner, who investigates the petitioner's behavior since the disciplinary action, including:
employment history;
criminal records;
bankruptcy court records; and
internal CalBRE records.
The Deputy Commissioner then interviews the petitioner to determine whether the petitioner has had a change in attitude and conduct. The Deputy Commissioner's investigative report, including recommended action, is prepared and submitted to the Legal Section of the CalBRE. Upon review, the Legal Section submits an order to the Real Estate Commissioner to either grant or deny the petition.
A copy of the final order is sent to the petitioner. If the petition is granted, the copy outlines terms and conditions the petitioner is required to fulfill to obtain the new license. [CalBRE Real Estate Bulletin, Spring 2007]
It pays to comply
If you're tempted to violate CalBRE regulations, you put yourself at risk for having your license restricted or suspended, if not outright revoked. Know and comply with CalBRE guidelines to keep your license in good standing – you'll reap rewards if you do. Also, when you hold a license in good standing for at least 30 years, you may apply for exemption from continuing education (CE) renewal requirements when you reach 70 years of age – part of the license renewal application process. [See RE 213]
Of course, the most important reward is simply the ability to practice under the authority of your license – and maintain a livelihood – unhindered by actionable complaints.