MLO Mentor is an ongoing series covering compliance best practices for mortgage loan originators (MLOs). This article walks you through licensing under the California Financing Law (CFL).
The California Financing Law
Mortgage loan originators may choose to apply for license under the California Licensing Law (instead of under the California Residential Mortgage Lending Act). The CFL licenses lenders whose main business is making consumer loans and/or commercial loans. This includes acting as a lender or a broker.
However, a CFL licensee may only broker loans to CFL lenders. [Fin C §§22009, 22004] A commercial loan is a loan with a principal amount of $5,000 or more, secured or unsecured, and used primarily for business purposes. [Fin C §22502]
In contrast, a consumer loan is a loan, secured or unsecured and used primarily for a personal, household or family purpose. Under the CFL, a residential mortgage loan is a consumer loan which is secured by one-to-four unit residential real estate. A CFL licensee is only authorized to make a residential mortgage loan of $5,000 or more. [Fin C §§22203, 22012, 22330]
A CFL licensee who makes residential mortgage loans is required to apply for and obtain a CFL license through the Nationwide Mortgage Licensing System (NMLS). A CFL licensee who only makes commercial loans is exempt from licensing under the SAFE Act. Instead of applying for a license through the NMLS, a CFL licensee who only makes commercial loans applies for their license directly through the Department of Financial Protection and Innovation (DFPI).
For residential mortgage loan origination, CFL licensing is an alternative to:
DFPI licensing under the California Residential Mortgage Loan Act (CRMLA); and
DRE licensing under the Real Estate Law.
MLOs may obtain authorization to originate residential mortgage loans under one or more of these schemes. The MLO's activities and employment will determine which license to pursue.
Related video:
A two-tier structure
Similar to the CRMLA scheme, under the CFL scheme, the NMLS recognizes two types of licenses:
the individual MLO license; and
the CFL license.
An individual MLO is an individual who, for compensation or gain:
takes a residential mortgage loan application;
offers the terms of the residential mortgage loan; or
negotiates the terms of a residential mortgage loan. [Fin C §22013]
CFL licensees are only able to make or broker residential mortgage loans through an individual MLO. [Fin C §22100(d)]
Also, CFL licensees are prohibited from employing an MLO whose MLO license or endorsement has lapsed. [Fin C §22100(c)]
Exemptions
Underwriters and loan processors employed by a CFL licensee are not required to hold an MLO license, provided they don't engage in MLO activities. However, contract underwriters and loan processors are required to hold an MLO license to offer contract underwriting or residential mortgage loan processing services. [Fin C §§22013(b), 22014]
Also exempt from licensing under the CFL are:
banks, trusts, credit unions and other lenders who make loans as under the authority of a government charter [Fin C §22050(a)];
DRE-licensed real estate brokers who make or arrange a loan secured by one-to-four unit residential property [Fin C §22057];
federally registered MLOs employed by a federally regulated depository institution or a subsidiary of a federally regulated depository institution [Fin C §22100(g)]; and
CRMLA licensees and MLOs employed by CRMLA licensees. [Fin C §22060]
CFL licensee
All entities — corporations, limited liability companies (LLCs), partnerships, trusts and sole proprietorships — are eligible to obtain a CFL company license. [Fin C §22008]
Out-of-state entities are eligible for CFL licensing but need to appoint an agent for service of process within California. CFL licensees located out of state are required to make available their mortgage records upon request from the DFPI, and pay reasonable expenses for travel, meals and lodging for an out-of-state examination of the CFL licensee's records. [Fin C §22106(b)]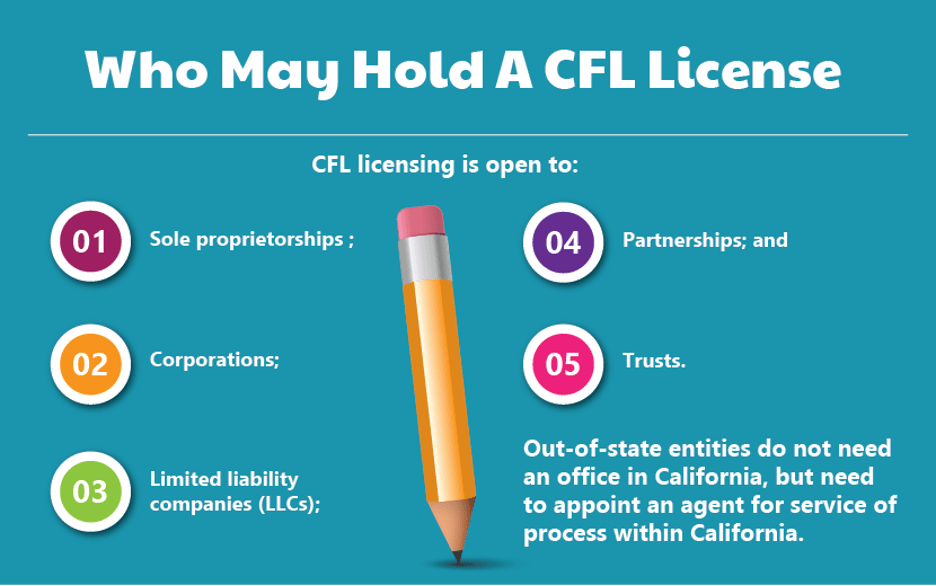 For NMLS licensing, a CFL company consists of several user types:
the company license, using the MU-1 filing;
the control person, qualifying individual, executive officers and owners with a 10% or greater ownership interest in the company, using the MU-2 filing; and
the MLOs employed by the company license, using the MU-4 filing. [Fin C §22105]
As with the CRMLA license, the CFL license application begins with registering for a company account.
Completing the MU-1
The MU-1 is the NMLS company filing form. To establish a CFL company, the control person needs to log in to the newly created company account, and file the MU-1.
Information to be provided as part of the MU-1 filing includes:
any trade names in use;
a registered agent for service of process;
identification of the qualifying individual of record;
disclosing and explaining any disciplinary action against the control person, qualifying individual or owners and executives of the company;
unaudited financial statements prepared according to generally accepted accounting principles dated within 90 days of the application, and showing a minimum net worth of $250,000 for residential mortgage lenders and $50,000 for residential mortgage brokers [Fin C §22104(b)-(c)];
a business plan;
a certificate of good standing from the California Secretary of State (SOS);
formation or incorporation documents, if applicable;
a management chart;
an organizational chart;
surety bond coverage of $25,000 to $200,000 for each company license, depending on the company's residential mortgage volume in the preceding year [10 CCR §1437];
fingerprints and background check authorization for the company's controlling members [Fin C §22101(b)];
an authorization of disclosure of financial records; and
fees paid to the DFPI through the NMLS. [Fin C §22109.6(b)]
The total fee due with an MU-1 filing for a CFL licensee is $400.
A CFL licensee is to provide a written notice to the DFPI if the company, or its officers or personnel are subject to a criminal action. [10 CCR §1411]
A change in the ownership or leadership of the company must be reported to the DFPI within 30 days of the date of the change. An update is also to be filed with the NMLS for these changes. [10 CCR §1409]
Supervision
A CFL licensee has a duty to diligently supervise individual MLOs under its license. To properly fulfill this duty, the CFL licensee is to create a document setting forth procedures for its personnel to follow. [10 CCR §1414(a)-(c)]
Every CFL licensee needs a designated qualifying individual. The qualifying individual is responsible for periodically reviewing the activities of branch managers, all the CFL licensee's business locations and the activities of MLOs employed by the CFL licensee. [10 CCR §1414(d)-(e)]
Grounds for denying a CFL license
The DFPI commissioner may deny a CFL license application if:
the applicant makes a false statement of material fact in the application;
within the last ten years, any officer, director, general partner or person owning 10% percent or more of CRMLA company has been:

convicted of a crime;
pleaded no contest to a crime; or
committed any act involving dishonesty, fraud, or deceit, if the crime or act is substantially related to the qualifications or duty of a CRMLA licensee;

an officer, director, general partner or person owning 10% or more of the CRMLA company has ever violated the laws or regulations of any state or federal licensing scheme; or
the applicant employs an MLO who is not licensed in this state, unless the MLO is exempt from licensure. [Fin C §22109(a)]
Applicants are required to provide the full details of each crime or dishonest act as part of their disciplinary history. Failure to fully disclose all crimes and dishonest acts, regardless of when they occurred, is considered a false statement of material fact – which subjects the applicant to a license denial.
A CFL license applicant has 90 days from the date of a notice of deficiency to correct any deficiencies in the application. Within 60 days of receiving a complete application via the NMLS, the DFPI will either approve the application or file a statement of issues addressing issues with the application. [Fin C §22109(b)-(c)]
License renewal
Both CFL licenses and individual MLO licenses are valid through December 31st of each year if issued prior to November 1st. Endorsements issued on or after November 1st are valid through December 31st of the next year.
Both types of licenses renew every calendar year between November 1st and December 31st. Renewal consists of confirming the information on the NMLS registry is still current and correct.
Annual DFPI MLO renewal processing fees are:
$100 for companies;
$30 for individuals; and
$20 for branches.
Individual MLOs under the DFPI are required to:
complete eight hours of NMLS-approved continuing education, including one hour of DFPI-specific mortgage law; and
in addition to the processing fee, pay a $300 annual renewal fee, plus an additional $100 reinstatement fee for late renewals. [10 CCR §1422.6.3]
Editor's note — Ready to renew your California mortgage loan originator license or endorsement? Visit firsttuesday.us to get started.
Next week, we'll delve into reporting under the CFL.