Drive on the 5 or ride your bike along the Santa Ana River Trail and evidence of the homelessness crisis in Orange County is made clear.
As of July 2015, Orange County has nearly 4,500 homeless individuals according to the most recent Homeless Count and Survey Report. Half of these people are housed in transitional or emergency shelter; the other half are unsheltered. Nearly 10% of the homeless are veterans, and an astounding 21% of homeless adults — 774 people — are homeless due to domestic violence.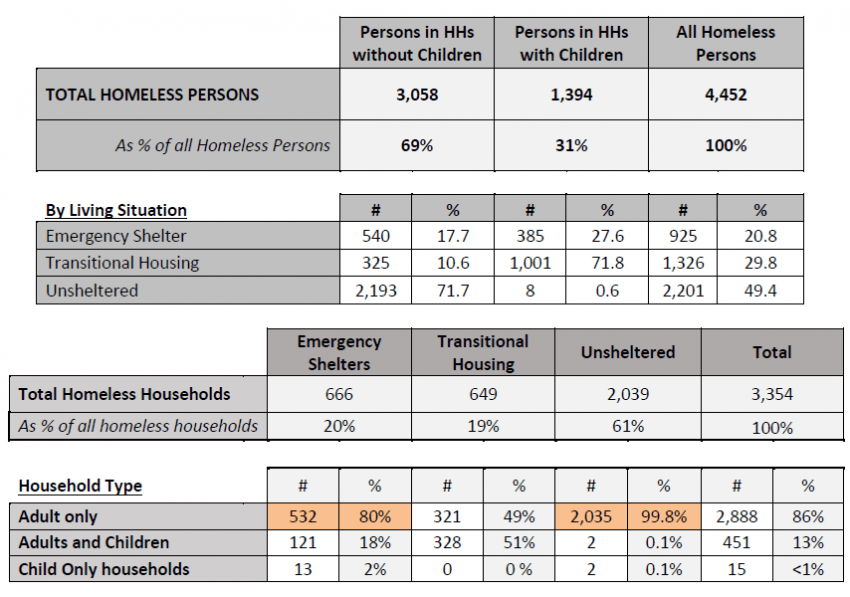 Homeless deaths increased by 53% in 2015 and still, practical housing solutions are slow-coming for one of the wealthiest counties in the country.
While some high-profile projects are spotlighted by the Board of Supervisors like Potter's Lane in Midway City and the Coming Home Anaheim initiative, they fall short of addressing the foundational issue of high costs and low availability (Potter's Lane, with a price tag of over $2 million, will house just 16 people).
Since the Ten-Year Plan to End Homelessness in Orange County (The Plan) was unveiled in 2010, nonprofits like A Community of Friends in Fullerton and Friendship Shelter in Laguna Canyon have struggled against Not-In-My-Backyard (NIMBY) homeowners unwilling to pollute their neighborhoods with the occupants of affordable housing. Even city governments — under NIMBY pressure to restrict such buildings — have refused to accept county or federal money to get the homeless off the streets.
In comparison, Los Angeles is taking the issue more seriously. The city recently declared a state of emergency to address the epidemic of homelessness and they have allocated $2 billion to reduce homelessness over the next decade.
Related article:

Los Angeles budget plan gives voters chance to reduce homelessness
The Plan by the Orange County Board of Supervisors and the Orange County Housing Authority (OCHA) is admirable and their solutions make sense — from Shelter + Care, which provides rental assistance to those with an illness or disability, to their Homeownership Program which allocates vouchers for mortgage payments instead of rent in order to turn the homeless into homeowners — but implementation is the problem. The OCHA even admits its goals are near impossible in a county where housing costs are so high and preapproval requirements are so restrictive.
In the absence of county action, large housing developers may need to step into this void to move zoning and construction — which they can do when they want to.
High prices and homelessness
The problem of homelessness has been exacerbated by the rising cost of low-tier housing. Orange County is one of the most expensive places to rent, own and live in the country. This aggravates the problem of homelessness and establishes a precarious situation wherein thousands of residents live on the brink of becoming homeless.
Related article:
A study by the Public Policy Institute of California shows the high cost of low-tier housing is forcing Orange County residents into the streets. As inequality increases, the demand for and thus the price of low-tier housing also increases.
The Case-Shiller Home Price Index for both Los Angeles and Orange counties measures the average change in value of residential real estate. The index shows the least expensive homes in the area have increased in value by almost 80% since 2012.
Orange County dedicates just 1% of its budget to "housing allocation" — $175 million out of $16.1 billion — according to Supervisor Andrew Do of the First District. And according to activists, almost all the housing money goes to those already housed with Section 8 benefits.
Housing is the solution
Ask homeless housing advocates about what should be done to end homelessness and the goal is the same: permanent supportive housing. These same advocates point to a new and innovative means of achieving this goal: housing first.
Housing first aims to cut the red tape associated with government programs and nonprofit requirements for government funding. The housing first approach believes the best way to end homelessness is to give homes — not just beds or vouchers — to the homeless. If Orange County is serious about eliminating homelessness from its streets, this is the same tack it needs to take.
In order to achieve this lofty goal, civic-minded individuals and local nonprofits have focused their attention on three concrete solutions to house the homeless:
increased funding for and access to homeless services;
tax incentives for landlords accepting homeless tenants; and
the elimination of red tape allowing for easier access to funding by nonprofits.
In Laguna Canyon, the nonprofit organization Friendship Shelter found permanent housing for 44 people through a $2.5 million Department of Housing and Urban Development (HUD) grant. Dawn Price, the Executive Director of Friendship Shelter, wants to see more funding from the county itself to build on this success.
The ACLU of Southern California envisions a housing trust fund established by the county with the assistance from HUD to build more low-tier residences in multiple cities — for both the homeless and homelessness prevention. This effort, if implemented, returns tax money paid by Orange County residents to, well, Orange County residents.
Zoning regulations exclude people by definition. Zoning needs changing to allow for much higher density buildings, but in Orange County this is a near impossible task thanks to noisy NIMBY resistance. As a result, nonprofits have shifted their focus to smaller objectives. A tax incentive for landlords to encourage homeless tenants is one such solution.
However, political pressure — especially in ultra-conservative southern Orange County — limits the availability of funds to fight this crisis.
Orange County homeowners — and the brokers and agents making a living off Orange County home sales — need to know the neighborhood valuation problem goes negative when remedial action is not taken. As more residents are forced from their homes, neighborhood desirability will continue to decline. Additionally, the criminal activity associated with vagrancy reduces the pool of available buyers. [See RPI Form 321]
Cost savings exists for the county if they house the homeless. Either way, locals pay for it — in emergency services or jail expenditures or devalued existing housing. Housing the homeless is the least expensive option and comes with the added perk of actually caring for fellow neighbors.
When all people are treated with dignity and respect the entire community benefits. As the thousands of homeless Orange County residents gradually become housed, real estate agents need to welcome them with open arms — the homeless of today are the clients of the future.