The median-priced home in California is a whopping $540,000 in July 2018, according to Zillow. For a first-time homebuyer with no previous home equity on hand, this figure translates to the need to save up a hefty down payment.
The average homebuyer who wishes to use a 20% down payment to avoid paying mortgage insurance and boost their purchasing power will need to save up $108,000. For a more realistic goal, a homebuyer considering a Federal Housing Administration (FHA)-insured mortgage will need to save up a minimum of 3.5% of the purchase price, or about $19,000 for the median-priced home.
How does a first-time homebuyer go about saving this type of cash?
A Redfin survey asked individuals across the U.S. aged 24-38 who plan to buy their first home in the next year about how they are saving for their down payment.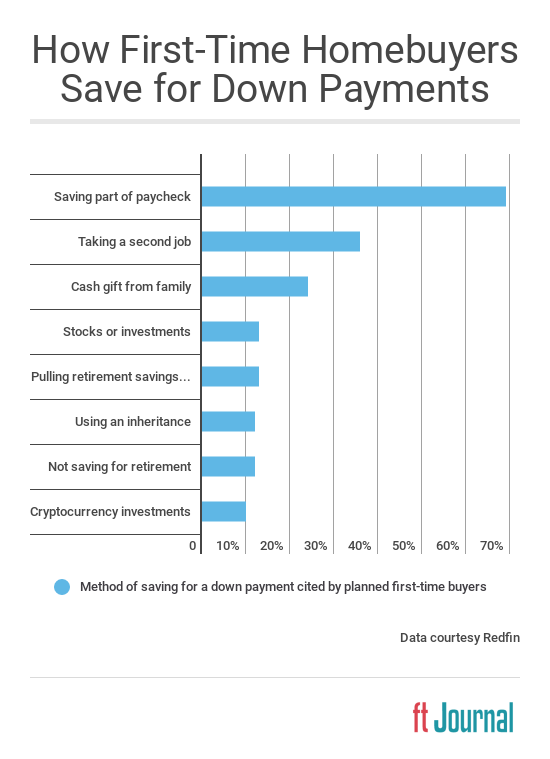 Of course, many future homebuyers save in multiple ways, with the vast majority setting aside a portion of their paycheck each month.
Further, creative money solutions don't stop at the down payment. Once they are ready to buy, this innovative generation of homebuyers is willing to take atypical steps to cover their mortgage payment. Some creative ways survey respondents plan on paying for their first home include:
renting out a room or running an Airbnb in their purchased home;
driving for a ride-share service;
buying a home jointly with friends; and
working an additional job.
Are first-time homebuyers overextending themselves?
The siren's call of American homeownership has a powerful and lasting pull — but will it lure first-time homebuyers in over their heads?
Today's elevated home prices have homebuyers thinking creatively to muster enough for a down payment and cover their future mortgage. But, unlike a paycheck, which is relatively stable and easy for lenders to vet, many of these creative solutions are unreliable.
For instance, buying a home jointly with friends — something 14% of young first-time homebuyers plan to do — can work under the right circumstances, but is also fraught with risk. Likewise, renting out part of their home is plausible, but it's just another cog in the wheel, liable to go wrong and impact their homeownership dreams in a big way.
And of course, all of these creative financing strategies need to hold up under lender scrutiny. Lenders are slow to adjust when financial realities change, and alternative sources of income are no exception.
The best way to approach homeownership is conservatively. However, in 2018's high-price and highly-competitive housing market, first-time homebuyers are struggling to keep up. As a result, today's homebuyers are more likely to max themselves out. During the early-2000s, this action took the form of the boom in risky adjustable rate mortgage (ARM) products. Today, it's beginning to take the form of alternative funding sources.
Experienced real estate professionals may recall what unfolded when homebuyers most recently overextended themselves in large numbers. A decade later, and California is finally nearing a full economic recovery following the 2008 recession with its roots in the inflated Millennium Boom years.
Agents and brokers: Do you sense first-time homebuyers are overextending themselves in 2018's hot housing market? Share your experience in the comments below.