Use this first tuesday FARM Letter in your marketing. To request a FARM letter topic, or to see a list of all our FARM letter templates, visit our FARM Letter page.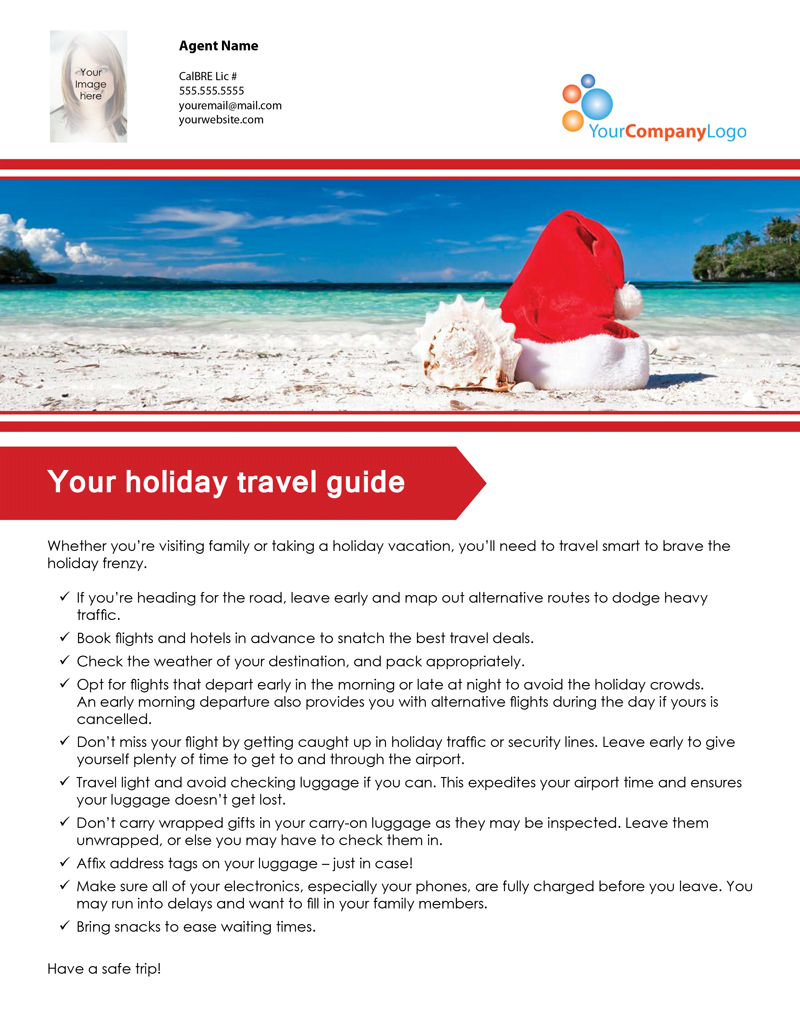 Download the Personalization Instructions
Download the PDF Template
Download the Microsoft Word Template
Text only
Whether you're visiting family or taking a holiday vacation, you'll need to travel smart to brave the holiday frenzy.
If you're heading for the road, leave early and map out alternative routes to dodge heavy traffic.
Book flights and hotels in advance to snatch the best travel deals.
Check the weather of your destination, and pack appropriately.
Opt for flights that depart early in the morning or late at night to avoid the holiday crowds. An early morning departure also provides you with alternative flights during the day if yours is cancelled.
Don't miss your flight by getting caught up in holiday traffic or security lines. Leave early to give yourself plenty of time to get to and through the airport.
Travel light and avoid checking luggage if you can. This expedites your airport time and ensures your luggage doesn't get lost.
Don't carry wrapped gifts in your carry-on luggage as they may be inspected. Leave them unwrapped, or else you may have to check them in.
Affix address tags on your luggage – just in case!
Make sure all of your electronics, especially your phones, are fully charged before you leave. You may run into delays and want to fill in your family members.
Bring snacks to ease waiting times.
Have a safe trip!