Use this first tuesday FARM Letter in your marketing. To request a FARM letter topic, or to see a list of all our FARM letter templates, visit our FARM Letter page.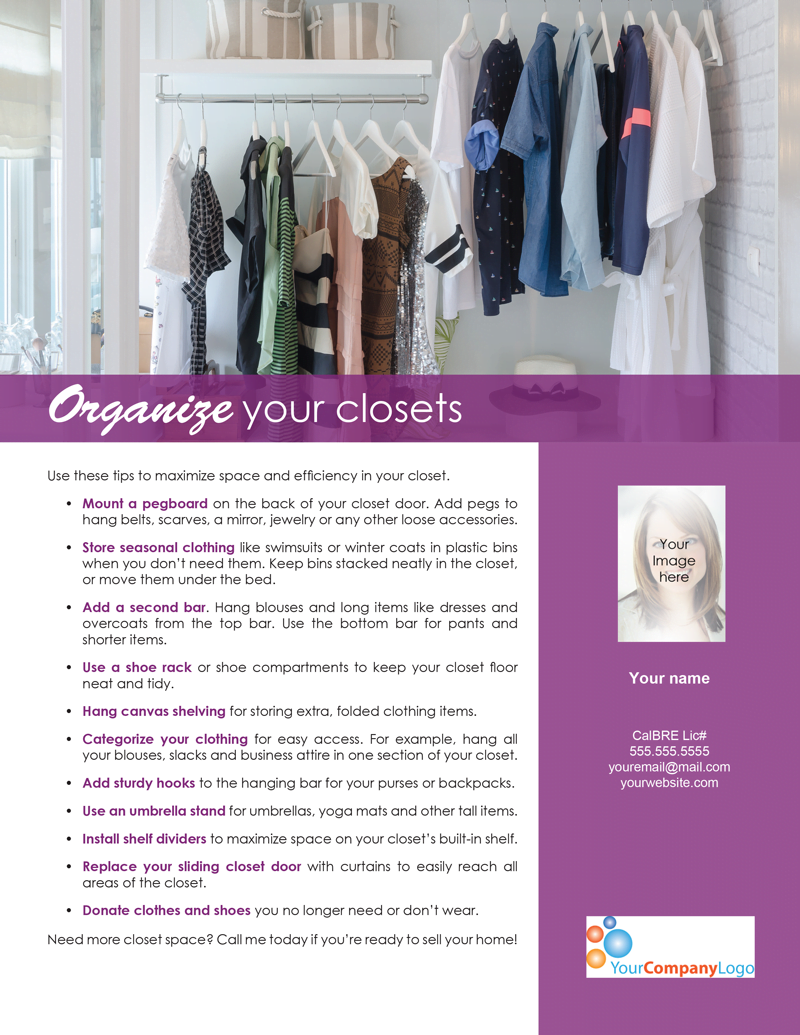 Download the Personalization Instructions
Download the PDF Template
Download the Microsoft Word Template
Text only
Use these tips to maximize space and efficiency in your closet.
Mount a pegboard on the back of your closet door. Add pegs to hang belts, scarves, a mirror, jewelry or any other loose accessories.
Store seasonal clothing like swimsuits or winter coats in plastic bins when you don't need them. Keep bins stacked neatly in the closet, or move them under the bed.
Add a second bar. Hang blouses and long items like dresses and overcoats from the top bar. Use the bottom bar for pants and shorter items.
Use a shoe rack or shoe compartments to keep your closet floor neat and tidy.
Hang canvas shelving for storing extra, folded clothing items.
Categorize your clothing for easy access. For example, hang all your blouses, slacks and business attire in one section of your closet.
Add sturdy hooks to the hanging bar for your purses or backpacks.
Use an umbrella stand for umbrellas, yoga mats and other tall items.
Install shelf dividers to maximize space on your closet's built-in shelf.
Replace your sliding closet door with curtains to easily reach all areas of the closet.
Donate clothes and shoes you no longer need or don't wear.
Need more closet space? Call me today if you're ready to sell your home!