Use this first tuesday FARM Letter in your marketing. To request a FARM letter topic, or to see a list of all our FARM letter templates, visit our FARM Letter page.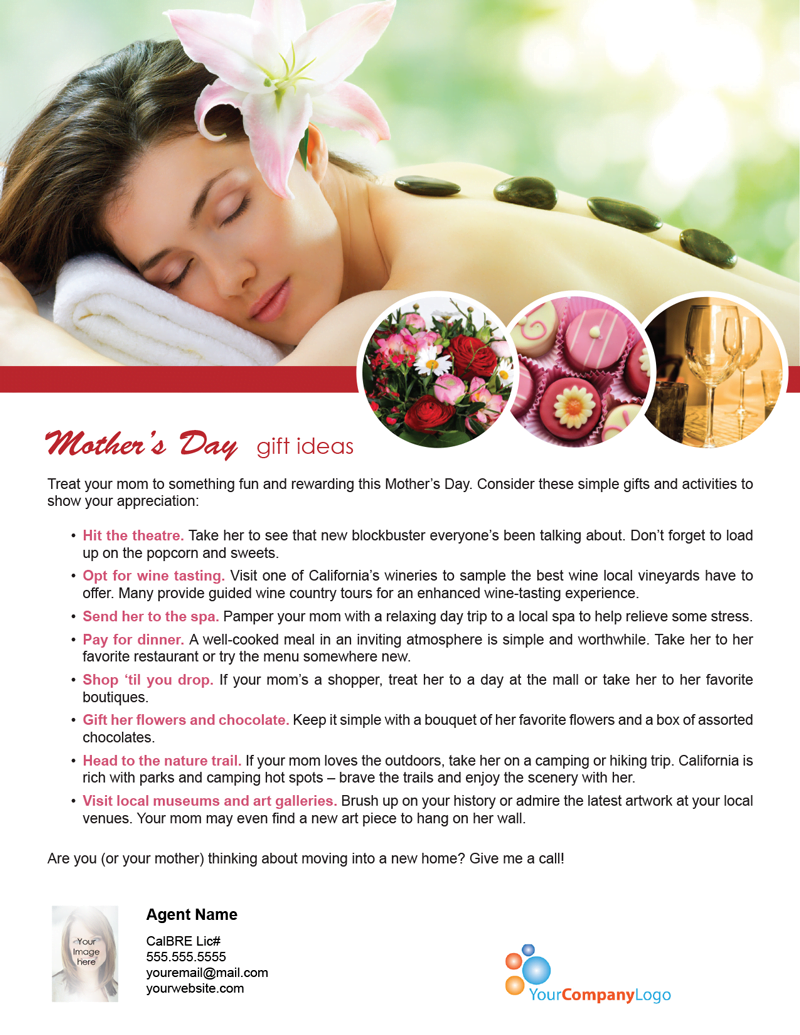 Download the Personalization Instructions
Download the PDF Template
Download the Microsoft Word Template
Text only
Treat your mom to something fun and rewarding this Mother's Day. Consider these simple gifts and activities to show your appreciation:
Hit the theatre. Take her to see that new blockbuster everyone's been talking about. Don't forget to load up on the popcorn and sweets.
Opt for wine tasting. Visit one of California's wineries to sample the best wine local vineyards have to offer. Many provide guided wine country tours for an enhanced wine-tasting experience.
Send her to the spa. Pamper your mom with a relaxing day trip to a local spa to help relieve some stress.
Pay for dinner. A well-cooked meal in an inviting atmosphere is simple and worthwhile. Take her to her favorite restaurant or try the menu somewhere new.
Shop 'til you drop. If your mom's a shopper, treat her to a day at the mall or take her to her favorite boutiques.
Gift her flowers and chocolate. Keep it simple with a bouquet of her favorite flowers and a box of assorted chocolates.
Head to the nature trail. If your mom loves the outdoors, take her on a camping or hiking trip. California is rich with parks and camping hot spots – brave the trails and enjoy the scenery with her.
Visit local museums and art galleries. Brush up on your history or admire the latest artwork at your local venues. Your mom may even find a new art piece to hang on her wall.
Are you (or your mother) thinking about moving into a new home? Give me a call!