Use this first tuesday FARM Letter in your marketing. To request a FARM letter topic, or to see a list of all our FARM letter templates, visit our FARM Letter page.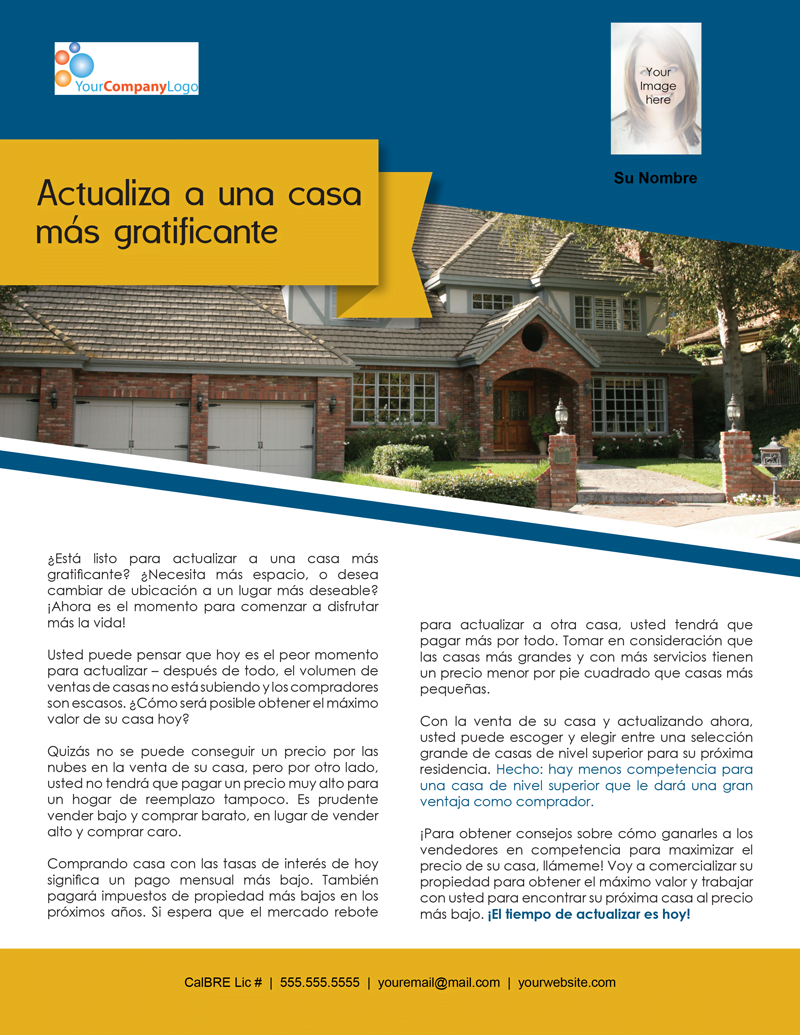 Download the Personalization Instructions
Download the PDF Template
Download the Microsoft Word Template
Text only
¿Está listo para actualizar a una casa más gratificante? ¿Necesita más espacio, o desea cambiar de ubicación a un lugar más deseable? ¡Ahora es el momento para comenzar a disfrutar más la vida!
Usted puede pensar que hoy es el peor momento para actualizar – después de todo, el volumen de ventas de casas no está subiendo y los compradores son escasos. ¿Cómo será posible obtener el máximo valor de su casa hoy?
Quizás no se puede conseguir un precio por las nubes en la venta de su casa, pero por otro lado, usted no tendrá que pagar un precio muy alto para un hogar de reemplazo tampoco. Es prudente vender bajo y comprar barato, en lugar de vender alto y comprar caro.
Comprando casa con las tasas de interés de hoy significa un pago mensual más bajo. También pagará impuestos de propiedad más bajos en los próximos años. Si espera que el mercado rebote para actualizar a otra casa, usted tendrá que pagar más por todo. Tomar en consideración que las casas más grandes y con más servicios tienen un precio menor por pie cuadrado que casas más pequeñas.
Con la venta de su casa y actualizando ahora, usted puede escoger y elegir entre una selección grande de casas de nivel superior para su próxima residencia. Hecho: hay menos competencia para una casa de nivel superior que le dará una gran ventaja como comprador.
¡Para obtener consejos sobre cómo ganarles a los vendedores en competencia para maximizar el precio de su casa, llámeme! Voy a comercializar su propiedad para obtener el máximo valor y trabajar con usted para encontrar su próxima casa al precio más bajo. ¡El tiempo de actualizar es hoy!