Use this first tuesday FARM Letter in your marketing. To request a FARM letter topic, or to see a list of all our FARM letter templates, visit our FARM Letter page.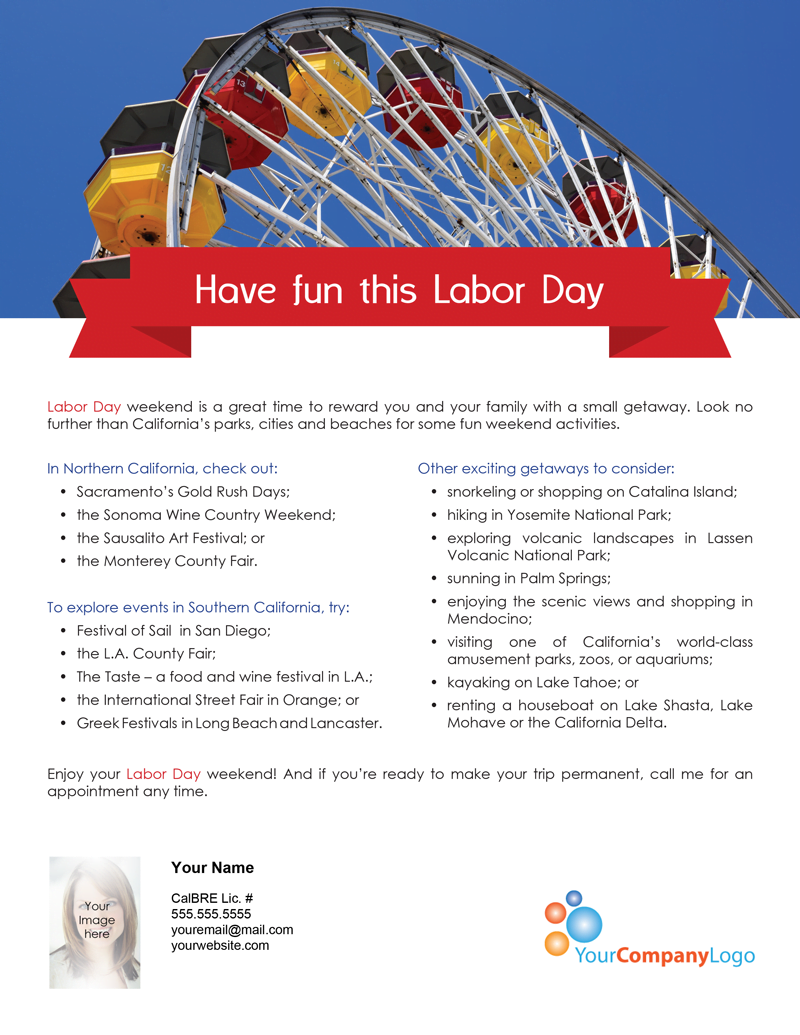 Download the Personalization Instructions
Download the PDF Template
Download the Microsoft Word Template
Text only
Labor Day weekend is a great time to reward you and your family with a small getaway. Look no further than California's parks, cities and beaches for some fun weekend activities.
In Northern California, check out:
Sacramento's Gold Rush Days;
the Sonoma Wine Country Weekend;
the Sausalito Art Festival; or
the Monterey County Fair.
To explore events in Southern California, try:
Festival of Sail in San Diego;
the L.A. County Fair;
The Taste – a food and wine festival in L.A.;
the International Street Fair in Orange; or
Greek Festivals in Long Beach and Lancaster.
Other exciting getaways to consider:
snorkeling or shopping on Catalina Island;
hiking in Yosemite National Park;
exploring volcanic landscapes in Lassen Volcanic National Park;
sunning in Palm Springs;
enjoying the scenic views and shopping in Mendocino;
visiting one of California's world-class amusement parks, zoos, or aquariums;
kayaking on Lake Tahoe; or
renting a houseboat on Lake Shasta, Lake Mohave or the California Delta.
Enjoy your Labor Day weekend! And if you're ready to make your trip permanent, call me for an appointment any time.