Use this first tuesday FARM Letter in your marketing. To request a FARM letter topic, or to see a list of all our FARM letter templates, visit our FARM Letter page.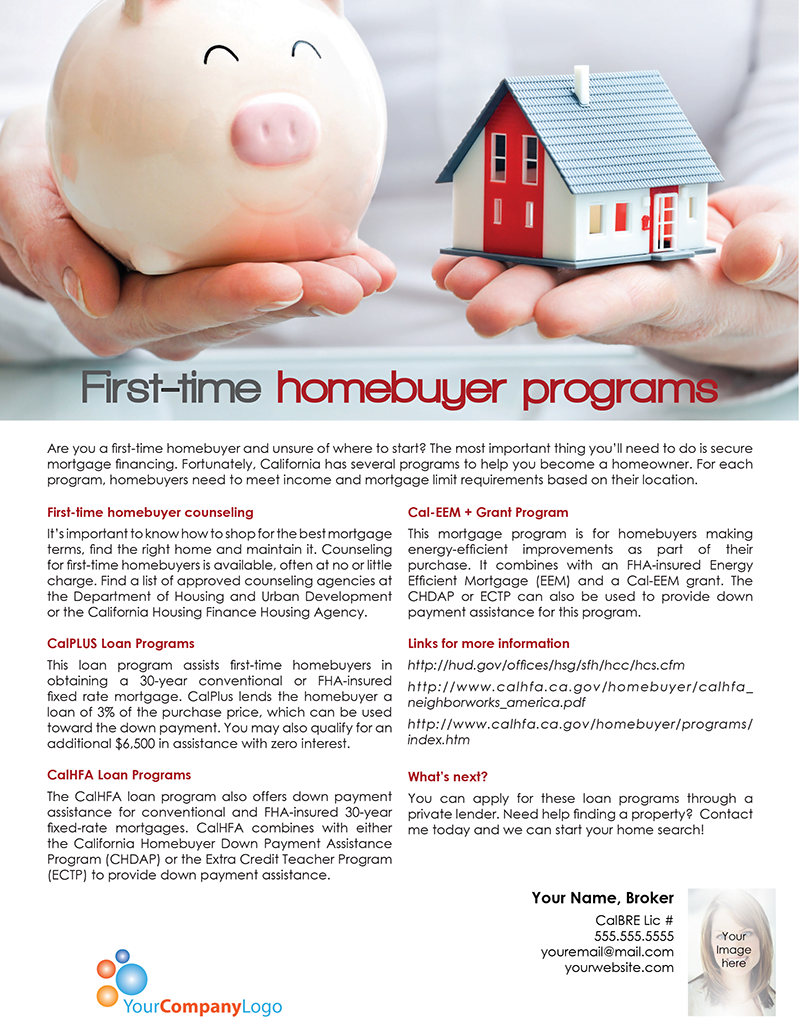 Download the Personalization Instructions
Download the PDF Template
Download the Microsoft Word Template
Text only
Are you a first-time homebuyer and unsure of where to start? The most important thing you'll need to do is secure mortgage financing. Fortunately, California has several programs to help you become a homeowner. For each program, homebuyers need to meet income and mortgage limit requirements based on their location.
First-time homebuyer counseling
It's important to know how to shop for the best mortgage terms, find the right home and maintain it. Counseling for first-time homebuyers is available, often at no or little charge. Find a list of approved counseling agencies at the Department of Housing and Urban Development or the California Housing Finance Housing Agency.
CalPLUS Loan Programs
This loan program assists first-time homebuyers in obtaining a 30-year conventional or FHA-insured fixed rate mortgage. CalPlus lends the homebuyer a loan of 3% of the purchase price, which can be used toward the down payment. You may also qualify for an additional $6,500 in assistance with zero interest.
CalHFA Loan Programs
The CalHFA loan program also offers down payment assistance for conventional and FHA-insured 30-year fixed-rate mortgages. CalHFA combines with either the California Homebuyer Down Payment Assistance Program (CHDAP) or the Extra Credit Teacher Program (ECTP) to provide down payment assistance.
Cal-EEM + Grant Program
This mortgage program is for homebuyers making energy-efficient improvements as part of their purchase. It combines with an FHA-insured Energy Efficient Mortgage (EEM) and a Cal-EEM grant. The CHDAP or ECTP can also be used to provide down payment assistance for this program.
Links for more information
http://hud.gov/offices/hsg/sfh/hcc/hcs.cfm
http://www.calhfa.ca.gov/homebuyer/calhfa_neighborworks_america.pdf
http://www.calhfa.ca.gov/homebuyer/programs/index.htm
What's next?
You can apply for these loan programs through a private lender. Need help finding a property? Contact me today and we can start your home search!