Use this first tuesday FARM Letter in your marketing. To request a FARM letter topic, or to see a list of all our FARM letter templates, visit our FARM Letter page.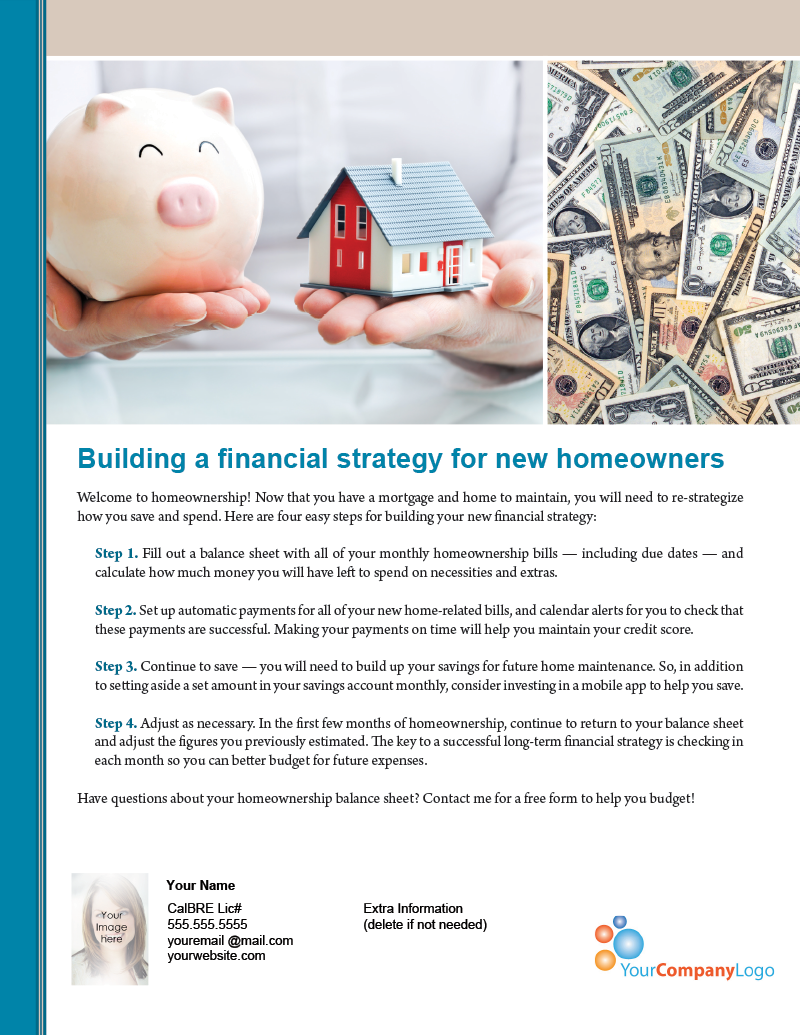 Download the Personalization Instructions
Download the PDF Template
Download the Microsoft Word Template
Text only
Welcome to homeownership! Now that you have a mortgage and home to maintain, you will need to re-strategize how you save and spend. Here are four easy steps for building your new financial strategy:
Step 1. Fill out a balance sheet with all of your monthly homeownership bills — including due dates — and calculate how much money you will have left to spend on necessities and extras.
Step 2. Set up automatic payments for all of your new home-related bills, and calendar alerts for you to check that these payments are successful. Making your payments on time will help you maintain your credit score.
Step 3. Continue to save — you will need to build up your savings for future home maintenance. So, in addition to setting aside a set amount in your savings account monthly, consider investing in a mobile app to help you save.
Step 4. Adjust as necessary. In the first few months of homeownership, continue to return to your balance sheet and adjust the figures you previously estimated. The key to a successful long-term financial strategy is checking in each month so you can better budget for future expenses.
Have questions about your homeownership balance sheet? Contact me for a free form to help you budget!