This article analyzes the problems poor air quality causes for residents of the San Joaquin Valley and describes the critical rules residents and real estate agents need to be aware of to mitigate the deleterious effects of air pollution.
The proverbial armpit of California
What region of California comes to mind when you envision an undesirable area wreaked by the ill-effects of a poor climate? Let us paint the scene for you.
The San Joaquin Valley starts south of Sacramento, encompassing Stockton and Modesto, and stretches south to Modesto, Fresno, Visalia and Bakersfield. The San Joaquin Valley bears the unpleasant moniker of "the armpit of California" due to the way the air collects pollution from other parts of the state and stagnates (with the smell of livestock) in the Valley. Further, its hot, dusty climate is a far cry from the pleasantness of nearby coastal climates with greater circulation.
The Sierra-Nevadas are the geographic issue which causes much of the Valley's climate problems. Mountains stop wind from reaching the region, which causes pollution and dust to become stale, confining all the bad air so that it accumulates and becomes stifling.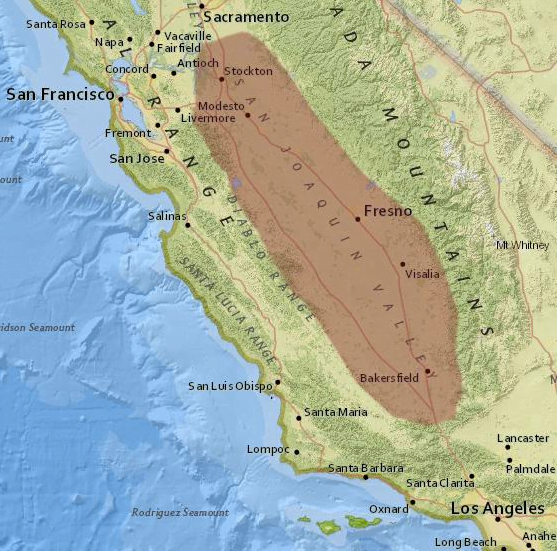 The American Lung Association ranks the top metropolitan areas with the highest level of air particle pollution. The top seven in the nation are in California, most in the Valley:
Bakersfield;
Visalia-Porterville-Hanford;
Fresno-Madera;
Los Angeles-Long Beach;
El Centro; and
San Jose-San Francisco-Oakland and Modesto-Merced both tied for sixth.
The American Lung Association estimates 70% of Californians live in designated poor air quality areas. (The only cities in California with high-ranked air quality are Salinas and Redding.)
Aside from being unpleasant, the Valley's poor air quality can cause Valley Fever — coccidioidomycosis — which the Center for Disease Control (CDC) claims is endemic in the Valley. This fever is caused by fungus in the soil getting trapped in the air and inhaled by residents. It can cause pneumonia and is especially dangerous for seniors. The CDC estimates 200 or fewer deaths occur per year in the U.S. due to Valley Fever.
In Bakersfield of Kern County, which has the dubious distinction of having the most polluted air in the country, 9% of children have diagnosed asthma, slightly higher than the national average. 8% of adults have asthma, also slightly higher than the national average, according to the CDC.
In addition to Valley Fever and asthma, poor air quality can cause:
lung cancer;
heart attack;
stroke;
reduced breathing capacity; and
other respiratory illnesses.
Improving air quality
The good news is the Valley's air quality is better today than in recent decades. For example:
in Kern County, there are on average 73 fewer high ozone (smog) days and 25 fewer high particle pollution days each year compared to 2000;
in Fresno and Madera, there are 68 fewer high ozone days and 27 fewer high particle pollution days each year compared to 2000; and
Modesto-Merced sees 36 fewer high ozone days per year, but particle pollution has increased by 15 days per year compared to 2000, according to the American Lung Association.
Even after these improvements, the Valley is still by all accounts the worst region in the U.S. for air quality. Lower than average home values are also the norm here, though it's difficult to prove the region's poor air quality is the cause.
Wood-burning rules in the Valley
Despite its reputation, it's not all gloom and doom for the San Joaquin Valley. Today's (slightly) better air quality comes thanks to:
a reduction in vehicle emissions;
increased use of renewable energy; and
local laws against wood burning.
Households residing in the San Joaquin Valley Air Pollution Control District are subject to Rule 4901, which bans wood burning in areas below 3,000 feet elevation and with access to natural gas service. To check if your client resides in the air district, look up the zip code at the California Environment Protection Agency's (EPA's) website.
This rule took effect in 2003, and has significantly improved air and life quality for residents in the winter months, when air particle pollution is at its worst. A Fresno State study finds this rule has not only decreased health suffering due to air pollution, but has also had a positive economic effect. Residents now spend cumulatively less on healthcare associated with lung diseases to the tune of hundreds of millions of dollars a year — savings which percolate back into the local community.
Pursuant to Rule 4901, sellers of real estate in San Joaquin Valley need to ensure any woodstoves or fireplace inserts are EPA Phase II certified. These certified appliances are identified by a permanent, metal label on the back or side. Any non-certified woodstove or fireplace insert needs to be removed from the property or, if it is decorative, made inoperable. [See Wood-Burning Heater Statement of Compliance]
In Kern County, developers may not install wood burning fireplaces in new subdivisions consisting of 10 or more dwellings. [See Rule 416.1]
Further, residential water heaters may not be installed in Kern County unless they are certified to meet the American National Standard. [See Rule 424-1]
What residents can do
If you live in an area with poor air quality, follow these tips to help improve the air you breathe:
Pay attention to air pollution levels, which change on a daily basis. Enter your zip code at AirNow.gov to find out your area's air quality today. On bad air days, stay inside.
Don't burn wood or trash, as this creates air particle pollution. While dust masks block large particles, they don't protect against dangerous smoke particles and gases. If you have a wood-burning appliance, switch to gas or pellets. If you must burn wood, then ensure it is dry.
Avoid spending time along busy roads during periods of heavy traffic, since vehicle exhaust is worse in these areas.
Set your air conditioning to "recirculate" as this does not pull in air from outdoors. If you have a whole house or attic fan, only operate it on good air quality days.
If you develop symptoms such as consistent cough, irritated eyes, shortness of breath, itchy throat, headaches or frequent sinus infections, visit your doctor.