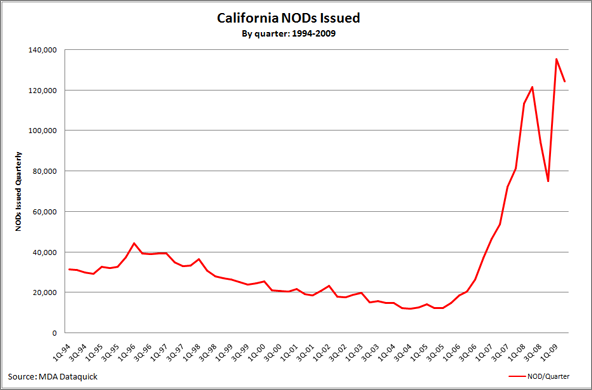 Foreclosure resales accounted for 50.1% of all resales recorded in the second quarter of 2009, down from 57.8% in the first quarter of 2009, but still up from 40.1% one year ago.
Lenders are reporting a backlog in processing delinquencies and notices. 124,562 notices of default (NODs) were sent out last quarter, compared with 135,431 from one month ago and 121,673 from one year ago. On average, lenders are waiting five months from the original delinquency to file an NOD, and the median origination month for a defaulted loan in the last quarter was July of 2006. One year ago, the median origination month of a defaulted loan was April 2006.
Signs indicate foreclosures are beginning to hit expensive housing as well as continuing to hinder recovery in the more affordable inland housing communities. Last quarter, the affordable (low-tier) housing communities made up 45% of default activity in the state, down from 47.5% from the first quarter and down from 52% one year ago.
first tuesday take: The continually alarming statistic still stands: lenders have only processed three months' worth of foreclosures over the past year. Message: plenty of foreclosures still to come. With the economy still mired in a financial crisis and businesses firing or shy to hire, the unemployed become more likely to skip their mortgage payments, kicking up the delinquency numbers that the lenders are already ill-equipped to monitor, foreclose, and resell as real estate owned (REO) property.
California cannot continue to leave the financial crisis in the hands of the lenders. They simply sell properties to ill-informed but cash-flush speculators and have set up no programs to keep or get homes into the hands of solvent long-term owner-occupant households. Speculators are to be abhorred as they take the real estate market back to 2005 when their bidding wars on properties pushed prices to unsustainable levels and successfully imploded the real estate market.
We've said it before, and we'll say the same again and again: the quickest and surest way to pull the real estate market out of the pit it has sunk to is to grant judicial cramdowns to homeowners. Otherwise, the entire real estate industry is just sitting around with fingers crossed, hoping that maybe next year the lenders will be up to processing four months of foreclosures a year instead of three.
Re: "California Second Quarter Mortgage Defaults Edge Down", from Dataquick News