Zillow thinks it knows the best time to list your seller's home. Should agents pay attention?
What the Best-Time-To-List tool does
Zillow's Best-Time-To-List tool tells a seller the ideal time of year to list their home to get it sold the quickest and for the highest price.
Nationwide, the best time to list is sometime in the spring. However, the specific month varies widely based on local factors, particularly weather. Generally, the earlier in the year the local climate heats up, the earlier the best time to list is. In northern, cooler climates, it's best to wait until later in the spring when it's warmer.
Zillow breaks down the best time to list, telling the seller how much money they will gain or lose by listing at a certain time of year. This data is displayed on a user-friendly bar graph: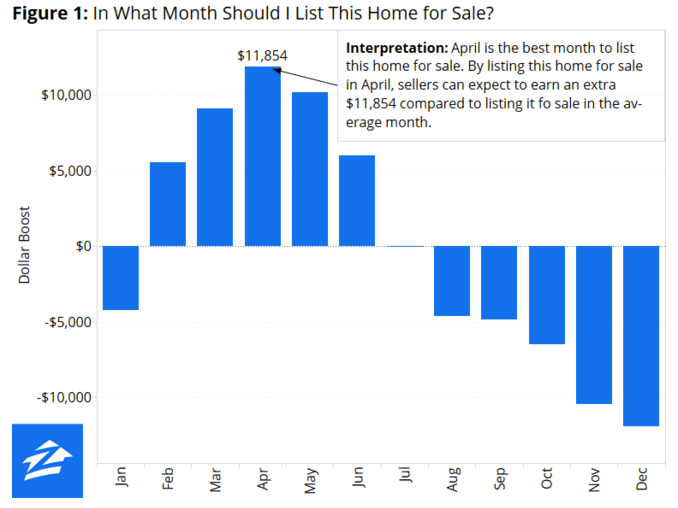 Image courtesy Zillow.com
How does Zillow figure these amounts? It's all based on how far above or below homes have sold from 2008 to today within a zip code compared to their Zestimates, which are Zillow's home value estimates. Since zip code separation is mostly arbitrary, it also weighs home sales in nearby zip codes to produce the Best-Time-To-List score for each month.
The tool may be used by owners of single family residences (SFRs) and condominiums nationwide. Apartments are not currently covered.
To access the tool, homeowners visit Zillow.com and search for their property. Then, scroll down near the bottom of their property's page and open the tab "Sell Your Home." They will be prompted to create an account or sign in before the Best-Time-To-List graph is displayed.
Agents can also access this tool on any home, as long as it's not already listed for sale.
Our review
This tool has a lot of potential, but it's not perfect.
First off, an experienced agent likely already knows the best time to list in the neighborhoods they serve. Likewise, they already know the best time for a homebuyer to start their home search. However, this tool can be useful for the agent with a seller who wants hard data about when to list their home. You can print this graph for them from Zillow and include it with your presentation — especially helpful if the best time to list in that area is coming up or about to pass and your seller needs that extra motivation to pick up the pace.
Second, the reliability of this data is questionable. There's no way to fact check this tool. For example, the seller will never know for sure if their home would have sold for $2,000 less if they had waited a couple months, like Zillow's tool may claim. It's all based on medians, when a seasoned real estate professional knows no single home fits into an average box. Further, it's also based on Zillow's famed Zestimate, which has come under fire from agents in the past for being out of touch with actual home values — though to be fair, they have since improved their calculus and now claim a 7.9% median error rate.
That being said, it's in your interest to familiarize yourself with this tool. After all, more sellers and homebuyers turn to listing aggregates like Zillow, Trulia and Redfin before even contacting an agent. Become familiar with all the tools offered by these sites to stay a step ahead of potential clients.