App: Real Estate by Estately
Platform: iOS (iPhone and iPod Touch only)
Cost: Free
Overview: Estately's good design and ease-of-use sets it apart in a crowded field, but its reliance on MLS listings limit users' options.
How it works
Listing aggregators with mobile property search apps are a dime a dozen these days, and each one seems to have a gimmick on offer to set it apart. Estately's mobile search app bets on the attractive, intuitive user interface to win over users in the listing app wars.
Listed properties are displayed on a map. Blue dots are for sale, red dots are pending sales and gray dots are recently closed sales. When available, upcoming open houses are shown as a green clock. Tap a dot and an image of the property rolls up on the bottom half of your screen, overlaid with information on the asking price and basic property features including days on the market. Switch to the List display to view all properties shown in the map window as a stack of images overlaid with the same preliminary details.
Estately' search filter options are of the standard sort: property type, bedroom and bathroom quantities, square footage, price range and a keyword filter. Users can also opt to view only closed sales or only properties with scheduled open houses.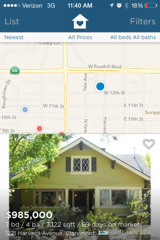 Tap on any listing to a second time to view a longer property profile replete with the usual suspects:
a listing photo slideshow;
the property address and the drive time from your current location;
interior and lot square footage and a bed/bath count;
the seller's agent's description and the listing and pricing history; and
a walk score and nearby school rankings.
Tap "Save" to follow a property and get updates on listing status or price changes, or tap "See It" for the seller's agent's contact information. Registered users can get notifications of new listings meeting their pre-determined search criteria as they come online.
Standard stuff, to be sure. To Estately's credit, though, the information is organized in an attractive, easy-to-read layout that almost makes you forget the information was autonomously farmed from troves of data. Good design goes a long way in marketing.
Speaking of data: Estately retrieves its listing information directly from area multiple listing services (MLSs), with which it maintains memberships. In first tuesday's territory, Estately's search turns up listings from California Real Estate Technology Services (CARETS), a database which agglomerates listings from local member MLSs. An Estately search will only return properties listed with an Estately-affiliated MLS — no FSBOs or pre-foreclosures here.
While only aggregating CARETS listings provides for a measure of quality control — information is consistent and mostly complete across all available listings — it also limits the number of properties to which the user is exposed. Sellers have to list their properties through an agent with membership in an Estately-affiliated MLS for them to appear in an Estately search.
Estately offers an exclusive Partner Agent service to match Estately users with participating agents, based on the client's stated needs. Membership as a Partner Agent is subject to Estately's approval. Agents must apply and meet their "rock star" criteria. If a Partner Agent closes a deal with a client matched through Estately, Estately takes a 30% cut of the commission.
The verdict: Like its competitors, Estately is a starting place for the would-be homebuyer. Use it to get a feel for pricing and property characteristics in a given area, or just to dream (and dreamy it is). For serious searchers, it's just a piece of the puzzle.
first tuesday rating: 3 out of 5 stars — an attractive experience doesn't outdo limited exposure.