Home sales volume in spring 2016 is middling. It's doing okay—but not great. The same is true of home prices, which continue to rise, but at a narrowing pace.
This time last year, the recovery was heating up and California seemed poised to enter into the next virtuous real estate expansion since the Millennium Boom. What happened to the housing recovery and why does it seem to be losing its steam?
To shed some light on the mystery of today's "meh" housing market, take a glimpse into the minds of would-be homebuyers.
One-in-four homebuyers nationally want to buy due to high rents as of the first quarter (Q1) of 2016, according to a survey by Redfin, a national real estate brokerage. This is up from one-in-five homebuyers citing high rents in Q4 2015, and up more significantly from one-in-eight homebuyers in Q3 2015.
That being said, high home prices are also creating a barrier to those wishing to escape high rents. Remember that old adage about a rock and a hard place? This appears to be the new reality for many homebuyers today.
In Redfin's survey, the number one concern of homebuyers was "affordability," or too-high home prices in relation to stagnant incomes. This is true for both renters and current homeowners who are considering upgrading to a more desirable property. Further, most homebuyers expect home prices will continue to rise in the near-future, so buying now makes the most financial sense before the market gets more dire, if they can qualify.
This mild desperation to get into the homebuying market has led to more buyers searching for homes. However, the Redfin Housing Demand Index shows buyers are making 7.5% fewer offers nationally than this same time last year.
Buyers and sellers acknowledge today's market favors sellers, since home prices continue to rise and inventory for sale remains low, also according to Redfin. But sellers are hesitant to place their homes for sale since they don't believe they can qualify to buy a bigger or better home at today's prices and low inventory levels. This hurts inventory, perpetuating the problem.
Here in California, while the number of homes sold each month remains higher than a year earlier, the spread is declining: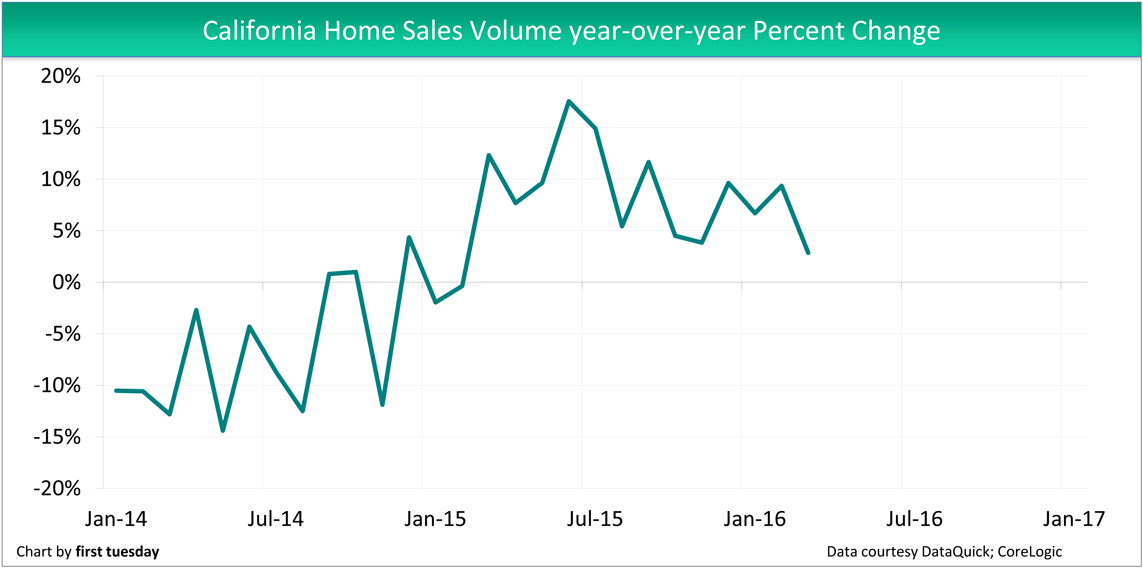 In March 2016, 2.8% more homes sold than in the same month a year before. This is down from the recent high of 18% in June 2015. Based on this trend, home sales volume is headed toward a flat year-over-year performance. When will the era of "meh" blossom into the era of market vitality?
When the recovery will arrive
This disappointing home sales performance will likely continue through the remainder of 2016. It takes several months for prices to adjust to slowing sales volume. Thus, pricing is expected to continue to rise gradually in 2016, until leveling off and declining later in 2017.
The housing market will also need to face the cold reality of higher mortgage rates soon. This will have the double effect of discouraging homebuyers while concurrently reducing their purchasing power. The net result of these converging headwinds will eventually pull down home prices. Rates are expected to increase around late 2016 or early 2017, with sales volume and prices to follow.
But there is cause for optimism too. Due primarily to California's strong jobs recovery, the housing recovery is around the corner. Once the housing market has time to adjust to rising interest rates, the pent-up demand from first-time homebuyers who are slowly saving for down payments and Baby Boomers seeking to retire will converge to create the next housing boom. This Great Convergence of demand for housing is expected to arrive in California in 2018, peaking in 2020.