Use this first tuesday FARM Letter in your marketing. To request a FARM letter topic, or to see a list of all our FARM letter templates, visit our FARM Letter page.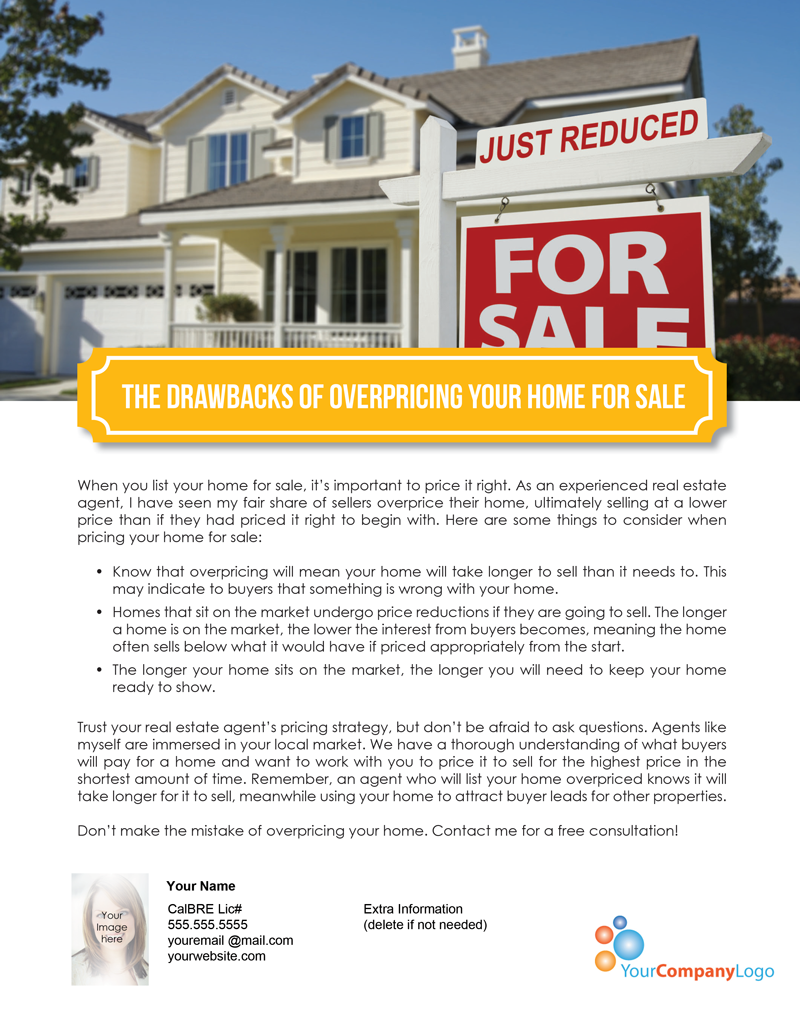 Download the Personalization Instructions
Download the PDF Template
Download the Microsoft Word Template
Text only
When you list your home for sale, it's important to price it right. As an experienced real estate agent, I have seen my fair share of sellers overprice their home, ultimately selling at a lower price than if they had priced it right to begin with. Here are some things to consider when pricing your home for sale:
Know that overpricing will mean your home will take longer to sell than it needs to. This may indicate to buyers that something is wrong with your home.
Homes that sit on the market undergo price reductions if they are going to sell. The longer a home is on the market, the lower the interest from buyers becomes, meaning the home often sells below what it would have if priced appropriately from the start.
The longer your home sits on the market, the longer you will need to keep your home ready to show.
Trust your real estate agent's pricing strategy, but don't be afraid to ask questions. Agents like myself are immersed in your local market. We have a thorough understanding of what buyers will pay for a home and want to work with you to price it to sell for the highest price in the shortest amount of time. Remember, an agent who will list your home overpriced knows it will take longer for it to sell, meanwhile using your home to attract buyer leads for other properties.
Don't make the mistake of overpricing your home. Contact me for a free consultation!