Use this first tuesday FARM Letter in your marketing. To request a FARM letter topic, or to see a list of all our FARM letter templates, visit our FARM Letter page.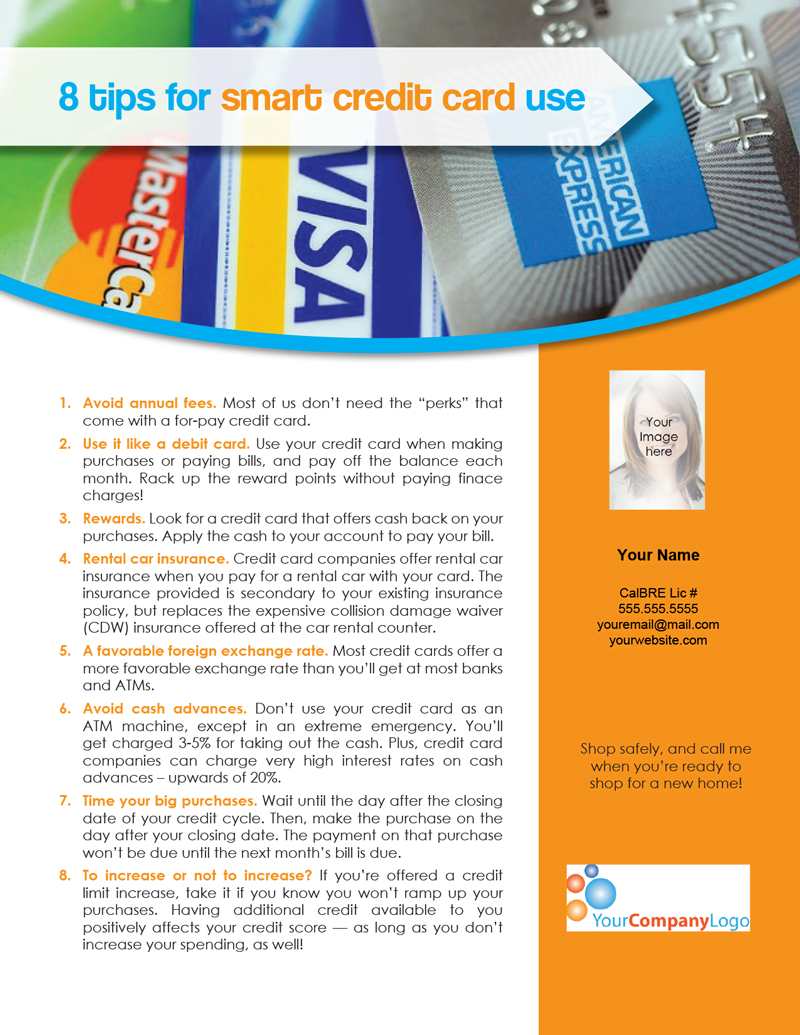 Download the Personalization Instructions
Download the PDF Template
Download the Microsoft Word Template
Text only
Avoid annual fees. Most of us don't need the "perks" that come with a for-pay credit card.
Use it like a debit card. Use your credit card when making purchases or paying bills, and pay off the balance each month. Rack up the reward points without paying finace charges!
Rewards. Look for a credit card that offers cash back on your purchases. Apply the cash to your account to pay your bill.
Rental car insurance. Credit card companies offer rental car insurance when you pay for a rental car with your card. The insurance provided is secondary to your existing insurance policy, but replaces the expensive collision damage waiver (CDW) insurance offered at the car rental counter.
A favorable foreign exchange rate. Most credit cards offer a more favorable exchange rate than you'll get at most banks and ATMs.
Avoid cash advances. Don't use your credit card as an ATM machine, except in an extreme emergency. You'll get charged 3-5% for taking out the cash. Plus, credit card companies can charge very high interest rates on cash advances – upwards of 20%.
Time your big purchases. Wait until the day after the closing date of your credit cycle. Then, make the purchase on the day after your closing date. The payment on that purchase won't be due until the next month's bill is due.
To increase or not to increase? If you're offered a credit limit increase, take it if you know you won't ramp up your purchases. Having additional credit available to you positively affects your credit score — as long as you don't increase your spending, as well!
Shop safely, and call me when you're ready to shop for a new home!