Use this first tuesday FARM Letter in your marketing. To request a FARM letter topic, or to see a list of all our FARM letter templates, visit our FARM Letter page.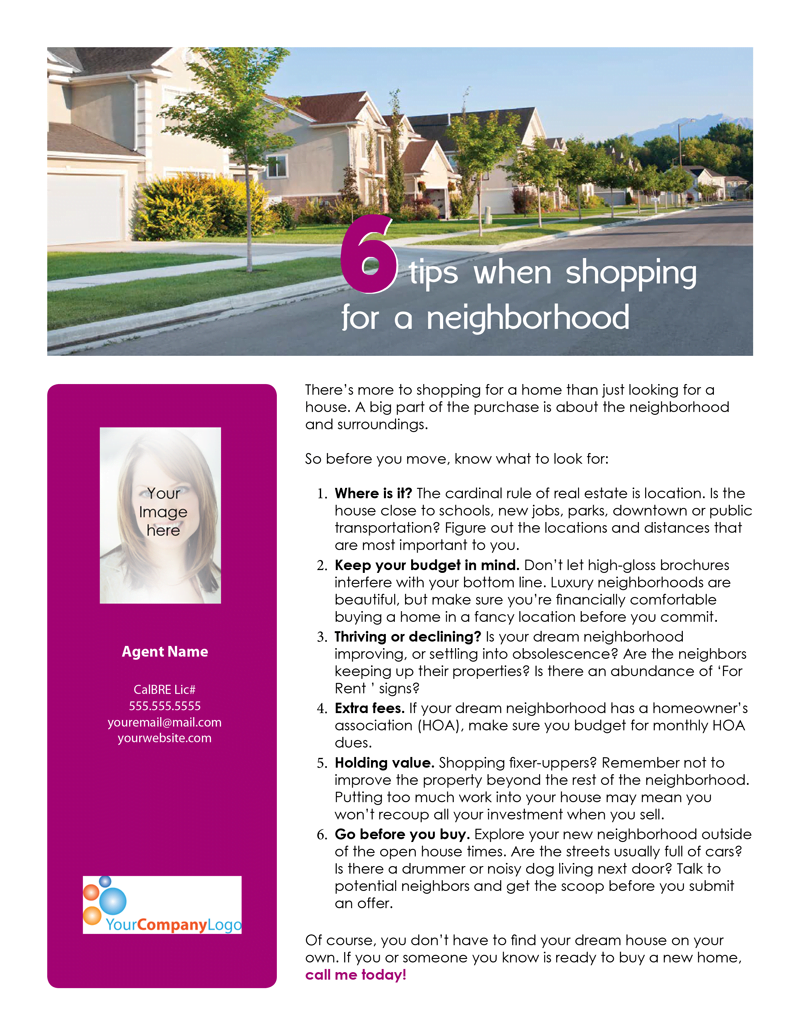 Download the Personalization Instructions
Download the PDF Template
Download the Microsoft Word Template
Text only
There's more to shopping for a home than just looking for a house. A big part of the purchase is about the neighborhood and surroundings.
So before you move, know what to look for:
Where is it? The cardinal rule of real estate is location. Is the house close to schools, new jobs, parks, downtown or public transportation? Figure out the locations and distances that are most important to you.
Keep your budget in mind. Don't let high-gloss brochures interfere with your bottom line. Luxury neighborhoods are beautiful, but make sure you're financially comfortable buying a home in a fancy location before you commit.
Thriving or declining? Is your dream neighborhood improving, or settling into obsolescence? Are the neighbors keeping up their properties? Is there an abundance of 'For Rent ' signs?
Extra fees. If your dream neighborhood has a homeowner's association (HOA), make sure you budget for monthly HOA dues.
Holding value. Shopping fixer-uppers? Remember not to improve the property beyond the rest of the neighborhood. Putting too much work into your house may mean you won't recoup all your investment when you sell.
Go before you buy. Explore your new neighborhood outside of the open house times. Are the streets usually full of cars? Is there a drummer or noisy dog living next door? Talk to potential neighbors and get the scoop before you submit an offer.
Of course, you don't have to find your dream house on your own. If you or someone you know is ready to buy a new home, call me today!