Agents and brokers know beyond a shadow of a doubt: the ideal home does not exist for any homebuyer. Rookie homebuyers searching for their first home may let several viable options pass them by in search of this "unicorn" they're sure is out there. But in the end, compromises are made and homebuyers turn into homeowners.
This leaves many homeowners with regrets about their purchase, thinking maybe if they'd just searched a little longer they'd have found that house with the perfect layout and the short commute they wanted. Nationally, 72% of homeowners have at least one regret about their home purchase, according to Zillow.
Here are the top homebuyer regrets in California's major metros: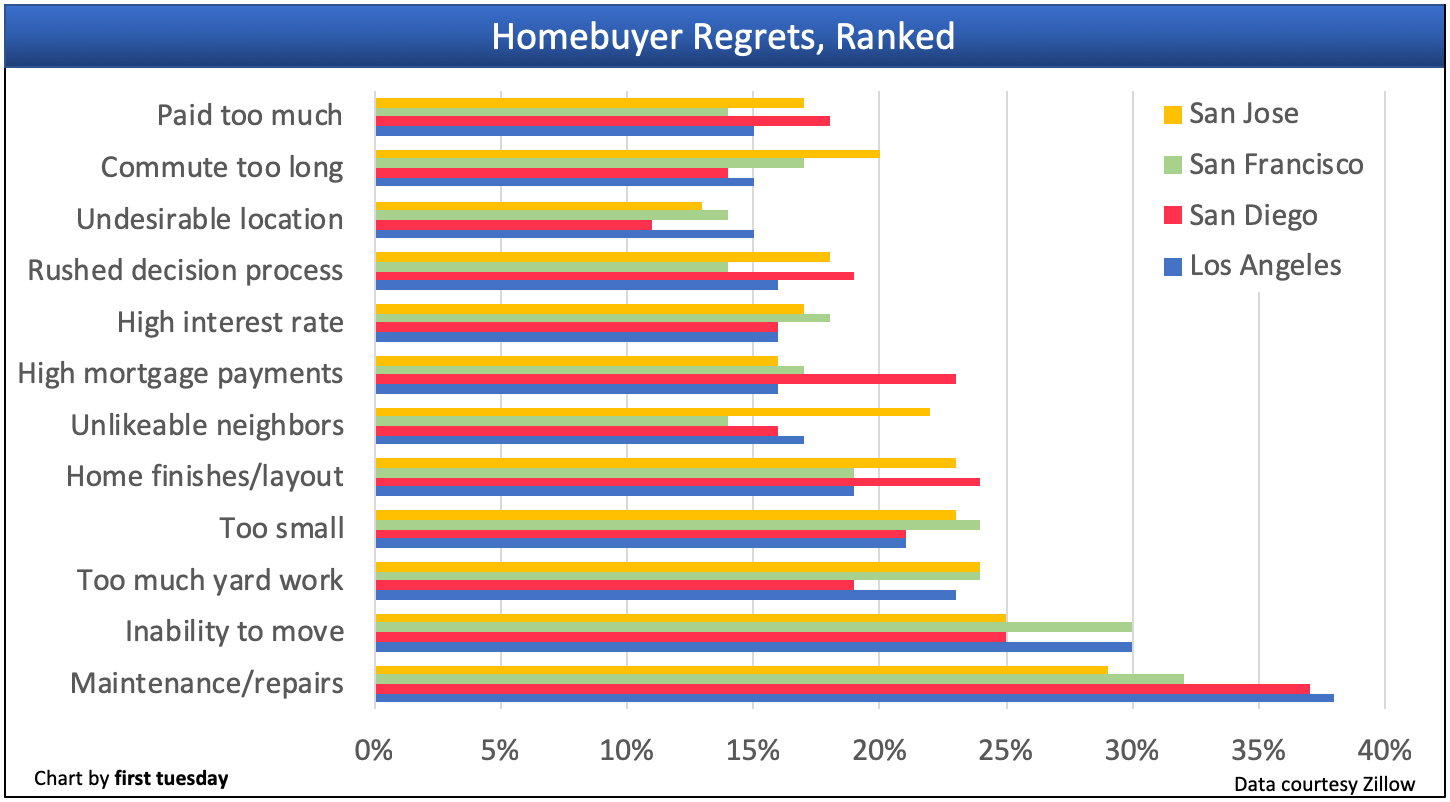 Age plays a big factor in how regretful homeowners are about their big purchase. Nationally, 81% of young homeowners (adults 34 years of age and younger) have regrets, while a lesser 65% of homeowners older than 54 have regrets.
Specifically, compared to older homeowners, younger homeowners feel like they rushed their decision and they also feel like their mortgage payments are higher than they would have liked.
The biggest regret for homeowners of all stripes is unexpected maintenance or repairs. This can come as a huge shock in time and money spent for renters who have never had to pay for repairs before. This disappointment is followed by the inability to move without first selling, something homebuyers likely thought about when they were buying, but didn't fully appreciate until they later received a job offer they couldn't move for or realized they'd rather live somewhere else, perhaps with less interior and exterior maintenance.
Avoid buyer's remorse
Regrets are often inevitable, but agents can minimize buyer's remorse by thoroughly investigating the proper disclosures and all facets of the home and sale.
These steps toward minimizing regrets include:
raising any concerns about incomplete or vague portions of the Transfer Disclosure Statement (TDS) [See RPI Form 304];
carrying out a personal inspection of the property — this includes the buyer's agent as well as the homebuyers — and pointing out any potential trouble areas the buyer will want to follow up with during the home inspection;
encouraging the buyer to inspect not just the property, but the surrounding area, searching for potential nuisances that may be present at night or other times the buyer is not likely to view the home;
pointing the buyer to online services providing information about the neighborhood such as crime maps, sex offender registries and neighborhood groups;
requesting the seller fill out a Property Expense Profile to help the buyer estimate how much money they will spend on utilities and maintenance; [See RPI Form 306]
refraining from pushing the homebuyer outside of their requested price range so that they don't end up buying a property they aren't prepared to pay for; and
encouraging the buyer to shop around for a mortgage by filling out mortgage applications with at least three lenders to ensure the best interest rate and terms.
When a homebuyer completes the lengthy buying process with the feeling that they made the right choice, that only reflects positively on their agent. Happy homeowners are more likely to recommend their agent to friends and family, a benefit for agents who take the extra time to help their clients examine their home purchase from all angles before they take the leap.