Most consumers agree: solar panels can save homeowners lots of money. In fact, 81% of those surveyed by the California Energy Commission believe a solar system can begin reducing utility costs immediately upon installation.
However, a much smaller percentage of homeowners have actually invested in solar technology.
To date, roughly 136,000 residential solar systems have been installed across California, according to Go Solar California. This represents just 1.5% of California's 9 million+ single family residences (SFRs).
So what's holding homeowners back? The tech gurus over at Google think it may be uncertainty about whether solar panels are a viable option for homeowners. For areas with above average cloud cover, homes covered in shade or those with incompatible roofs, installing solar panels may not produce any savings since access to the sun is limited.
Project Sunroof is aimed to answer those questions, down to the cent.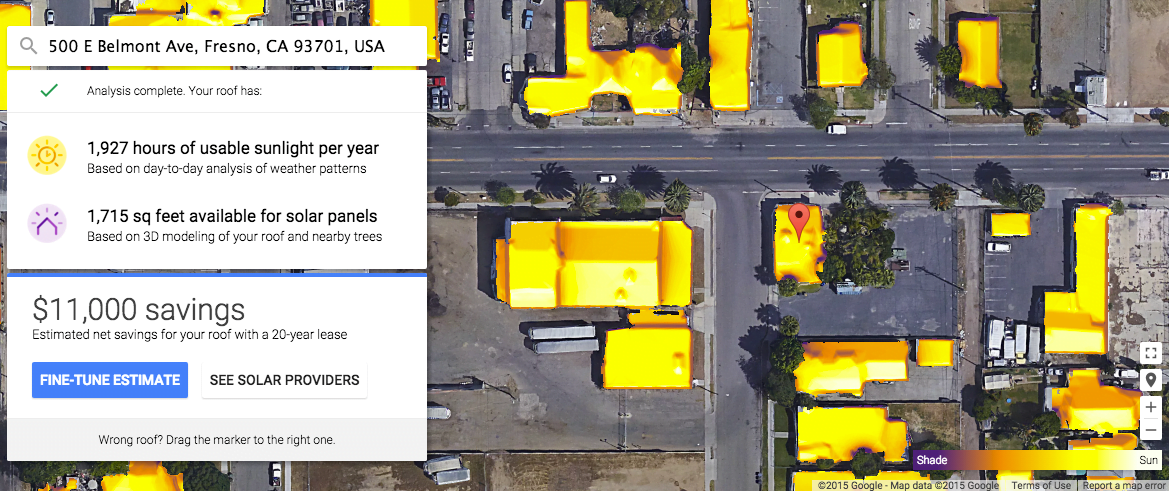 Homeowners simply enter their address (the pilot program is limited in California to the Bay Area and Fresno). Google will display a solar map to show how much sun the roof receives on an average day. Based on this real amount of sun exposure, Project Sunroof calculates the number of hours of sunlight able to be harnessed by solar panels each year, along with the estimated savings of going solar over a 20-years period. The homeowner can fine-tune the estimate by entering their average monthly electric bill.
Project Sunroof's initial calculus uses a solar lease, which is the most common option pursued by California homeowners. However, the homeowner can adjust the equation to show the cost-versus-savings analysis for purchasing solar outright, or using a loan to purchase the panels. This option shows how long it takes for the investment to be paid off.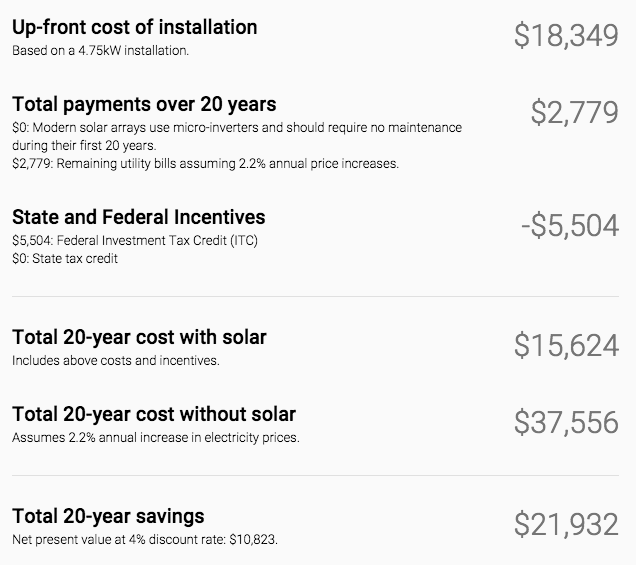 Graphic courtesy of Google's Project Sunroof
Show me the green
There are two significant homeowner concerns about purchasing solar panels:
the investment needed to install solar panels may be beyond the means of some homeowners (the average cost to purchase and install panels on a home is $35,000 before government incentives, which vary by area); and
homeowners may not plan to live in the home long enough for the investment to produce savings (it typically takes 15-20 years for the investment to pay off, by which point the panels may be obsolete or in need of significant repair or updating).
However, a solar lease skips the need for a large upfront investment. Many solar lease programs offer zero down payment options, and most include maintenance of the system in the contract. The benefits of a solar lease are thus twofold:
the homeowner's utility bill shrinks; and
no large investment is required from the homeowner.
Project Sunroof's estimate is just the first step in this costs versus savings analysis. The homeowner can use the program to get a rough idea of their home's potential for solar, and if it seems promising, contact a solar leasing company for additional information. To determine the actual savings a solar lease will likely provide for a particular home, the solar lease company will dispatch a technician to analyze the home and generate a formal estimate.
The best thing about Project Sunroof is how easy the program makes it to get the process of installing solar panels started. The interface is intuitive and clean. Further, the program aggregates all the data you'll need to begin your preliminary investigation by providing the websites and contact information of solar providers able to furnish an estimate for the property. The homeowner can contact multiple providers from Project Sunroof's interface, freeing them of the hassle of scouring other websites to request estimates.
As this program moves beyond the pilot stage, we look forward to it expanding to other regions across California. In the meantime, other homeowners can visit Go Solar California's website to learn more about solar in their region.