Santa Clara County is well on its way to a full housing recovery. Residential construction is booming and buyer incomes continue to rise at a much quicker pace than the rest of the state. However, annual home sales volume has remained level-to-down since 2012, falling 7% in 2018 from the previous year and declining more rapidly in 2019.
Santa Clara's success is due to its strong jobs market, particularly in the Silicon Valley area. However, the region's high cost of living, reflected in steeply rising home prices, is a heavy drag on demand, reducing sales volume and spurring construction.
Looking ahead, Santa Clara will see sales volume continue to decrease in 2019. Slowing sales means home prices will also cool. Some of this action began in late-2018, as rising mortgage interest rates have reduced the amount homebuyers are qualified to pay, called buyer purchasing power. Home prices are expected to turn down in the coming years, bottoming in 2021 before rising again in the next post-recession mini-boom of 2022-2023.
Updated May 29, 2019. Original copy posted August 2014.
Home sales volume still low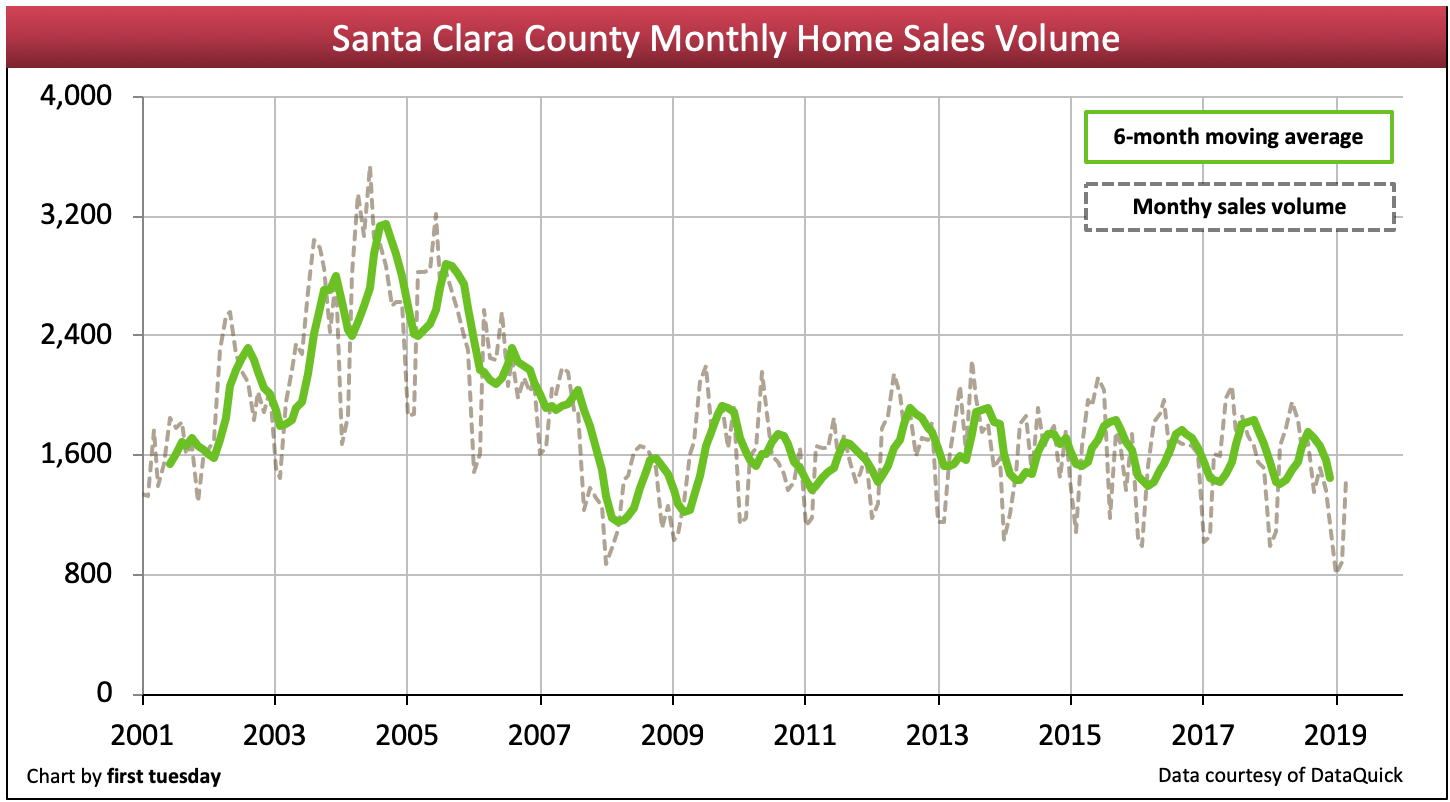 Chart update 05/29/19
| | | | |
| --- | --- | --- | --- |
| | 2018 | 2017 | 2016 |
| Santa Clara County home sales volume | 18,000 | 19,400 | 19,200 |
*first tuesday's projection is based on monthly sales volume trends, as experienced so far this year, and other local economic indicators.
Santa Clara County home sales volume has been stagnant since 2012, hovering below 20,000 each year. In 2018, home sales fell 7% from 2017. Worse, year-to-date sales are 17% below a year earlier as of Q1 2019. The reason for Santa Clara's flat-to-down home sales volume? Home prices in the Santa Clara/San Jose area are inflated well beyond income raises, sending end users further afield where they are able to buy more home for the same amount of money. This is not what local real estate agents want.
Sales volume was held back more considerably in 2018 since the mortgage rate rise which began in January 2018 reduced the buyer purchasing power of Santa Clara residents.
At the same time, personal incomes have risen at a much slower pace than home prices. Personal incomes rose 6% in 2017 in the county. While this is higher than the statewide average, it's still below the year-over-year increase in Santa Clara County home prices. After years of rising, home prices began to trail off in Q4 2018.
Turnover is flat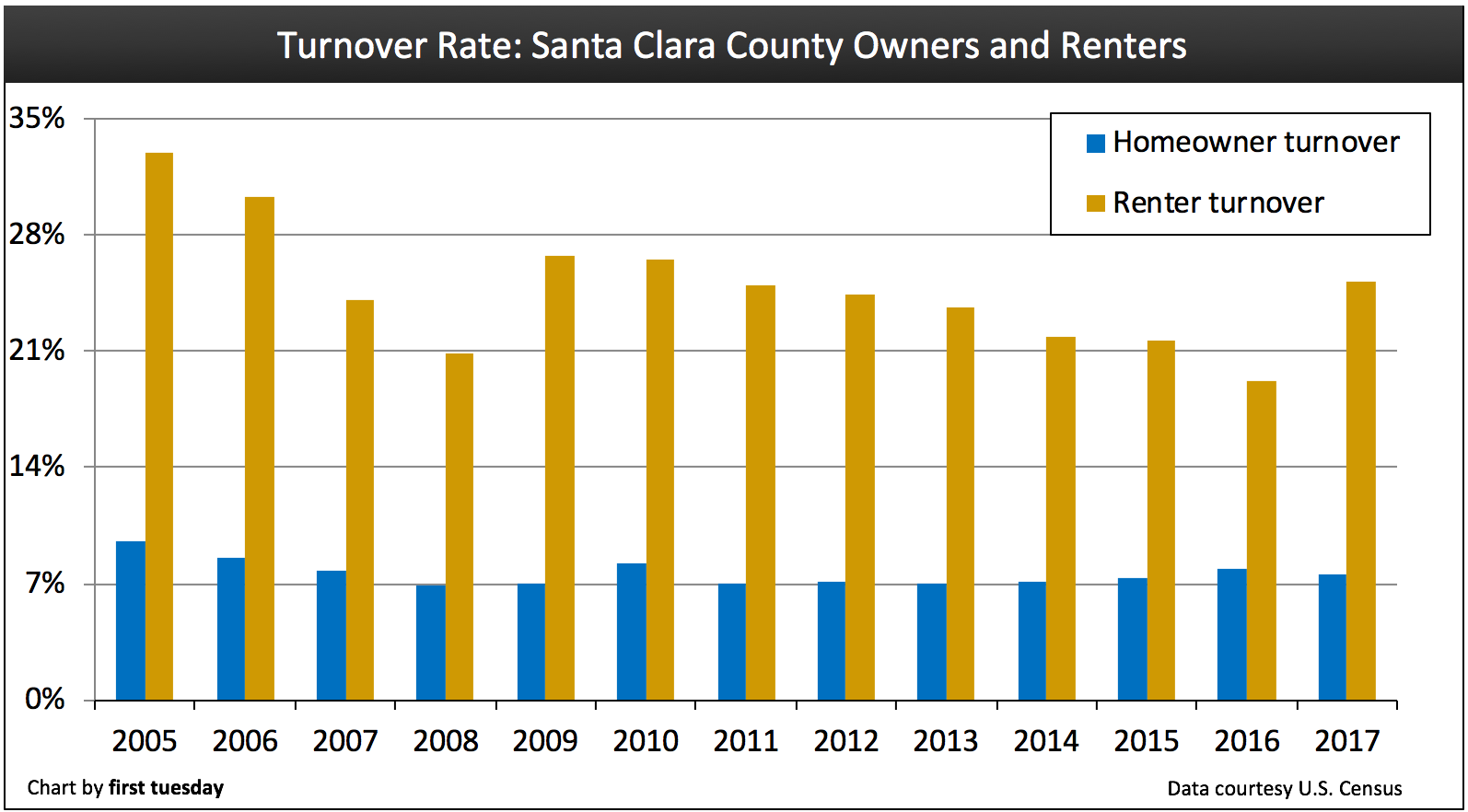 Chart update 03/09/19
| | | | |
| --- | --- | --- | --- |
| | 2017 | 2016 | 2015 |
| Santa Clara County homeowner turnover rate | 7.5% | 7.9% | 7.3% |
| Santa Clara County renter turnover rate | 25.2% | 20.4% | 21.6% |
It's no surprise Santa Clara County's housing turnover rate is stagnant, given the county's resulting flat home sales volume. With home prices began to falter in 2018, it's simply not the prudent time to buy. However, the area's solid jobs recovery ensures new residents continue to pour in at a rapid rate, and this added stress is shown in the high renter turnover rate. In 2017, one-in-four renters moved in Santa Clara.
Santa Clara's quick pace of population growth will help churn Santa Clara County's turnover rate, first as increased renter turnover followed by a rise in homeowner turnover – once residential construction catches up to the demand. The caution in these forward observations is the tech and information bubble developing in the area and whether it will come to the point of bursting and putting end to further job growth for a few years.
Homeownership feels the pressure of high prices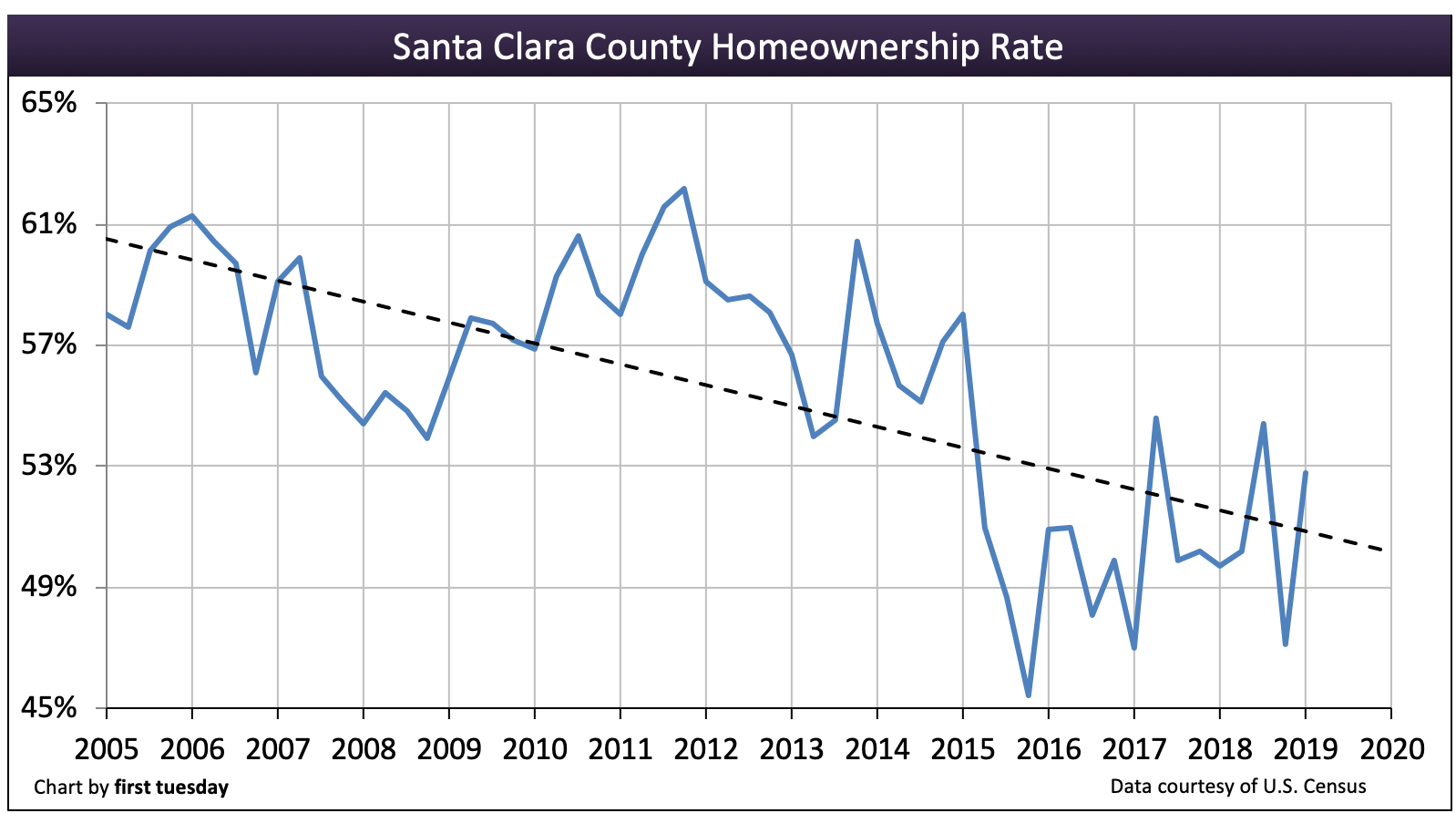 Chart update 05/29/19
| | | | |
| --- | --- | --- | --- |
| | Q1 2019 | Q4 2018 | Q1 2018 |
| Santa Clara County homeownership | 52.8% | 47.1% | 49.7% |
While varying greatly from quarter to quarter, Santa Clara County's long-term homeownership rate trended downward from 2005 through 2015, when homeownership bottomed at a very low 45%. Since then, the region's rate of homeownership has climbed slightly, only to return to its current rate of 52.8% in Q1 2019.
The rest of the state has experienced a swift decline in homeownership since the 2008 recession, peaking at over 60% in 2006 and settling at 54% in Q1 2019. Santa Clara's long-term rate of homeownership is mostly stable, due both to its successful jobs market and high home prices. Elevated prices keep homeowner turnover from rising to unsustainable levels (as occurred across the state during the Millennium Boom). Likewise, Santa Clara County's strong jobs market bolsters its homeownership rate.
Construction boom trails off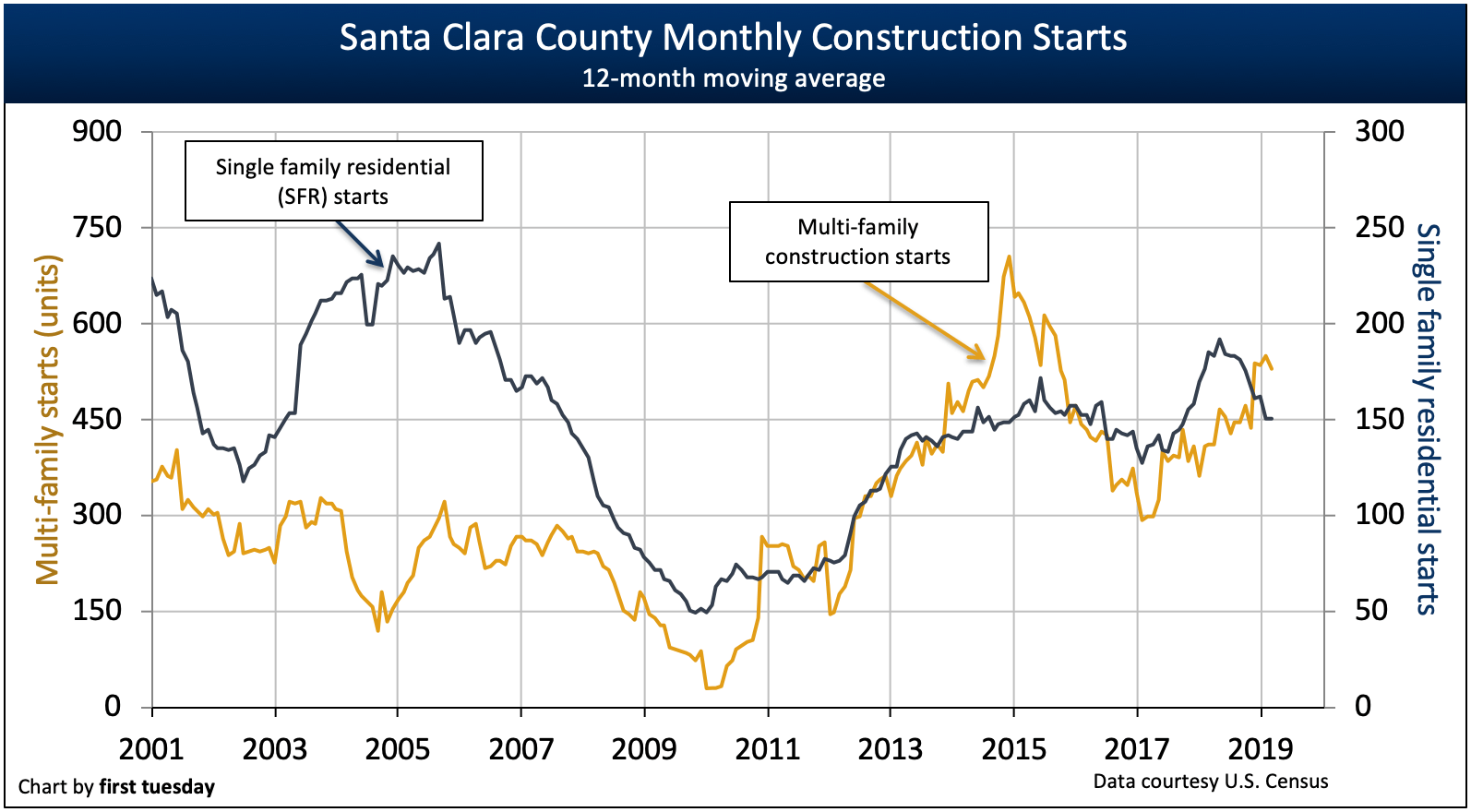 Chart update 05/29/19
| | | | |
| --- | --- | --- | --- |
| | 2018 | 2017 | 2016 |
| Santa Clara County single family residential (SFR) starts | 1,900 | 2,000 | 1,700 |
| Santa Clara County multi-family starts | 6,500 | 4,600 | 4,300 |
Construction is recovering in Santa Clara County. Single family residential (SFR) starts fell back very slightly in 2018, while multi-family increased significantly.
Santa Clara County's high cost of living makes it more cost-effective to reside in a multi-family dwelling with communal amenities, as opposed to a large suburban SFR. And while multi-family construction improved in 2018, it's still insufficient to keep up with demand from the region's ever-growing population.
SFR and multi-family starts will likely hit their peak following Generation Y's delayed entrance into the housing market in 2021. This will be helped along by new legislation intended to combat the growing housing shortage by fostering more construction.
Employment growing strong
Chart update 05/29/19
| | | | |
| --- | --- | --- | --- |
| | Mar 2019 | Mar 2018 | Annual change |
| Santa Clara County jobs | 1,142,200 | 1,115,600 | +2.4% |
Santa Clara County passed the milestone of its pre-recession employment peak in early 2013. Accounting for a population gain of just over 100,000 individuals in Santa Clara County since the 2008 recession, it finally reached a full jobs recovery for its population in Q1 2015.
In contrast, the state of California only just reached pre-recession employment numbers at the end of 2014 and has yet to reach a post-population-gain recovery. The full statewide jobs recovery (including jobs needed to account for population gain) won't occur until later in 2019 or 2020.
Why has Santa Clara's job market recovered more quickly than the rest of the state? Of the 206,300 jobs added since the level set by the 2008 recession, roughly one-quarter of those jobs have been in the Professional-Business Services industry. This includes all of those tech industry jobs. The bulk of other new jobs can be found in industries that support the tech industry.
Employment by industry
Chart update 05/29/19
| | | | |
| --- | --- | --- | --- |
| | Mar 2019 | Mar 2018 | Annual change |
| | 47,400 | 49,300 | -3.9% |
| Real Estate Rentals & Leasing | 15,500 | 14,400 | +7.6% |
The largest employing industry in Santa Clara County is the Goods Producing industry. This has recovered somewhat since the 2008 recession, but has a long way to go.
It's unlikely to ever return to the peaks experienced in the early 2000s, as the local jobs market has switched focus away from producing goods to producing information, via the region's thriving tech industry. On the other hand, expect the construction industry to rebound in 2019 and in the coming years as construction starts rise in response to ever-present demand for local housing.
Income rising quickly
Chart update 03/09/19
| | | | |
| --- | --- | --- | --- |
| | 2017 | 2016 | Annual change |
| Santa Clara County per capita income | $98,032 | $92,168 | +6.4% |
| California per capita income | $59,796 | $57,497 | +4.0% |
Santa Clara County personal incomes are well above the statewide average. Further, from 2016 to 2017 incomes increased a significant 6.4% in the region, while incomes increased statewide by a more modest 4.0%.
But these income increases are not all that they seem. The high cost of housing in Santa Clara has pushed out many low- and moderate-income residents. So, while average incomes have increased in the region, the rapid pace of increase is at least partly due to many residents being forced to move to less costly areas.
Despite these relatively large income boosts, incomes actually need to increase much faster to meet the area's rate of home price rise if home prices and rents are to be maintained. Home prices will need to fall in line with homebuyer incomes, especially since rising mortgage interest rates have reduced buyer purchasing power in 2018. Therefore, expect home prices to continue down in 2019 as we head into the next economic recession, forecasted to arrive in 2020.