San Francisco is a unique region in California's housing landscape. Here, home prices have far surpassed the pre-Millennium Boom years and jobs are fully recovered due to the presence of the high-paying tech industry.
All the same, high prices and limited inventory have shut out many residents, causing a housing crisis for renters and homebuyers alike. Further,  the region's enviable jobs recovery does not shield San Francisco residents from the 2020 recession, induced by years of economic build-up, on top of the financial crash earlier this year and the response to the global pandemic.
Expect to see San Francisco's rapid home price increases continue to cool in 2020 in reaction to the rapidly slowing economy and more tepid homebuyers. The 2020 economic recession will see home sales fall across California, and San Francisco will be no exception. How far home prices will decline is more up in the air, as today's record-low interest rates will continue to prop up home prices despite declining home sales volume. If the Federal Reserve (the Fed) decides to go negative this year, interest rates will drop further, giving home prices a major boost.
View the charts below for current activity and forecasts for San Francisco's housing market.
Updated May 26, 2020. Original copy posted March 2013.
Volatile home sales volume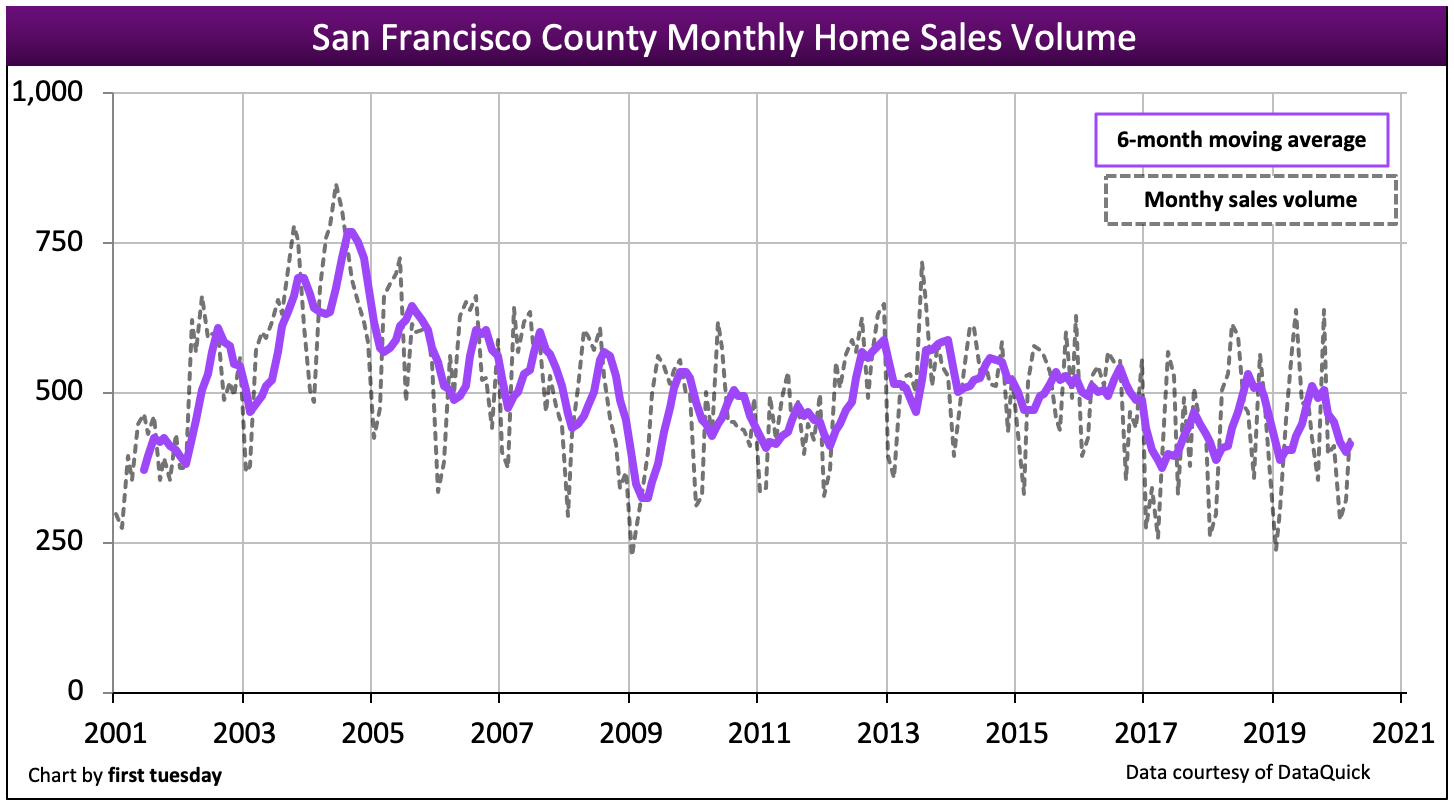 Chart update 05/26/20
| | | | | |
| --- | --- | --- | --- | --- |
| | 2019 | 2018 | 2017 | 2004: Peak Year |
| San Francisco County home sales volume | 5,400 | 5,500 | 4,900 | 8,130 |
*first tuesday's forecast is based on monthly sales volume trends, as experienced so far this year, and economic conditions affecting the market.
Home sales volume in San Francisco County is volatile, but has tended to run a step ahead of the rest of the state. San Francisco home sales volume peaked in 2004 — a year before the statewide peak — before receding in 2005-2006. Home sales volume bumped along at a relatively level-to-down annual pace in 2012-2016, but fell significantly in 2017, a signal of the statewide downturn in sales taking place in 2018. But this decrease reversed course in 2018, with year-end totals up 12% from 2017. 2019 home sales volume ended the year with 2% fewer sales than in 2018.
San Francisco, with its heavy concentration of high-paying tech jobs and depressingly low housing inventory, is almost an economy unto itself. However, 2018's upturn in sales volume does not indicate a continued trend. Decreased economic expectations and still-high home prices in the region caused homebuyer enthusiasm to soften in 2019. As the economy continues its downward turn in 2020-2021, look for home sales to continue to decrease through 2021-2022.
Turnover rates are mixed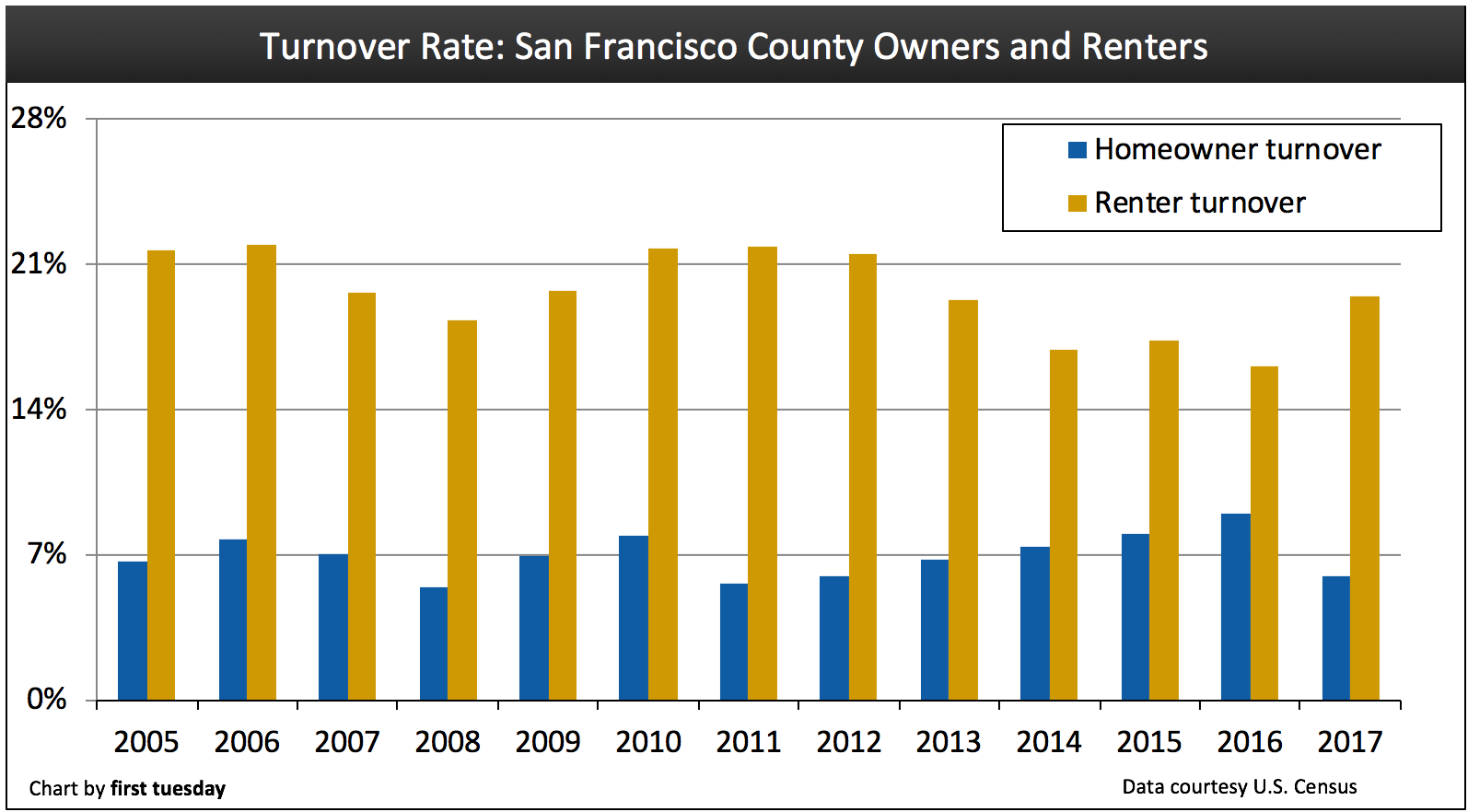 Chart update 03/08/19
| | | | |
| --- | --- | --- | --- |
| | 2017 | 2016 | 2015 |
| San Francisco County homeowner turnover rate | 6.0% | 9.0% | 8.0% |
| San Francisco County renter turnover rate | 19.5% | 16.1% | 17.3% |
San Francisco's renter turnover rate rose significantly in 2017 to nearly 20%, meaning one-in-five San Francisco renter households moved in 2017. On the other hand, the homeowner turnover rate (producing sales and relocating buyers) fell sharply in 2017 to just 6%. This low turnover rate is reflected in the steep drop in sales volume also experienced in 2017.
Renter and homeowner turnover rates indicate both the willingness and corresponding ability of renters and homeowners to move. With the loss of jobs and income during the Financial Crisis and 2008 Great Recession, turnover rates in San Francisco fell. However, both renter and homeowner turnover rates recovered more quickly in San Francisco than elsewhere in the state due to the region's swift jobs recovery and high concentration of employers.
Following the recession, renters in particular regained a higher level of mobility, as the young professional class inhabiting San Francisco is often more inclined to rent than own. However, the significantly high rents in San Francisco are now swiftly pushing renters out of the city and into the nearby counties of Alameda and Contra Costa. Those with rent-controlled apartments strive to stay put which kills turnover and new construction.
Looking forward, turnover rates will likely be highest in 2022-2023, one year ahead of the rest of the state. These years will see the confluence of Generation Y (Gen Y) first-time homebuyers and retiring Baby Boomers (Boomers) hitting the home buying market at once.
Homeownership trends down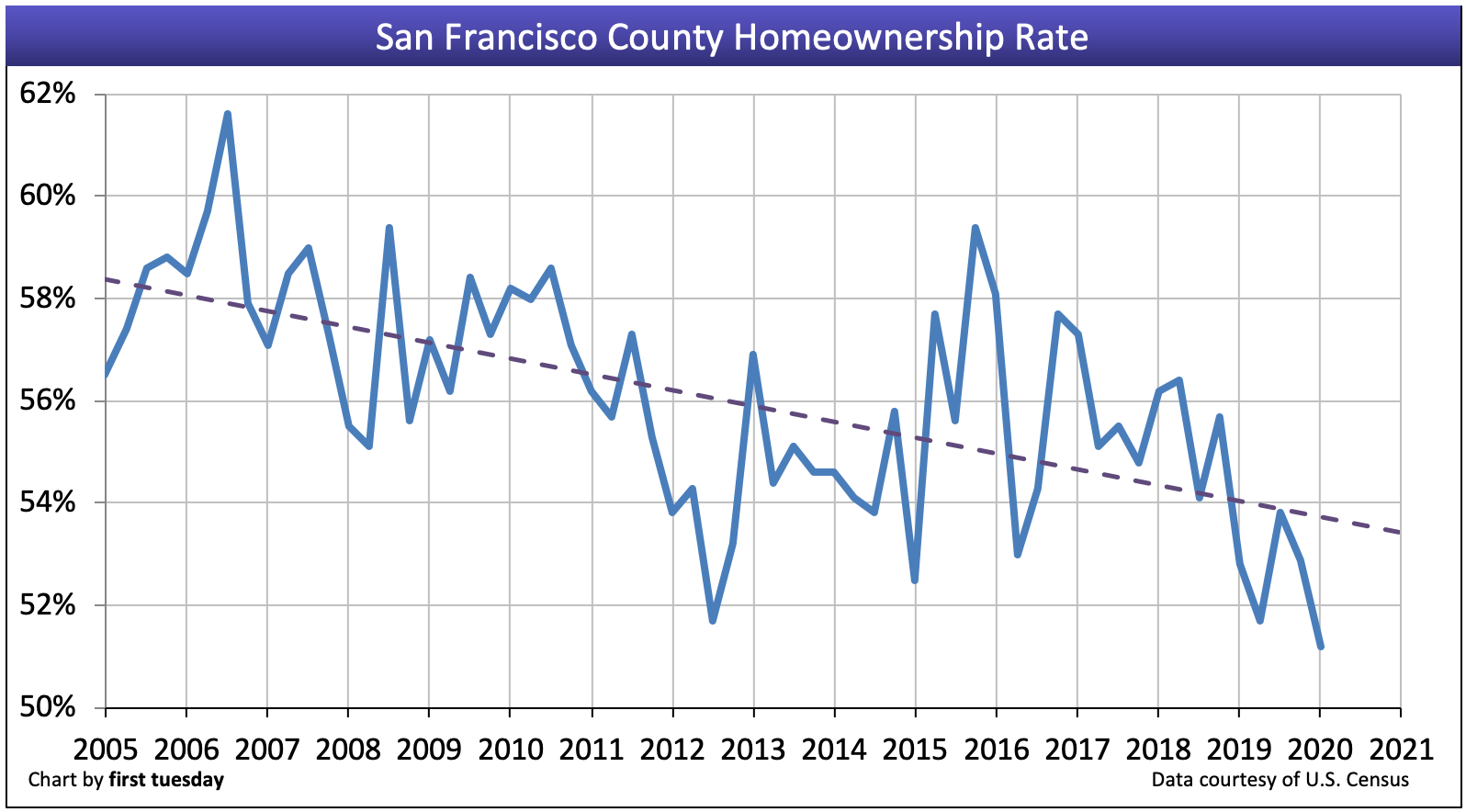 Chart update 05/26/20
| | | | |
| --- | --- | --- | --- |
| | Q1 2020 | Q4 2019 | Q1 2019 |
| San Francisco County homeownership | 51.2% | 52.9% | 52.8% |
The homeownership rate in the Bay Area tends to vary more wildly than other parts of the state. However, the general trend from the end of the Millennium Boom until 2015 had been down. As of Q1 2020, the homeownership rate is just above 51%, lower than the statewide average of 55%.
However, the homeownership rate in San Francisco has not suffered quite as much as the rest of the state during this protracted recovery due to the job support delivered by its successful tech industry. All the same, as the homeownership rate in the rest of the state catches up to pre-recession levels in the coming years, don't expect San Francisco to follow. Due to the high cost of housing and the allure of city living, renting is often preferred in San Francisco.
Jumbos and ARMs drive home prices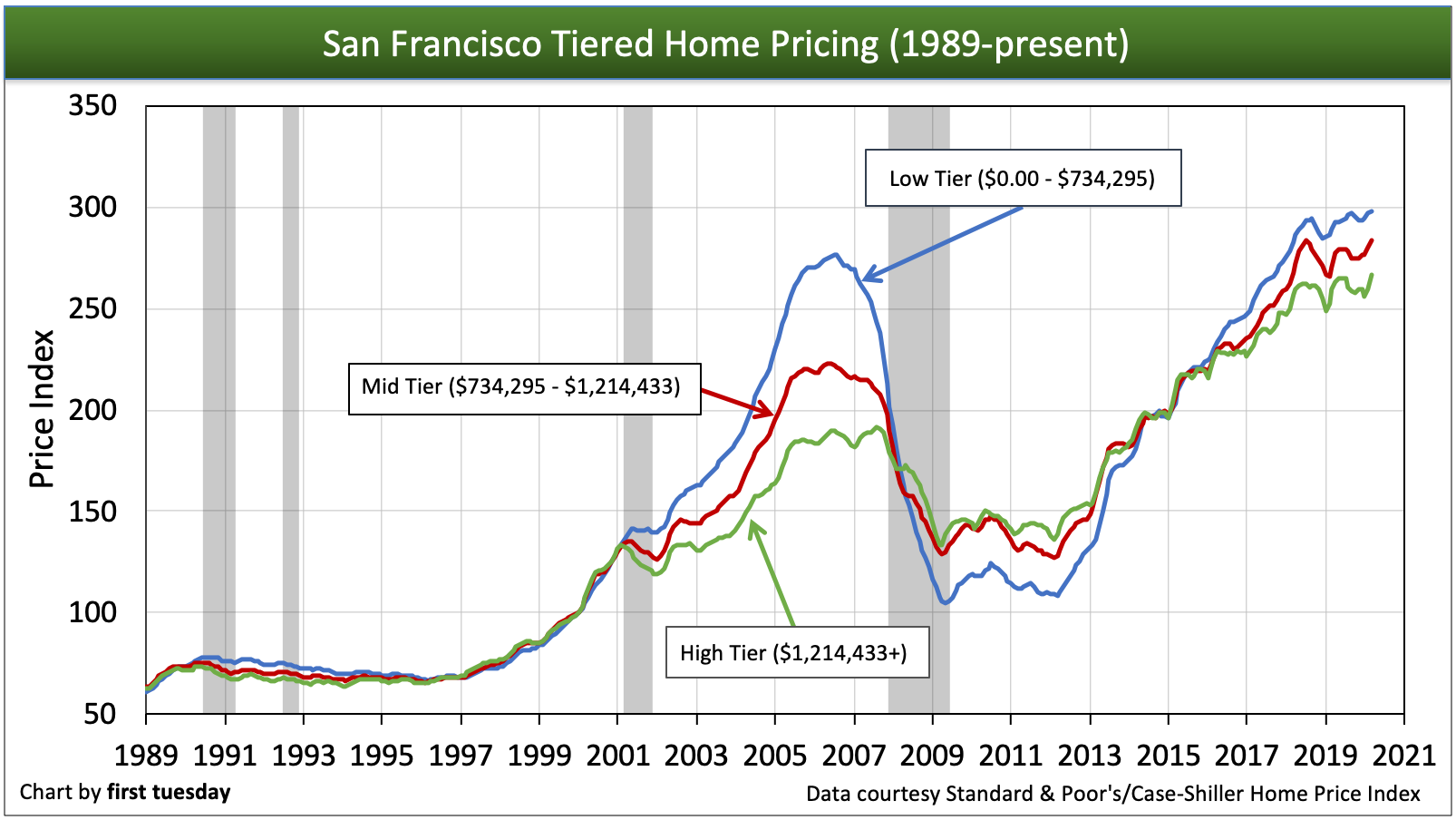 Chart update 05/26/20
| | | | |
| --- | --- | --- | --- |
| | Q1 2020 low-tier annual change | Q1 2020 mid-tier annual change | Q1 2020 high-tier annual change |
| San Francisco County home pricing index | +3% | +5% | +3% |
As of Q1 2020, low- and high-tier prices are just 3% higher than a year earlier, while mid-tier prices are 5% above a year earlier. But when counting inflation, home prices are essentially flat with a year earlier.
In 2020, the response to COVID-19 will see downward pressure on home prices. Accurate home price reports run about two months behind current events. Even when caught up, "sticky prices" tend to persist several months beyond the moment when home sales volume begins to slow. Starting in March 2020, economic volatility and shelter-in-place orders caused home sales volume to decline. However, historically low interest rates have provided a boost for buyer purchasing power, which will continue to prop up home prices – somewhat – in 2020.
San Francisco home prices are characterized by rapid starts and stops, as viewed in the bumps in the chart above — particularly in the mid- and high-tiers. Pricing in Southern California markets form a smoother line. San Francisco's low supply situation is partly to blame, creating a volatile home sales market. The city's preference for low-density zoning restricts builders from meeting the ever-increasing demand for local housing.
Use of adjustable rate mortgages (ARMs) and jumbo loans keep home prices high in a momentum-hot market, as homebuyers quickly lose purchasing power due to upward shifts in interest rates and pricing outruns income growth. When ARM use increases as rapidly as it has in the area, the outlook for stable sales volume and pricing in the housing market becomes less optimistic. Prices adjust downward following periods when ARM-to-loan ratios rise and fixed mortgage rates do not.
Multi-family construction gains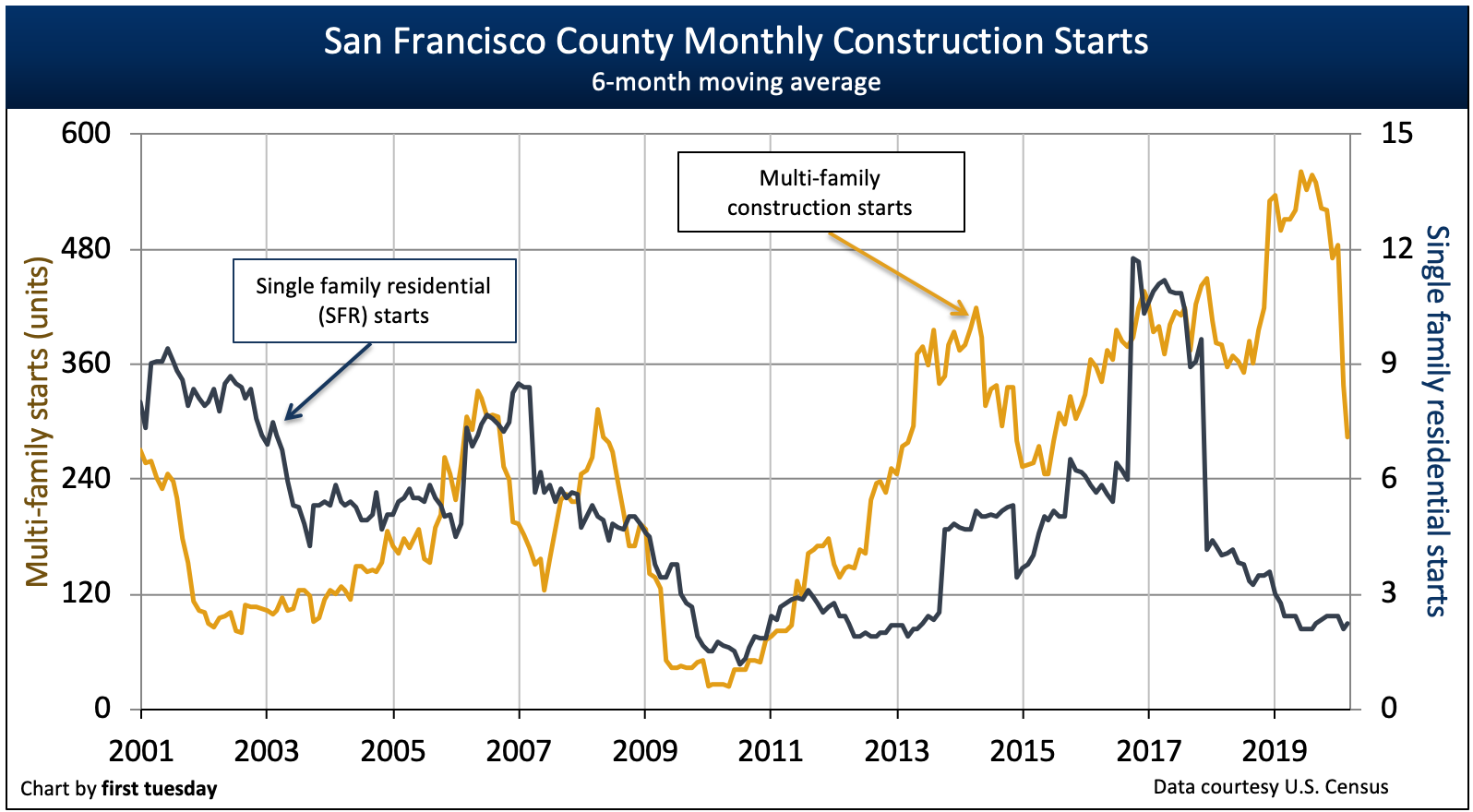 Chart update 05/26/20
| | | | |
| --- | --- | --- | --- |
| | 2019 | 2018 | 2017 |
| San Francisco County single family residential (SFR) starts | 22 | 33 | 43 |
| San Francisco County multi-family starts | 3,200 | 5,100 | 4,200 |
Very few single family residences (SFRs) are built in San Francisco County each year, and this number has continued to decrease in recent years. Multi-family construction starts, on the other hand, have swung wildly from year-to-year, though the general trend has been up since their bottom in 2010. The long approval and permitting process in San Francisco holds down construction starts of all types.
As jobs continue to increase in San Francisco, multi-family construction may feel the benefits. San Francisco's high-paying tech industry draws a younger population (members of Gen Y), who are most likely to reside in multi-family structures close to the urban amenities San Francisco offers.
However, archaic zoning limiting building height and the density of units in each structure will impair multi-family starts, population mobility and job growth going forward while driving up rents and causing employers to consider other communities.
Jobs fully recovered – and rising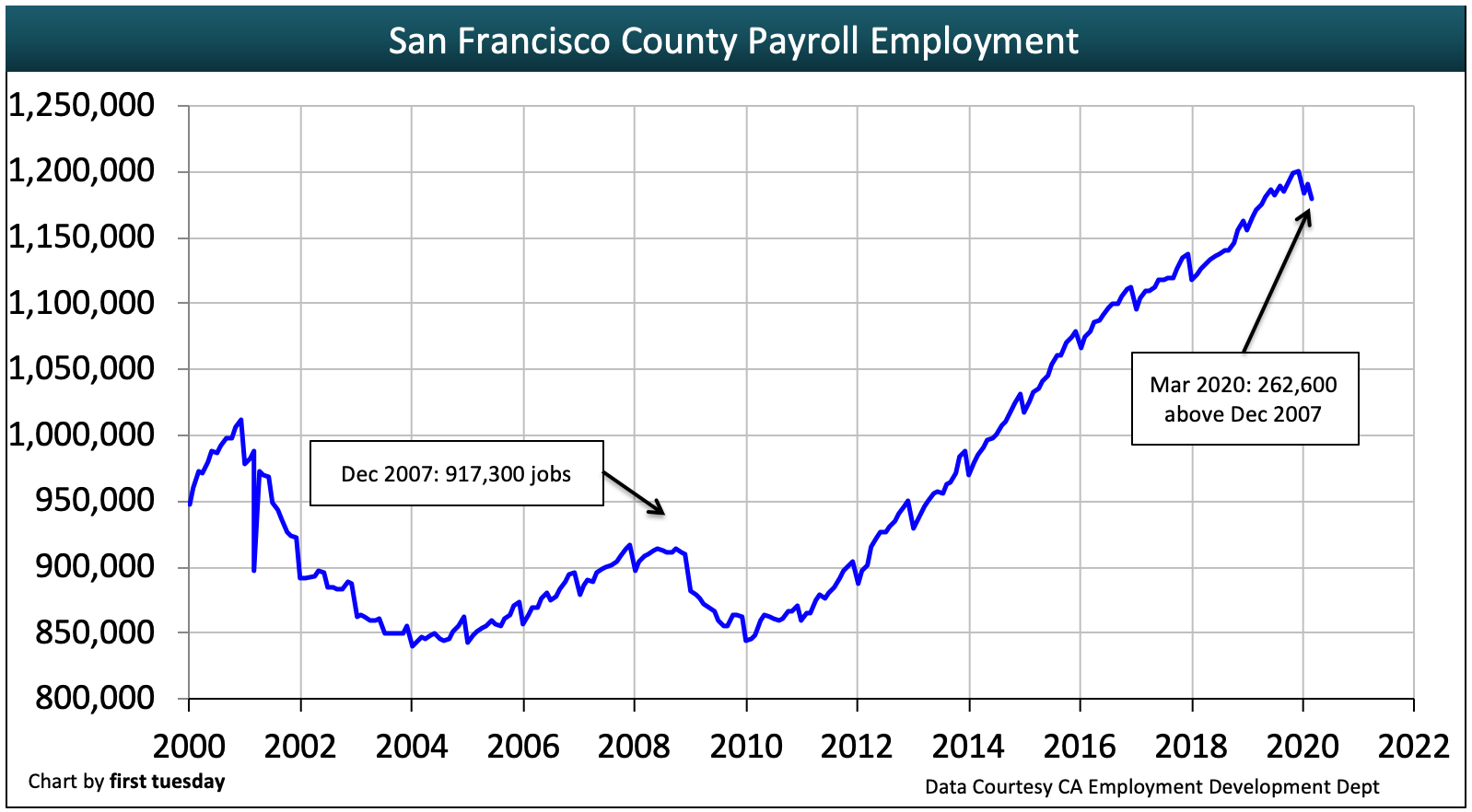 Chart update 05/26/20
| | | | |
| --- | --- | --- | --- |
| | Mar 2020 | Mar 2019 | annual change |
| San Francisco County employment | 1,196,700 | 1,162,400 | +3% |
San Francisco's jobs market has well surpassed the point for recovery. Homeowners and renters require income (generally from employment) to make mortgage or rent payments. As a result, San Francisco's housing market has recovered and continues to grow more swiftly than the rest of the state due directly to its quick healing and expansion in the jobs market.
Jobs have met and exceeded residents' need for employment, even including San Francisco's population increase of roughly 70,000 working-age individuals since the start of the 2008 Great Recession. By a statewide comparison, California just caught up to pre-recession levels in mid-2014, finally meeting the intervening population increase in 2019.
However, what was gained can be lost. The economic response to COVID-19 has caused job losses across the state, and San Francisco is no exception. At the time of this writing, the Bay Area alone has lost half a million jobs since March. Expect to see these job losses impacting real estate in 2020 and the years ahead.
Jobs by industry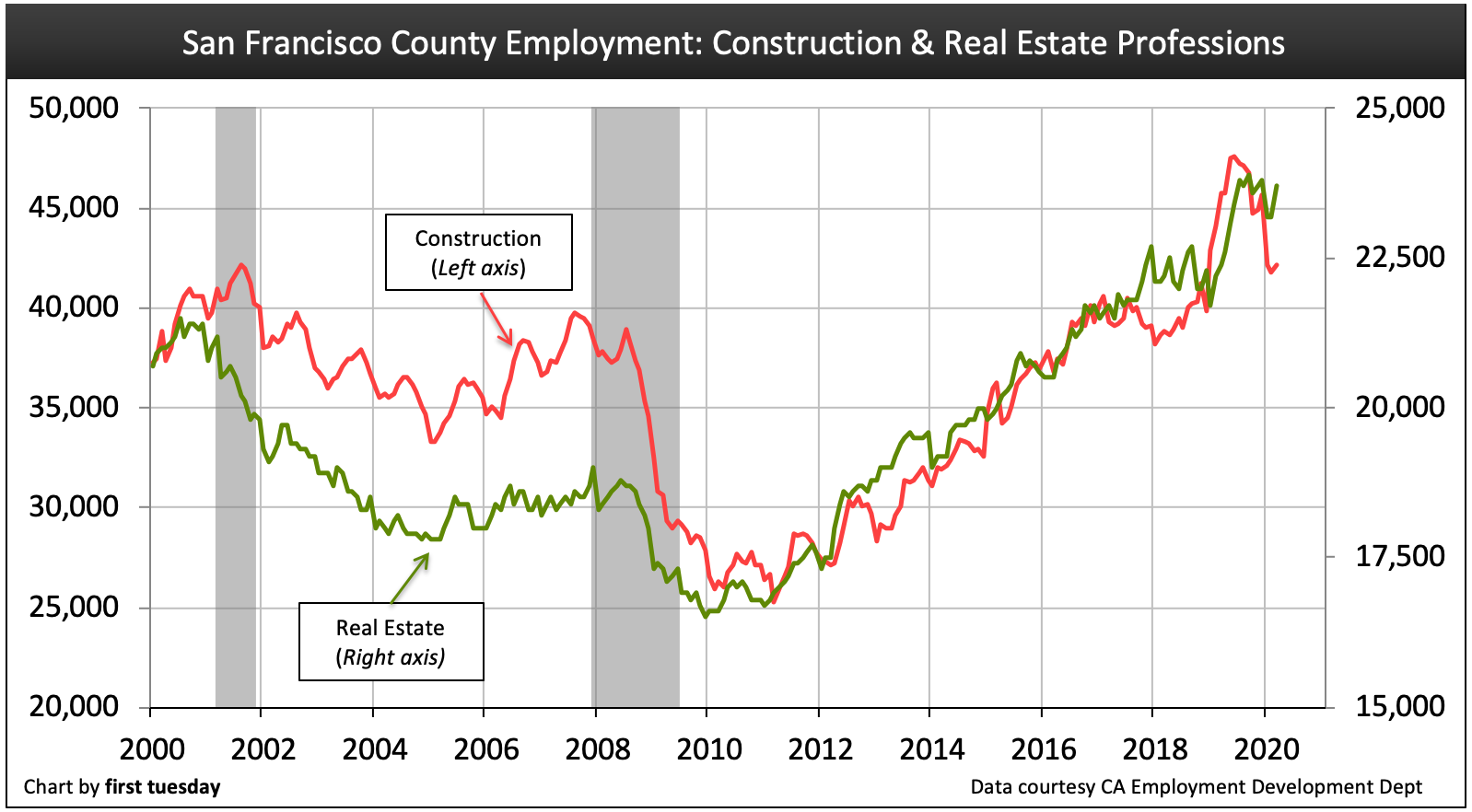 Chart update 05/26/20
| | | | |
| --- | --- | --- | --- |
| | Mar 2020 | Mar 2019 | Annual change |
| | 42,200 | 45,800 | +16.4% |
| | 23,700 | 22,400 | +5.2% |
The number of people employed by each of San Francisco's top employing industries has increased over the prior year. In particular, Professional and Business Services, which includes the technology and support industries, has added the most jobs during this economic recovery.
Employment in the real estate industry has well exceeded pre-recession levels. The construction industry has finally begun picking up speed in recent months, a result of the dire need for more residential construction to house new workers in the region. Future growth for these industries will rely on the success of the multi-family housing sector, which will continue to see growth throughout this decade.
Per capita income has recovered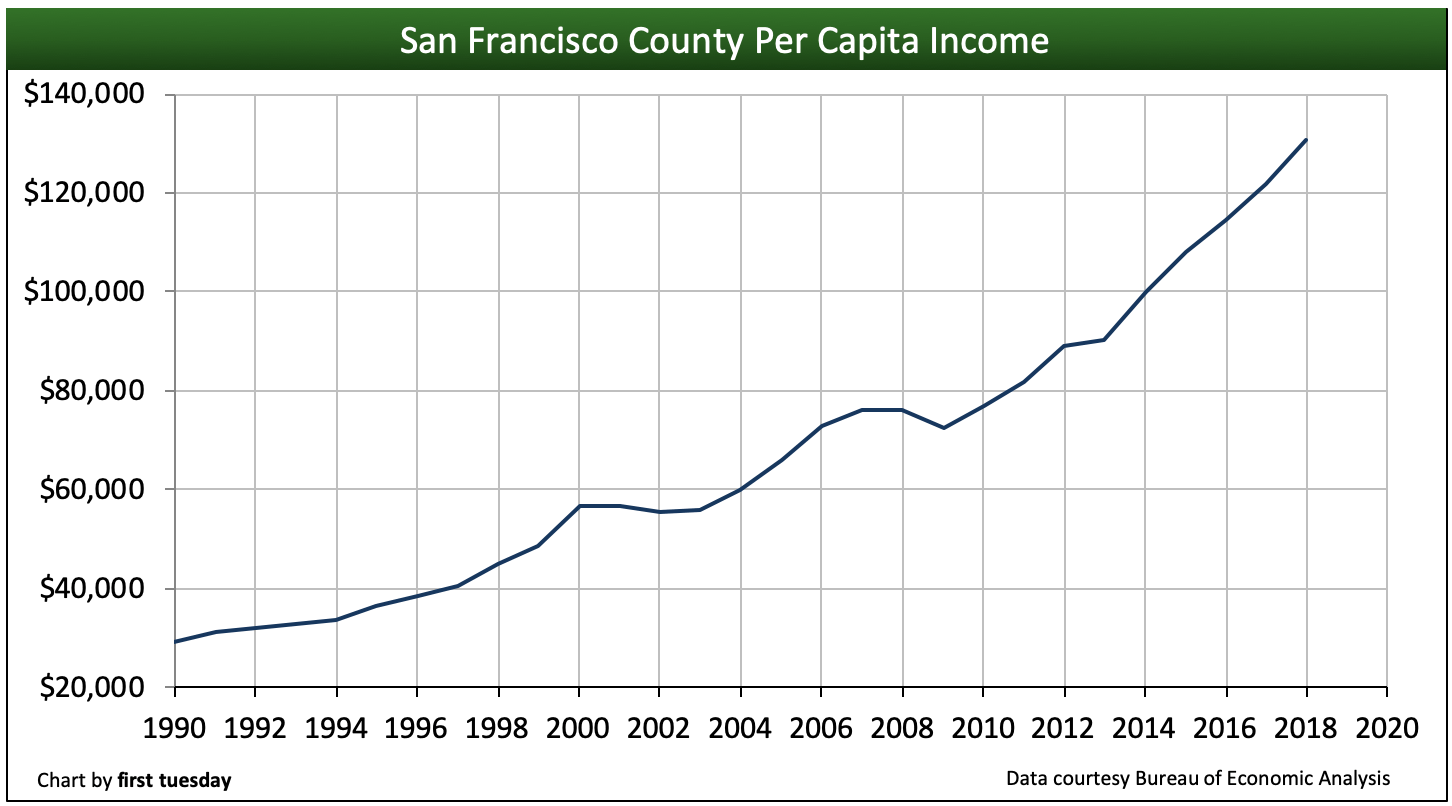 Chart update 03/03/20
| | | | |
| --- | --- | --- | --- |
| | 2018 | 2017 | Annual change |
| San Francisco County per capita income | $130,700 | $121,800 | +7.3% |
| California per capita income | $67,000 | $63,900 | +4.9% |
Per capita income in San Francisco is nearly double that of California's average income, having increased at a significantly quicker pace that most of California in recent years.
However, San Francisco residents spend on average a debilitating 41% of their income on housing expenses. Many more simply cannot afford to live in the city and are forced out to the suburbs, the only place where their paycheck qualifies them for housing.
If you're looking for indications of where California's housing market will be in two to three years, take a look at San Francisco County. Here, jobs and income have fully recovered. All the same, home sales volume remains stuck in its bumpy plateau — flat. Sales are likely to continue their fall back in 2020 due to too-high home prices relative to incomes and an unstable global economy. For, even though incomes here are higher than virtually anywhere else in the state, rising incomes still don't keep up with the cost of housing.