first tuesday Forms-on-CD Version 4.3 – your professional toolbox
This article discusses the release of first tuesday Forms-on-CD 4.3 – a membership benefit FREE to all first tuesday students – and explains the program's new enhancements and features, such as the ability to personalize your forms.
Put your best foot – and face – forward
Real estate sales involve the highest degree of salesmanship, intelligence and candor. In addition to selling properties made of brick and mortar, you must market something more ephemeral: yourself. With first tuesday Forms-on-CD 4.3, personalize your real estate forms to make them an extension of your service.
All 400+ real estate forms included in the first tuesday library allow you to:
insert your picture or company logo at the top of every form; and
include your personal contact information for quick reference.

A real estate contract should perform a dual function: fulfill its legal goal while also acting as a business card for the agent. Nothing crystallizes your authoritative role in a transaction more concretely than your image on every form given to buyers, sellers, loan servicers and settlement service providers. Buyers and sellers will be reminded of the agent who provided exemplary service every time they review the forms. Additionally, with the inclusion of the agent's personal information, the buyer or seller can easily contact the agent again for future transactions.
Income Property Brokerage analysis
In an agent's effort to locate a buyer as a match for listed income property, the listing agent will present the property's marketing information to many eyes. To attract and retain the attention of buyers who will ultimately close on a purchase of an income property listing, the listing agent must marshal the property's current income and expense data, mortgage information and conditions of the land and improvements from information readily available to the owner or the agent.
Once gathered, the listing agent must present this data and information in a meaningful manner so prospective buyers can instantly recognize the property's suitability.
The format and spreadsheets essential to the creation of an accessible package appear in first tuesday's Income Property Brokerage (IPB) suite of forms. The IPB forms can be used as a checklist to make sure no essential data is overlooked and to provide the buyer with a personalized package reflecting the efforts and talent of the agent who prepared it.
first tuesday's IPB forms present the property's operating information in a self-explanatory format, allowing a buyer or buyer's agent to quickly form their own conclusions about whether the property's expected performance meets their standards. [For additional commentary on methods and procedures an income property broker employs to gather operating data, see the April 2011 first tuesday article, Income Property Brokerage analysis for investor review.]
Build your brand with FARM letters
A FARM letter, at its core, is a reflection of you and your business. This small publication will often be your best opportunity to make a lasting impression on sellers and homebuyers in your community.
Featured for the first time on first tuesday Forms-on-CD 4.3 is a collection of FARM letter templates. You may use either ready-to-send FARM letters or blank templates for you to personalize and prepare by inserting first tuesday copy or compose your own copy covering local information that you wish to bring to the attention of your target audience. [For a full review of first tuesday's FARM letter templates, which are accessible online as well as on first tuesday Forms-on-CD 4.3, see the FARM letter page.]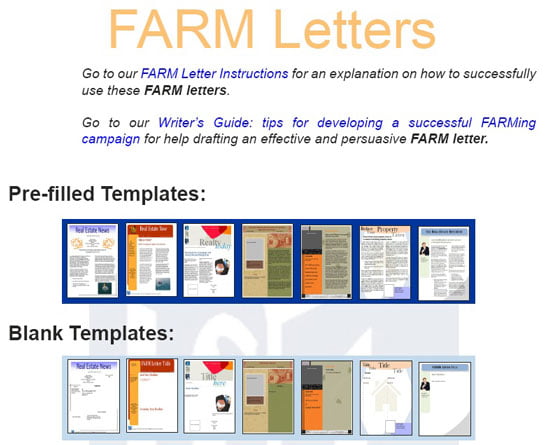 Continuing education should be continuous
In addition to all 400+ real estate forms published by first tuesday, first tuesday Forms-on-CD 4.3 contains a searchable research library of 13 digital textbooks published by first tuesday, including;
Real Estate Practice

;

Real Estate Finance

;

Legal Aspects of Real Estate

;

Real Estate Property Management

;

Agency, Fair Housing, Trust Funds, Ethics and Risk Management

;

Real Estate Matters

;

Buying Homes in Foreclosure

;

Creating Carryback Financing

;

Forming Real Estate Syndicates

;

Tax Benefits of Ownership

;

The §1031 Reinvestment Plan

;

Landlords, Tenants and Property Management

; and

Due Diligence and Disclosures

.
With first tuesday's entire library of research materials at your fingertips, you can quickly access information specific to your transaction, or simply read our books for your own edification. Additionally, first tuesday Forms-on-CD 4.3 comes with an easy-to-use search feature enabling you to quickly locate and bring up copy related to any term or concept you desire.
Go paperless with digital signatures
In the burgeoning popularity of the green movement, do your part by going paperless. Digitally sign and transmit your real estate forms to save yourself (and your client) the hassle of contending with a mountain of paperwork. Simply create an encrypted Adobe digital ID and click the signature line of the form to insert your signature.
Be assured, after you or a client sign the form, the form fields will automatically lock, preventing anyone from changing the provisions or tampering with the agreed-to terms. It's safe, convenient and fast.
How are first tuesday forms distinguishably better than the forms offered by other publishers?
As always, first tuesday forms are drafted to provide maximum loss reduction protection for brokers and their agents. As a matter of policy, our forms do not contain clauses which tend to increase the risk of litigation or generally work against the best long-term interests of the buyer, seller and broker. Deliberately excluded provisions include:
an attorney fee provision, which tends to promote litigation and inhibit resolution;
a time-essence clause, since future performance (closing) dates are, at best, estimates by the broker and his agents of the time needed to close and are too often improperly used by sellers in rising markets to cancel the transaction before the buyer or broker can reasonably comply with the terms of the contract;
a liquidated damages provision, since it creates wrongful expectations of windfall profits for sellers and is nearly always a forfeiture and unenforceable; and
first tuesday forms include a mandatory mediation provision to mitigate the risk of a long and costly legal battle. Mediation of any dispute must be undertaken as a precursor to filing an action, be it arbitration or litiga­tion, to bring about a mutually agreeable solution. Mediation is a quick process and is the most cost effective method of dispute resolution. [See the August 2008 first tuesday article, Mediation: best, faster dispute resolution.]
How do first tuesday forms compare to the competition?
first tuesday's library of over 400 California-specific forms will cover every need and every transaction. Our forms are always at your fingertips on CD-ROM and online, so you'll never be unprepared. The simple PDF format of our forms means you can share them with your agents and friends at no extra charge; in fact, we encourage you to do just that! Our forms can be filled, personalized, digitally signed, saved, emailed and printed from any computer with Adobe Reader.
Many brokers erroneously believe they must use forms published by their trade union. However, the Department of Real Estate (DRE) clearly states that listing agents, to fulfill their fiduciary duty to the sellers they represent, must present all offers  received regardless of the form on which the offer is written. [See "Being an agent means never having to say you're sorry," DRE Real Estate Bulletin, Fall 2001, Page 12]
first tuesday forms and are universally accepted by California law in all real estate transactions. It is a reportable offense to fail to submit all offers.
All CAR WINForms/ZipForm6 forms are "free" with CAR membership fees, which were increased to include the cost of bundling forms into membership. All first tuesday forms are literally free the first year, as they are included with enrollment in any first tuesday licensing or renewal course (courses range from $33.25-$74.50). Never be financially burdened with annual membership dues again and save more than $500 annually.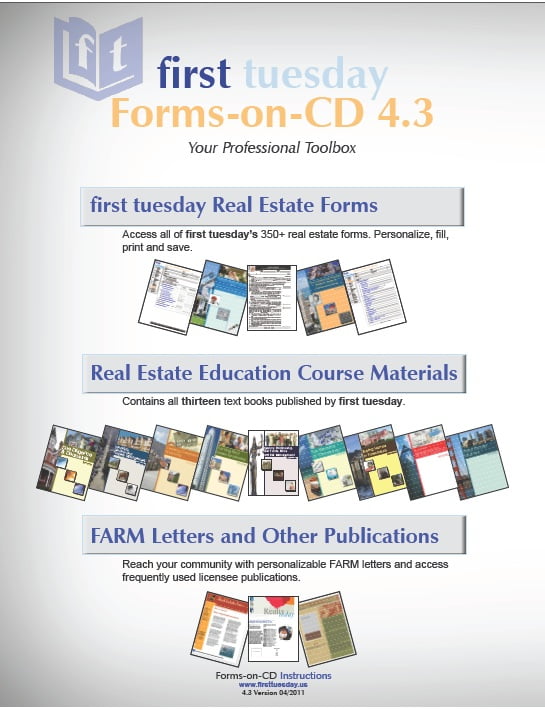 Download 4.3 as a FREE first tuesday membership benefit
As a unique membership benefit, the newly released first tuesday Forms-on-CD 4.3 is available for free download to all first tuesday students who enrolled within the past year in a licensing or renewal package. To access first tuesday Forms-on-CD 4.3 today, log into your student homepage at firsttuesday.us using your eight digit Department of Real Estate (DRE) license number or temporary license number (T-number). Click the first tuesday Forms Downloads and Updates button located on the left side of the screen. If you have a PC, click the "first tuesday Forms-on-CD 4.3 Windows Version" button. If you have a Mac, click the "first tuesday Forms-on-CD 4.3 Mac Version" button. This will install the full version of the program featuring all the upgrades outlined above.
Additionally, anyone who subsequently enrolls in a multi-media course with first tuesday will automatically receive a free copy of the program on a CD-ROM with their mailed materials.
Not a first tuesday student? Enroll now in a licensing or renewal package today and receive first tuesday Forms-on-CD 4.3 at no additional cost with your multi-media enrollment. You may also independently purchase a hard copy of first tuesday Forms-on-CD 4.3 for $79.50 or download it for $69.50.
Equip yourself today with first tuesday Forms-on-CD 4.3 and fill your professional toolbox with the features designed to help you brand yourself and close more sales.
Editor's note: Have any comments or suggested improvements you would like made to any of the forms or features? Please leave a comment below or email our editorial staff at editorial@firsttuesday.us and we will continue to evolve the program.