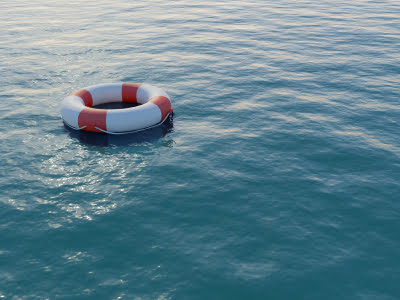 This article provides a sneak peak at the California Housing Financing Agency's (CHFA's) proposed allocation of $700 million of federal aid intended to help California's distressed homeowners stay in their homes or provide relocation assistance.
Federal assistance is on the way (sort of)
Nearly two years after the collapse of the national financial industry, the California real estate market and broader economy, both dependent on lending, are still contending with the devastating effects. As a simple matter of financial gravity, these negative effects initially triggered by subprime and adjustable rate mortgage (ARM) lending are felt more acutely in California than in most other states (the exceptions being Nevada and Florida). California real estate prices accelerated to more extreme heights during the cash-flush delirium of the Millennium Boom, and now by necessity have a longer way to fall before market fundamentals fully return.
California continues to be pummeled with high numbers of mortgage delinquencies and foreclosures, both of which are eroding the tentative recovery of the real estate market which was kick-started by federal and state subsidy intervention. California's present real estate ills are rooted in two causative factors:
financial hardships experienced by distressed homeowners resulting from a loss of income (generally the result of unemployment) or the resetting of loan payments on "rollover" option ARMs which prevent homeowners from making mortgage payments; and
unprecedented statewide devaluation of property values which has left approximately 2.5 million California homeowners underwater with loan-to-value ratios (LTVs) of over 125%.
California's unique plight has not gone unnoticed. In conjunction with other national stimulus programs, the federal government has pledged to give California $700 million to formulate and implement state-wide foreclosure prevention measures for distressed California homeowners. The $700 million comes from a $2.1 billion federal pool created under the Housing Finance Agency Innovation Fund for Hardest Hit Housing Markets (HHF) plan. The newly devised federal HHF plan is designed exclusively for homeowners in the ten states hardest hit by the collapse of the real estate market. Of the ten states, California will be awarded 33%, the largest share.
The federal government has pledged to give California $700 million to implement state-wide foreclosure prevention measures.
Each individual state must submit a proposal to the US Treasury (Treasury) detailing how these HHF funds will be distributed most effectively. On April 16th, the California Housing Finance Agency (CHFA) submitted a proposal for the distribution of the $700 million, which could be disbursed as early as September after the Treasury has reviewed and approved the proposal.
The HHF funds are intended to provide help independently as well as in tandem with other federal foreclosure prevention programs, such as the Home Affordable Modification Program (HAMP), Home Affordable Refinance Program (HARP) and Home Affordable Foreclosure Alternatives Program (HAFA).  Little good has come of these programs for California homeowners with LTV ratios over 125%, except to buy time before the inevitable foreclosure sale.
Though CHFA's proposal has not been officially approved by the Treasury, the proposal is certainly an indication of how the federal money will ultimately be spent. At the very least, the proposal functions as a clear window into what detrimental factors politicians and government administrators perceive are hindering the California recovery which, if addressed, will begin our state's ascent out of the post-boom crater.
California brokers and agents would be wise to plan ahead and become informed about these proposed HHF allocations. Armed with this knowledge, they will know which homeowners the program can help then assist these homeowners to understand and apply for the HHF funds. By becoming an expert, the broker or agent distinguishes himself from his peers and builds good-will and trust with the homeowner, who will likely need representation in future real estate transactions.
Components of Cal-HAMP
CHFA's proposal is divided into four distinct programs, each of which target different areas of housing distress. Three of the programs are intended to keep distressed homeowners in their homes, while one provides financial assistance to homeowners who agree to a short sale or deed-in-lieu of a foreclosure.
The four programs are titled:
Principal Reduction Program (PRP);
Unemployment Mortgage Assistance (UMA);
Mortgage Reinstatement Assistance Program (MRAP); and
Transition Assistance Program (TAP).
Taken in conjunction, we at first tuesday refer to these programs as Cal-HAMP, the California equivalent of the not-too-helpful federal HAMP program introduced in 2008.
A majority of the Cal-HAMP funds will be allocated to these four programs, however, $20 million will be given to cities and specialized housing counselors to devise strategies to stabilize their local real estate markets. Lastly, $34.9 million will be paid to CHFA for administrative expenses.
Eligibility requirements
Most Cal-HAMP programs will focus on low- to moderate-income households who, though experiencing financial hardships, are able to pay some level of sustained monthly mortgage payments (read: they have jobs). Thus, members of California's robust double-digit unemployment contingent need not apply for most of the programs.
To be eligible, a homeowner must complete a Hardship Affidavit and provide documentation no more than 60 days old evidencing his financial difficulties. The reason for hardship may stem from reduction of income, illness or disability, military service or past unemployment.
The household can earn no more than 120% of the median area income (AMI) of the county the property is located in. For example, according to data gathered by Fannie Mae, the AMI in San Bernardino and Riverside county is $64,500. Thus, in these counties, eligible households can earn no more than $77,400. The AMI will be set as either the date the loan was originated or the date the Cal-HAMP application is submitted.
The homeowner's property must meet eligibility requirements, such as:
the home must be located in California and occupied by the owner as his principal residence;
the homeowner may not own other properties that are also being considered for Cal-HAMP assistance; and
the property may not be abandoned or in a serious state of disrepair.
The homeowner's loan must also meet eligibility requirements, such as:
the mortgage was originated before January 1, 2009;
the mortgage was a purchase-assist loan;
the mortgage balance does not exceed the government-sponsored enterprise (GSE) conforming limit of $729,500; and
the homeowner may not have cashed out the equity in his home – either by refinancing or equity financing – during the cash-flush years of the Millennium Boom.
Additionally, a perfect balance must be struck for a homeowner to fit under the proposed guidelines of eligibility. A homeowner must be distressed (his loan being either delinquent or at immediate risk of default) – but not too distressed (the property is scheduled for a trustee's sale).
As the Cal-HFA's proposal has yet to be approved by the Treasury, no application forms or application submission procedures have been published.
Principal reduction program (PRP)
Taking up 65% of the Cal-HAMP funds, the PRP is the most cash-intensive arm of Cal-HAMP. In total, $419 million is intended to restore equity to California's massive population of underwater homeowners who owe more on their mortgages than their properties are presently worth. [For a further study of the negative equity situation and the strategic default options available to an underwater homeowner, see the March 2010 first tuesday article, The underwater homeowner, his future and his agent: a balance sheet reality check – Part I and Part II.]
Under PRP, CHFA will pay down a mortgage by up to $50,000 over a three-year period, an amount that must be matched by voluntarily participating lenders.
However, to be eligible, the homeowner may not have an LTV of less than 125% after the principal reduction provided by the program (meaning the homeowner will still be underwater after receiving funds – only less so). Thus, PRP is only available to homeowners who are severely underwater, not to those just below the surface of the water line. Regardless, the PRP will in no way make them solvent.
The homeowner may not have an LTV of less than 125% after the principal reduction, leaving him still underwater.
CHFA hopes a reduction of principal bringing a property's LTV into an acceptable negative range will in turn make more homeowners eligible for a permanent loan modification under another program, such as HAMP, which is limited to negative LTVs of less than 125%.
In total, PRP is designed to establish an appropriate amount of debt for eligible homeowners and act as a hedge against the steep property value declines still being experienced after the boom, thus freeing homeowners from the unbearable weight of an upside-down property and dissuading them from exercising their put option under their trust deed by walking away – the now classic strategic default phenomenon.
It is estimated PRP will assist approximately 5,500 households in California, this in the face of 2.5 million negative equity homeowners – roughly 0.2% of needy homeowners.
Unemployment Mortgage Assistance (UMA)
$64.5 million (approximately 10% of the Cal-HAMP funds) will be used to subsidize the mortgage payments of unemployed homeowners who wish to stay in their homes.
Eligible homeowners may receive the lesser of $1,500 or half their monthly payment – including principal, interest, tax, insurance and any homeowners' association (HOA) dues (PITIA) – each month for up to six months.
To be eligible, the unemployed homeowner cannot be delinquent for more than 90 days, which indicates most individuals in a prolonged unemployment situation will not qualify. Recent job losses are the target for this program.
The maximum amount homeowners are eligible to receive under UMA is $9,000.
It is estimated UMA will assist approximately 8,900 households in California.
Mortgage Reinstatement Assistance Program (MRAP)
$128.9 million (approximately 20% of the Cal-HAMP funds) will be allocated to previously unemployed homeowners who are now employed but are in arrears on their mortgage payments. Thus, homeowners under MRAP are able to make their monthly payments going forward but cannot catch-up on the missed payments.
For these individuals who now have the capacity to make their regularly scheduled monthly payments, CHFA and voluntarily participating lenders will each pay the lesser of $15,000 to settle past due amounts – for example, roughly 10 months delinquency on a $525,000 loan – or 50% of the past due PITI amounts.
It is estimated MRAP will assist approximately 17,200 households in California, the largest number of homeowners helped under any of the Cal-HAMP programs. Those given assistance will also be those fortunate enough to have recently found employment as California begins to come out from under the loss of 1,600,000 jobs since November 2007.
Transition Assistance Program (TAP)
$32.2 million (approximately 5% of the Cal-HAMP funds) will be applied to homeowners who cannot afford the monthly mortgage payments and have agreed to a short sale or deed-in-lieu of foreclosure. These homeowners are each eligible to receive up to $5,000 as a one-time payment towards relocation assistance.
The homeowner must occupy the property and keep it in good condition until the property is either sold or deeded back to the lender.
It is estimated TAP will assist approximately 6,500 households in California. Presently, around 3% of monthly sales are short sales.