[Name], the low-tier housing shortage, and obstacles to refinancing short-term rentals.

Your first tuesday real estate news
Week of March 13, 2017
FEATURES
Fewer low-tier homes for sale in CA
Potential homebuyers face this frustrating obstacle to homeownership.
Airbnb hosts hit obstacles to refinancing
Owners of short-term rentals jump through extra hurdles to refinance.
Material facts and your opinions – liability exposure minimized
Understand the rules for disclosures and opinions to avoid liability.
| | |
| --- | --- |
| Vote on it | |
Avoid a scandal – follow CalBRE guidance
CalBRE guidance on how to avoid common licensee mistakes.
High prices hold back CA home sales volume
Home sales volume increased in January 2017.
FARM: Use your income tax refund towards a new home purchase
Help prospective buyers use their tax refund.
Online Video Crash Course

Need help studying for the California real estate exam? Enroll in our online video crash course! Over 12 hours of online content with 39 instructive videos and practice exams modeled after the content of the State Exam. Includes digital flash cards. Enroll in the online video crash course here.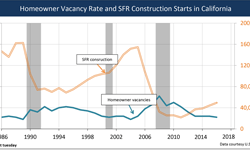 CA's low residential vacancy rates signal more construction
Both rental and homeowner vacancies were low in 2016.
FARM: Improve your home with your tax refund
Tips for using tax refunds for home improvements.
Sales agent license renewals on the uptick
Sales agent license renewals were up in December 2016.
More home sales are failing to close
Find out which cities in CA had the most sales fall through in 2016.
February 2017 RPI Form updates



- Sale and Purchase Agreements: Forms 160, 161, 161-1, 161-2, 162, 162-1, 168, 172-2, 172-3, 173-3
- Loan Brokerage: Form 201-1

To access all updated forms, view our RPI Forms library here.
This email was sent to: [Email]
Update your email | Unsubscribe
CalBRE Sponsor No. 0473 / S0110
NMLS Course Provider No. 1400986



Copyright © 2017 first tuesday


PO Box 5707, Riverside,CA 92517
9

51.781.7300