Click any image below to view the video.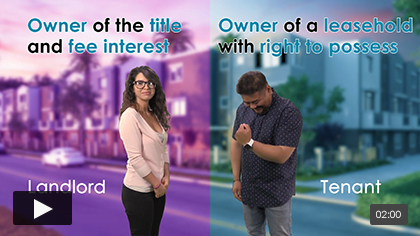 Leasehold Estates Held by Tenants (2:00)
Covers:  Lease and rental agreements conveying a possessory interest in real estate; Lease and rental agreements distinguished; Tenant's ownership of the right to occupy a property, not the property itself
Published 11/19/18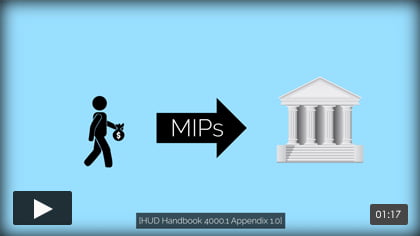 When can a borrower cancel FHA mortgage insurance? (2:48)
This video will help reinforce the duration of FHA mortgage insurance premiums.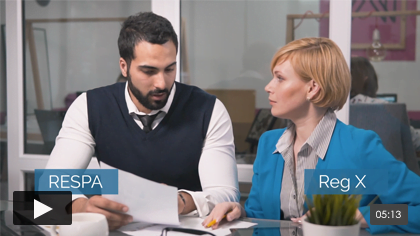 Is my loan subject to RESPA? (5:13)
This video will help reinforce the identification of loans covered by the Real Estate Settlement Procedures Act (known as RESPA) and Reg X.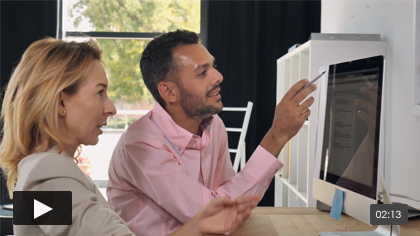 Is this mortgage ad Reg N compliant? (2:13)
We review the mortgage advertising rules under Regulation N (Reg N), the Mortgage Acts and Practices – Advertising rule.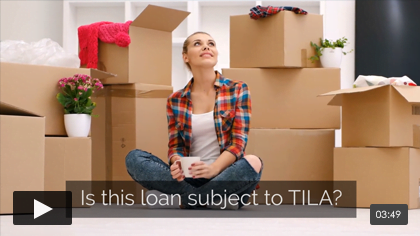 Is it covered by TILA? (3:49)
We review your understanding of what loans are covered by TILA and Reg Z.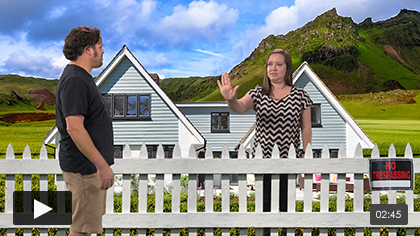 Possessory Interests in Real Estate (2:45)
Covers:  Three types of estates in real estate: fee estates, life estates and leasehold estates; Fee owner's exclusive right to use and enjoy their property and exercise absolute control
Types of Leaseholds (2:40)
Covers:  Four types of leasehold estates held by tenants; Fixed-term tenancy; Periodic tenancy; Tenancy-at-will; Tenancy-at-sufferance
Ownership of Oil and Gas (1:10)
Covers:  Oil and gas are transitory and fleeting in nature; Oil and gas are personal property when removed; An owner's exclusive right to drill on their premises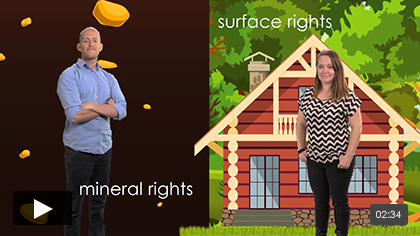 Land: The First Component of Real Estate (2:34)
Covers:  Oil, rocks, solid materials of the earth and reasonable airspace above the earth; Materials are considered land while they are undisturbed, personal property when severed from the earth; Profit a prendre – the right to remove minerals from another's real estate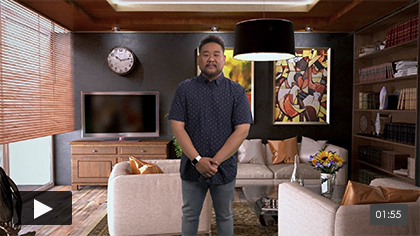 Real Estate Components (2:52)
Covers:  The physical components of real estate – the raw land, anything affixed to the land, anything appurtenant to the land, and anything which cannot be removed from the land by law
Physical and Legal Aspects of Real Estate (2:52)
Covers:  Real property as a bundle of rights; The right to possess and use property; Real estate versus personal property; Real estate is immovable, personal property is movable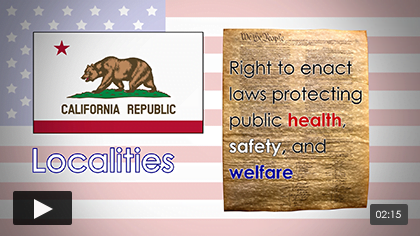 The Authority to Legislate (2:16)
Covers:  Authority of the California legislature to enact laws; Police power; Eminent domain; Power to tax; Escheat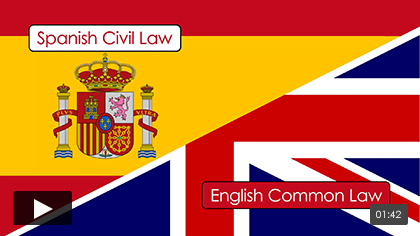 The English and Spanish Influence on California Real Estate (1:42)
Covers:  The settling of legal disputes on a case-by-case basis before a judge under English common law; The precedent of prior court decisions; Statutes to address legal issues in advance of a dispute under Spanish civil law
Investigating the Existence of a Hazard (2:22)
Covers:  Natural hazard information obtained from the public record; Seller's agent's use of a natural hazard expert to prepare the Natural Hazard Disclosure (NHD) statement; Natural hazard expert relieves the seller's agent of liability for errors
Disclosure of Very High Fire Hazard Severity Zones (1:15)
Covers:  Disclosure of areas subject to significant fire hazards; Use of the Natural Hazard Disclosure Statement (NHD); Buyer's agent's duty to advise the buyer on the consequences of owning property in a very high fire hazard severity zone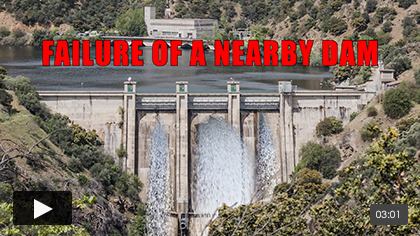 Disclosure of Flood Zones (3:01)
Covers:  The Federal Emergency Management Agency (FEMA); Special flood hazard area; 100-year floodplain; Dam failure.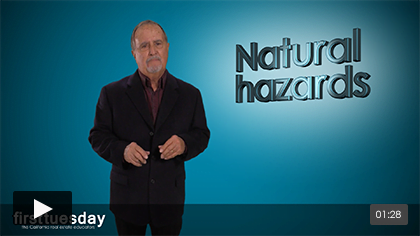 Natural Hazard Disclosures (1:28)
Covers: Natural hazards which come with the location of a parcel of real estate; Locations where a property might be subject to natural hazards; Use of the Natural Disclosure Statement (NHD).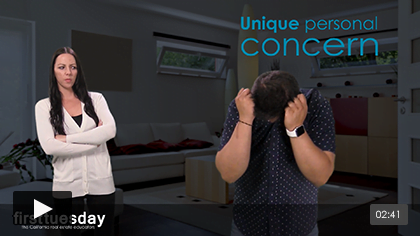 Desirability Based on Deaths Within Three Years (2:41)
Covers: Disclosure of a death which occurred on the real estate within three years of a buyer's purchase offer; Buyer's agent's greater agency duty of care to protect the buyer; Know-your-client rule.
Deaths Affecting Market Value (2:55)
Covers: Disclosure of a death which affects market value; Disclosure of a death on buyer inquiry; Deaths which stigmatize a property; Price-to-value money losses.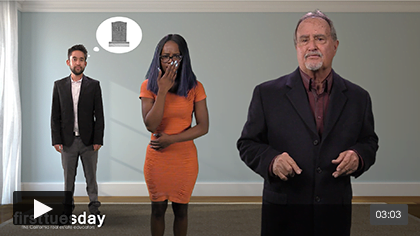 When and When Not to Disclose a Death (3:03)
Covers: When to disclose a prior occupant's use, affliction or death; No affirmative duty to voluntarily disclose a death which occurred more than three years prior, or a death resulting from AIDs or the HIV virus; Duty to disclose a death which had an adverse effect on market value.
Lead-Based Paint Hazards (4:42)
Covers: Conditions that cause exposure to lead contamination; Contents of the federally-mandated Lead-Based Paint Disclosure required when selling or leasing properties built prior to 1978.
Visual Inspection and Method of Disclosure of Environmental Hazards (4:10)
Covers: Use of the Transfer Disclosure Statement (TDS) to disclose an environmental hazard; Seller's agent's agency duty owed the seller and general duty owed the buyer; Seller's agent's visual inspection of property; Use of the environmental hazard booklet.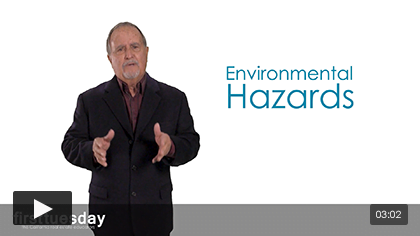 Noxious Man-Made Environmental Hazards (3:02)
Covers: Man-made environmental hazards which exist on or near a property; Examples of environmental hazards; Environmental hazards versus natural hazards.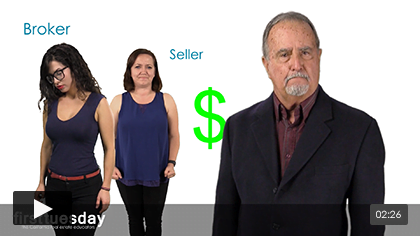 Delivery of the Transfer Disclosure Statement (2:26)
Covers: Timely delivery of the TDS before the seller accepts a purchase agreement offer; Recourse for untimely delivery; Buyer's statutory cancellation rights on an untimely delivery.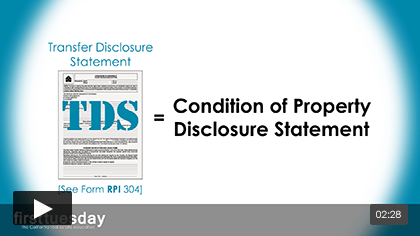 TDS: Mandated on one-to-four residential units (2:29)
Covers: The seller and seller's agent's use of the mandated Transfer Disclosure Statement (TDS); Disclosure of known conditions which might negatively affect the value or desirability of a property; Exempt transactions.
Gathering facts on adverse features (2:10)
Covers: Conducting a visual inspection; Assuring seller compliance with their duty to timely deliver statements to prospective buyers; Reviewing and confirming information in disclosure documents received from the seller; Advising in risk avoidance procedures; Responding to buyer inquiries.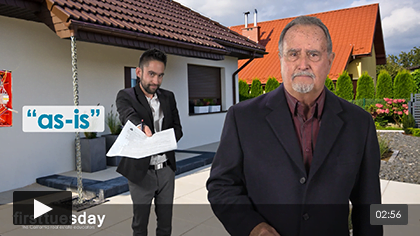 Property is Sold "As-Disclosed," Never "As-Is" (2:56)
Covers: How property sold "as-is" relates to California disclosure requirements; A seller's agent's general duty to voluntarily disclose material facts to a buyer; Improper use of an "as-is" disclaimer in lieu of making factual disclosures.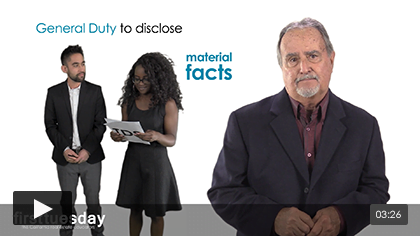 General Duty to Voluntarily Disclose (3:26)
Covers: : Seller's agent's general duty to timely disclose significant physical aspects of a property affecting market value or the buyer's decision to purchase; Minimal quantity of property information to disclose.
A Broker's Use of the Fair Housing Poster (1:17)
Covers: The Department of Housing and Urban Development (HUD) Fair Housing Poster; HUD posting guidelines.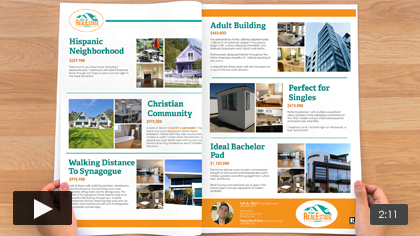 Avoiding Discrimination in Marketing Real Estate for Sale or Rent  (2:03)
Covers: Examples of language which indicates a wrongful discriminatory preference; prohibited prejudicial colloquialisms.
DRE Regulation of Discrimination  (3:29)
Covers: CalBRE/DRE enforcement of regulations prohibiting discriminatory practices by real estate brokers and agents; Implicit discrimination; Broker duty of supervision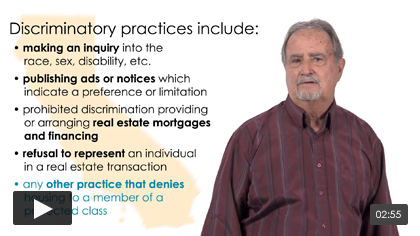 Discriminatory Practices in the Golden State (2:55)
Covers: Prohibited discriminatory activity in the sale or rental of housing accommodations in California; Examples of prohibited activities; the Department of Fair Employment and Housing; Handling a dispute with the Department of Fair Employment and Housing